By editor on Jul 14, 2011 | In BASS Elites, BASS, Pro Anglers, KVD | Send feedback »
Text of friendship: Andrew Upshaw and Ryan Watkins are still the best of friends, even after what they went through last weekend.
On July 9, Upshaw and Watkins teamed up to capture the 2011 Mercury College B.A.S.S. National Championship trophy for their Texas school, Stephen F. Austin University. The next step of the competition was for the teammates to split up and go head-to-head for one berth in the 2012 Bassmaster Classic.
Upshaw won, Watkins lost.
"He and I are still best friends, and I don't think that's going to change," said Upshaw on Monday afternoon. "We both knew one of us had to win. He's very upset, and I'm very upset that he didn't make the Bassmaster Classic because I think he deserved it just as much as I did."
Upshaw read aloud the text he sent to Watkins while they drove home Sunday: "I just wanted to tell you thanks, and thank you for everything and your support. You'll get yours, don't worry."
Watkins' reply: "Don't sweat it. Remember I'm right there with you at the Classic."
Watkins, as it happens, may literally be with Upshaw at the February 2012 Classic if Watkins accepts a lure maker's offer of a paid trip to the site, Shreveport-Bossier City, La., to support his friend.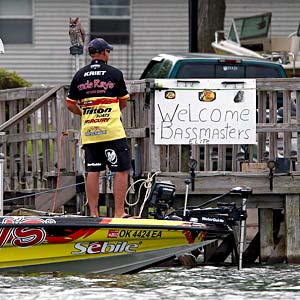 Jeff Kriet fishes South Carolina's Lake Murray during the 2011 Elite Series Carolina Clash. Photo Credit: B.A.S.S. / Gary Tramontina
Elite pros back new company: Bassmaster Elite Series pros Kevin VanDam and Jeff Kriet are principal partners in HydroWave, a new company with a product of the same name scheduled to debut at this week's ICAST trade show in Las Vegas.
HydroWave is a small, simple-to-use device that triggers feeding behaviors in all types of fish by emitting waves that sound like shad or other baitfish, according to the new company's website. The unit offers six sound tracks, such as "schooling" or "panic."
Kriet said he and VanDam have two other partners. One is engineer Robert Palmer, and the other is Gene Eisenmann, a longtime friend of Kriet's he met years ago while fishing.
"We talked about this for years, and the possibilities, then started working on it with the engineer," Kriet said. "I knew Kevin VanDam was very knowledgeable in this area, and I talked to him and he became instrumental in the design. The four of us working together ended up with a really good product."
Both Kriet and VanDam have been testing the HydroWave product during the 2011 Elite season.
About B.A.S.S.
For more than 40 years, B.A.S.S. has served as the authority on bass fishing. The organization advances the sport through advocacy, outreach and an expansive tournament structure while connecting directly with the passionate community of bass anglers through its Bassmaster media vehicles.
The Bassmaster brand and its multimedia platforms are guided by a mission to serve all fishing fans. Through its industry-leading publications — Bassmaster Magazine and B.A.S.S. Times — comprehensive website Bassmaster.com, ESPN2 and Outdoor Channel television programming, Bassmaster provides rich, leading-edge content true to the lifestyle.
The Bassmaster Tournament Trail includes the Bassmaster Elite Series, Bass Pro Shops Bassmaster Open Series, B.A.S.S. Federation Nation events presented by Yamaha and Skeeter Boats and the ultimate celebration of competitive fishing, the Bassmaster Classic.
B.A.S.S. offers an array of services to its more than 500,000 members and remains focused on issues related to conservation and water access. The organization is headquartered in Celebration, Fla.
Pages: 1· 2