Livingston County 1 on 1 – Great Start!
By editor on Jun 20, 2011 | In Bass Tournaments, NBAA

NBAA News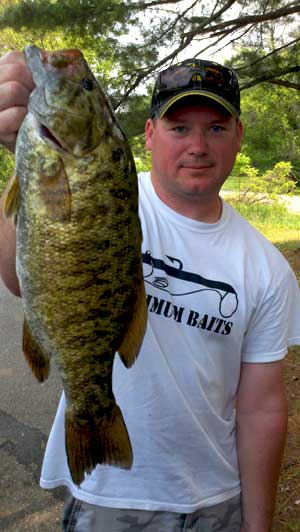 John Lytle caught the 4.29 pounds big smallmouth bass of the June 4, 2011 NBAA Livingston County 1 on 1 Challenge tournament. Photo Credit: NBAA
Livingston County 1 on 1 Challenge Division recently held its first event on Woodland Lake on June 4, 2011. They had an fantastic turnout with 19 boats coming out to fish Woodland. The fishing was hot! There was an amazing 11 limits, zero skunks, and when the smoked cleared, John Lytle swept both first places with an impressive 12.27 lb bag, almost 3 lbs better than second place.
John's bag was anchored by a beautiful 4.29 lbs smallmouth bass which captured the big bass honors. Second place went to Mike Whear with 9.34 lbs and rounding out the top 3 was Tony Grub.
The Livingston County 1 on 1 will be visiting Belleville Lake next on Saturday, June 18th. They'll be launching out of the DNR East Boat Launch. Tournament time 6:30-12:30pm. For more information contact Kelly Holloran @ 734-578-1788.