By editor on Mar 5, 2011 | In Showspan, Ultimate Sport Show | 1 feedback »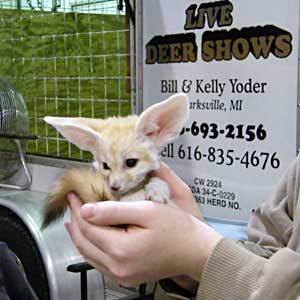 Get your picture taken with the African fennec fox cub at Yoder's Live Big Game Show during the Ultimate Sport Show. Photo Credit: Dan Kimmel
Bill Yoder's Live Big Game Show lets youngsters get up close and personal with white-tailed deer, a black bear, a fennec fox baby and a young bobcat.
What kid doesn't like to nibble on elephant ears, honey-mustard pretzels, roasted almonds or beef jerky? If the youngsters are still hungry, DeVos Place food concessions sell family food and beverages.
More than four acres big, DeVos Place is crammed with hunting gear, fishing tackle and other outdoor products, including camping equipment—all at great bargains. There is bottom-line value on fishing boats, duck hunting boats, pontoons and pleasure boats, along with boat docks, lifts and other accessories
Outfitters Expo provides the public with nearly unlimited family vacation and adventure travel, including hunting and fishing destinations throughout North America and beyond. You can even book a pike fishing trip in Alaska, a family houseboat adventure in Kentucky, or a safari in Africa.
Kids are among those who enjoy collecting the commemorative Dardevle spoons that Eppinger Manufacturing Co. in Dearborn hands out each year on Thursday and Friday to the first 500 show patrons. On Saturday and Sunday, Carlisle Float Company will offer free fish scalers to the first 250 attendees.
And Cran-Hill Ranch family campground in Rodney is bringing its Family Fun Zone, a free, hands-on experience for the kids. That is, if the kids have any energy left!
Show hours are Thursday, from 3:00 to 9:30; Friday, from 11:00 to 9:30; Saturday from 10:00 to 9:00; and Sunday from 10:00 to 5:00. Admission is $10 for adults and $4 for children 6 to 14. Kids 5 and under get in free.
Discount coupons are available at the Grand Rapids Press, and Wendy's restaurants. For more information, go to www.UltimateSportShow.com or call 800-328-6550. Follow show developments on Facebook and Twitter.
Pages: 1· 2
1 comment
I've always found that fishing a boating are a great souce of family fun and entertainment.