Family fun abounds at Ultimate Sport Show, March 17 to 20
By editor on Mar 5, 2011 | In Showspan, Ultimate Sport Show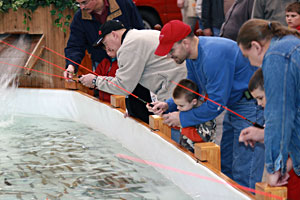 The Trout Pond is among many family attractions at the 2011 Ultimate Sport Show Grand Rapids. Photo Credit: Showspan
GRAND RAPIDS — Why is The Ultimate Sport Show one of Michigan's favorite annual events? Answer? Because for 65 years it has proudly served many of the state's army of outdoor enthusiasts.
Today, those outdoor lovers include 1.4 million licensed anglers, 750,000 licensed hunters, and 1.4 million wildlife watchers. For them and their families, the Ultimate Sport Show provides wall-to-wall fun, conservation education and special buying opportunities for fishing and hunting boats, fishing tackle and hunting gear.
John Loeks, Sr. launched the show in downtown Grand Rapids at the old Welch Auditorium in 1946. This year's 66th edition, March 17 to 20 at DeVos Place, 303 Monroe NW (next door to what was Welch Auditorium), remains true to its roots.
There is a Pellet Shooting Range with certified instructors offering lessons and a Trout Pond with frisky rainbows for kids to catch. The nominal donations for those activities, as well as the popular Virtual Fishing Simulator and the Rock Climb, go to non-profit or charitable causes like Big Brothers/Big Sisters.
On the weekend, members of the Michigan B.A.S.S. Federation NATION will host a free Casting Kids Contest. The club provides all equipment and will teach boys and girls proper techniques and let them practice before competition begins.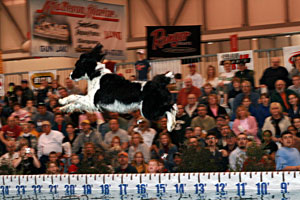 The Ultimate Air Dogs show, held daily on Lake Ultimate, is free with admission at the Ultimate Sport Show in Grand Rapids. Photo Credit: Showspan
The family-favorite "Ultimate Air Dogs" feature with Milt Wilcox is free every day as ar? the incredible displays of lifelike animals, birds and fish by the Michigan Taxidermists Association, which holds its annual convention and juried competition at the show.
"Big Buck Night West," an annual family staple on Michigan Out-of-Doors TV Show, will be filmed on Thursday starting at 7:00 p.m. It, too, is free with admission.
More than 100 scheduled seminars on fishing, hunting, dog training, growing wildlife food plot? and other subjects are free with admission. Other in-booth demonstrations draw crowds all day long. Patrons young and old, for example, delight in watching members of the Woodland Woodcarvers whittle away at creations both serious and whimsical.
Terry McBurney from Ada exhibits antique fishing tackle and will appraise artifacts for patrons at no charge. That old wooden fishing lure that Junior found in Grandpa's tackle box could be priceless. And there's more snapshots from the past? Dick VanRaalte from Grand Haven displays vintage boating products including a restored wooden boat and several collectible outboard motors.
Pages: 1· 2
1 comment
I've always found that fishing a boating are a great souce of family fun and entertainment.