By djkimmel on Feb 17, 2009 | In Big Fish Stories, Lake Comedero
The Adventure of a Lifetime
My first adventure to the Mexican Sierra Madre mountains and Lake Comedero started with the biggest largemouth bass of my life and ended with a bigger one!!! A better script would have been hard to write on purpose. It will be challenging for this writer to put into words what a fantastic trip this remote bass fishing adventure is, but with the help of some pictures I will try.
To travel to a truly remote area unlike anything most of us have been exposed to, you need to put your trip success and trust into the hands of a most experienced outfitter. We chose Ron Speed Jr with Exotic Outdoor Adventures and never looked back. Here's one of my favorite results – a grande, ocho doce (Mexican for big 'un – 8 pounds 12 ounces!!):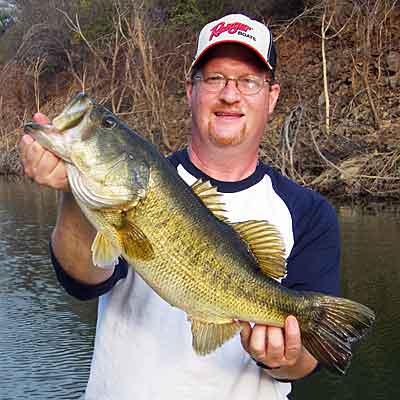 The entire trip was an adventure, exciting from start to finish. Lots of planning happened before we ever left our US homes, but Ron Speed Jr's decades of experience made it much easier to get our ducks in a row, and get everyone to the camp – the NBAA group – Jim Sprague, Jack Horning, Paul Cowen, Scott Tyrell and myself, and then the D & R Sports Center group with Randy VanDam, Don Stevens and 6 other anglers whose names I'll get all down in a later article.
Quite a bit goes into a trip like this and I'll get into that later too. For now, lets talk about the fishing, and see some pictures. That's what we all want to see, right?!?