Aaron Martens Interesting Adventure
By editor on Feb 23, 2014 | In Bass Tournaments, BASS, Bassmaster Classic, Pro Anglers

Southern Hospitality to the Rescue for Amart and Me
I had the distinct pleasure of riding along with one of the best professional bass anglers in the world Wednesday, the last official practice day for the 2014 Bassmaster Classic. Of course, we were on Alabama's Lake Guntersville and I was with Aaron Martens.
If you've never spent the day in a boat with Aaron Martens - Amart to many who follow the Bassmaster Elite Series - you have no idea what you're missing! After a long (but extremely awesome) day for me and a 'very fast' day for Amart, we're flying in to check-in at top speed in Aaron's Phoenix bass boat.
As if he's saying nice day today to a passing stranger in the park, Aaron looks at me and says, "we just ran out of gas." Sure enough... vrrrrrrr... the outboard dies and we coast to a stop. Silence. Minutes before he's late and a few miles short of the boat ramp! Huntsville, we have a problem.
Old tournament instincts kick in, and my heart gets to fluttering. Meanwhile, Aaron appears serene. You'd think we were contemplating the medium pop or the large?
THIS IS THE BASSMASTER CLASSIC!!!
It takes all of 45 seconds for the sportsmanship of these Bassmaster Elite Anglers to demonstrate itself as Edwin Evers roars up in we gotta get in (but we're okay) mode.
"Everything okay?" he says. "We're out of gas," says Amart.
"Hop in and lets go," Edwin tells him. Aaron looks at me and says, "stay with the boat. Get on the trolling motor and just troll down around this point. Boyd Duckett lives there. He has a gas pump. We'll be back to get you in a few minutes."
Rrroooaaarrr! Off they go at 70-plus!!
Now... I'm not from around here. I know what Boyd Duckett looks like. But I'm guessing he's not standing next to his gas pump waiting for a stranger to show up looking for gas for Aaron Martens' Megabass boat!?!
Not to worry. I've only managed to turned the boat around when someone on shore is yelling, 'everything okay?' "We're out of gas," I holler back. "I've got a 5-gallon can of gas back up at the house," yells this complete stranger.
I'm thinking odds of finding Boyd Duckett's house AND Boyd waiting there to fill up gas tanks are a lot worse than trolling straight into shore to have a talk with a friendly local. Within two minutes I'm at the dock introducing myself as just a guy taking pictures and video to a super nice person named James Whitaker.
James makes the long walk up and down his hill to his house, returning with 5 gallons of gas. Then, he helps a complete stranger, from Michigan no less!! put the gas into Aaron's boat. Mr. Whitaker follows up by refusing to take any money for the gas, saying he only wants to help out someone in need. Talk about Southern Hospitality!! It's like we've been friends for years.
It doesn't hurt that Mr. Whitaker is happy to have the 2014 Bassmaster Classic in town, and planning to come on down from Guntersville to the Birmingham, Alabama weigh in. About that moment, I see a wrapped Nitro bass boat roaring back from the direction of the boat ramp (which I wasn't sure I could find if my life depended on it).
I'm sitting in Amart's Phoenix bass boat next to a really nice, big finished boat dock. It took all the jumping, waving and dancing I could muster, with James' help up on the dock, to get their attention as they flying by on the way to wherever Boyd Duckett lives with his gas pump!
Thankfully, someone in the boat spotted us just as they were passing out of our orbit! I made introductions after quickly explaining the situation to Edwin, Aaron and Edwin's Marshal. With 5 gallons of gas in the tank now, Edwin roared back off to the ramp with Aaron and I following shortly behind.
The price of this fast, fast turn-around from potential tragedy to all taken care of in a matter of minutes - one Megabass jerkbait from Aaron's good box (with Aaron's hooks!) and this picture of Mr. James Whitaker and Aaron Martens.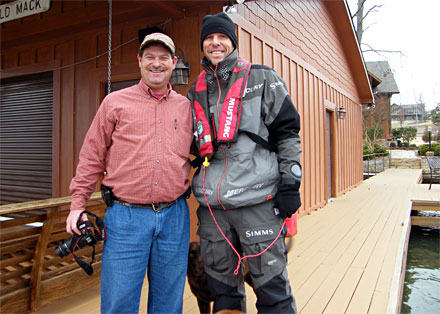 Alabama gentleman James Whitaker poses with Elite Series bass angler Aaron Martens after coming to the rescue with five gallons of gasoline on Lake Guntersville during the final practice day for the 2014 Bassmaster Classic.
The rest? Well, we'll find out the rest in a matter of minutes at the final 2014 Bassmaster Classic weigh in at the Birmingham BJCC Arena. See you there!