Zona Wants You at Muskegon Lake Bassmaster VIDEO
By editor on Sep 27, 2013 | In BASS Elites, BASS, Michigan

Mark Zona, awesome host of ZONA's Awesome Fishing Show and co-host of the Bassmaster Elite Series, wants all you GreatLakesBass.com 'ers and everyone else to make a big showing this week at the Toyota All-Star Week on Muskegon Lake! Lots at stake! All for the first time in Michigan!! How can we not be excited!
Attend the Toyota All-Star Week at the Heritage Landing and Park in Muskegon, Michigan! After starting the 2013 season with giant crowds at tiny Orange, Texas, and following huge crowds in Waddington, New York, we have our work cut out for us!
But we can handle it! We're Michigan! And this is our first two Bassmaster Elite Series event ever! Angler of the Year Aaron Martens was crowned in Michigan. We'll have the 2013 All-Star champion crowned in Michigan! Our own Kevin VanDam has a great chance to be that champion trailing day one leader Cliff Pace by only 4 ounces!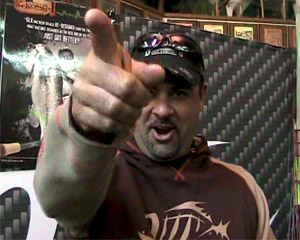 Mark Zona of ZONAs Awesome Fishing Show wants you to attend the 2013 Bassmaster Plano Championship Chase on Lake St. Clair and Toyota All-Star Week in Muskegon Michigan. While you're there, give a shout out to the ZTrain too - he's truly Michigan's bass ambassador!
Let's do this! Check out In the boat with KVD on Bassmaster.com for pictures from James Overstreet out with our KVD!
And see below for more details and ways to be involved in this big happening! You'll want to say, 'I was there! I saw it happen!'
Come on down and watch the top 14 2013 Bassmaster Elite Series pros fish for $50,000 on Muskegon and White Lake! You can see Zona in person as he co-hosts the Bassmasters with Tommy Sanders. Don't forget Z is a Michigander too!
Plus, there's our funny man neighbor Dave Mercer, Bassmaster Elite Series emcee and host of Facts of Fishing, along with all the other great stuff for the family and anglers. See below.
2013 Elite Series Toyota All-Star Week and Evan Williams Bourbon Championship on Muskegon Lake
Friday, September 27 - Sunday, September 29
EVENT HIGHLIGHTS
LAUNCH INFORMATION
Hartshorn Marina (map see below)
920 W. Western Avenue
West Western Ave. and Division Street
Muskegon, MI 49440
Boats Launch
Daily at 7:15 a.m. ET
WEIGH-IN INFORMATION
Heritage Landing (map see below)
1050 7th Street
Muskegon, MI 49440
Weigh-In Begins
Daily at 4:00 p.m. ET
Casting competition and demos presented by Shimano
Visit the Berkley booth for your chance to win a new boat!
Experience Mercury ProXS Demo Tour, Nitro Boats Demo Tour, Skeeter Performance Boats Demo Tour, 2013 Triton Demo Tour, Yamaha's 2013 Discover VMAX SHO Demo Tour
Family-friendly expo with B.A.S.S. sponsor interactive displays on Saturday and Sunday
NOTE: Activities & times are subject to change.