Cliff Pace Takes Lead In Muskegon All-Star Event
By editor on Sep 27, 2013 | In Bass Tournaments, BASS Elites, BASS, KVD, Michigan
B.A.S.S. News
Reigning Bassmaster Classic Champ Cliff Pace Takes Lead In All-Star Event, KVD in 2nd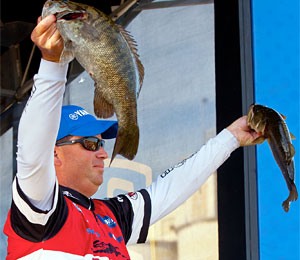 Reigning Bassmaster Classic champion Cliff Pace has the early lead in the Toyota All-Star Week's Evan Williams Bourbon Championship. Photo Credit: James Overstreet/Bassmaster
MUSKEGON, Mich. — Cliff Pace got a surprise package Friday.
He was presented with a Bassmaster Classic ring, which he earned last February. "It was totally a surprise — a good one," he said.
The ring was just the beginning of good things on Friday for the Petal, Miss., pro. Soon after he received the diamond-encrusted ring, he learned that his 14 pounds, 4 ounces of Muskegon Lake bass was enough to take the first-day lead in the Evan Williams Bourbon Championship, the main event of the Friday-Sunday Toyota All-Star Week out of Muskegon (Complete day 1 results at the bottom of page).
Pace got only a 4-ounce jump on home-state favorite Kevin VanDam of Kalamazoo, Mich., who took second place with 14-0.
Almost the entire 14-angler leaderboard of the Bassmaster Elite Series postseason event was tight. Hank Cherry of Maiden, N.C., missed second place by 8 ounces with his 13-8 first-day catch. He had to settle for third, yet was only 12 ounces behind Pace.
Edwin Evers of Talala, Okla., had 13-3 for fourth place. Michael Iaconelli of Pittsgrove, N.J., slid into fifth place with 12-15.
That made the spread between the leader and the angler in fifth place just 1 pound, 5 ounces going into the second round. Almost any of the 14 pros could turn the table on the leaders when the full field returns to Muskegon Lake Saturday.
Their goal is to be one of the four to survive elimination and move into the finals on Sunday on nearby White Lake. The pro with the most weight Sunday from White will be the champ and claim the $50,000 first prize of the $100,000 purse.
Pace gained the early advantage, but he said he hasn't cracked the Muskegon Lake's bass bite.
"I was fortunate and got a couple of big ones, and that's what made the difference. It could just as easily go the other way tomorrow," Pace said.
He said he boated only five keepers Friday, with the fifth bass coming to him about 2 p.m. He said he mainly worked a dropoff. Finding a repeatable pattern eluded him, he was prepared to go "junk" fishing — frequently switching bait rigs and techniques as well as spots he thought might hold bass.
Pace had the Carhartt Big Bass of the day, a 4-14, one of the three smallmouth he brought to the scales. Two largemouth completed his five-fish limit.
Most of the other All-Star pros also produced mixed bags, including VanDam, who had one smallmouth and four largemouth.
Unlike Pace, who had never seen Muskegon Lake before the one day the All-Star pros were given to practice, VanDam often fished Muskegon Lake in the early days of his career.
"The one good thing — and the one bad thing — is that I have a lot of history here. You can't fish for 'ghosts' that aren't there anymore," he said.
And he has not competed on Muskegon Lake in more than 20 years. Because he lives 90 miles away from Muskegon, he was easily able to scout to the 4,232-acre fishery before it was off-limits to All-Star pros.
VanDam's uncharacteristic scouting trip paid off with an early limit Friday, including a 4-2 largemouth. He then searched for hours for another big one to cull one of his smaller bass from his livewell.
"There are a lot of big fish in this lake, I just couldn't get a second bigger one," he said. He tried everything he could think of.
"I had to change up a lot today," he said. "I'm going to fish differently tomorrow.
VanDam's prediction for Saturday: "It's going to be a shootout."
The Evan Williams Bourbon Championship is just part of Toyota All-Star Week. Running alongside the Elite event is the Friday-Sunday Carhartt Bassmaster College Series Classic Bracket on Grand River. A Bassmaster Classic berth is the prize in that event.
On Sunday, eliminated Elite pros will pair up with veterans and other guests in the Folds of Honor Foundation Pro-Am presented by ARE.
Weigh-ins for all events will begin at 4 p.m. ET Saturday and Sunday at Heritage Landing, 1050 Seventh St., Muskegon. Also at Heritage Landing, fans can watch the pros take off at 7:15 a.m. ET. In the afternoon at the adjacent park, fans are invited to Muskegon County's Family Fun Fall Festival and the Bassmaster Elite Series Expo featuring the Elite trail's sponsors.
There's no admission for Bassmaster events.
TV coverage of Toyota All-Star Week will be presented on The Bassmasters on Sunday, Oct. 13, on ESPN2, in three hour-long shows. At 2-3 p.m. ET, and again at 4-5 p.m., the first show will set the stage. Two more shows about the competition will air at 6-7 and 7-8 p.m. ET.
2013 Bassmaster Elite Series Official Sponsors: Toyota, Bass Pro Shops, Berkley, Evan Williams Bourbon, Humminbird, Mercury, Minn Kota, Nitro Boats, Skeeter Boats, Triton Boats, Yamaha
2013 Bassmaster Elite Series Supporting Sponsors: Carhartt, Diet Mountain Dew, Livingston Lures, Lowrance, Luck-E-Strike, Power-Pole, Ramada, Shimano
2013 Bassmaster Elite Series Proud Partner: Mustang Survival
About B.A.S.S.
For more than 45 years, B.A.S.S. has served as the authority on bass fishing. The organization advances the sport through advocacy, outreach and an expansive tournament structure while connecting directly with the passionate community of bass anglers through its Bassmaster media vehicles.
The Bassmaster brand and its multimedia platforms are guided by a mission to serve all fishing fans. Through its industry-leading publications — Bassmaster Magazine and B.A.S.S. Times — comprehensive website Bassmaster.com and ESPN2 and Outdoor Channel television programming, Bassmaster provides rich, leading-edge content true to the lifestyle.
The Bassmaster Tournament Trail includes the Bassmaster Elite Series, Bass Pro Shops Bassmaster Open Series, Carhartt Bassmaster College Series, Bassmaster Wild Card, B.A.S.S. Nation events and the ultimate celebration of competitive fishing, the Bassmaster Classic.
2013 Toyota All Star Week September 27-29
Muskegon Lake, Muskegon, Mich.
Standings Day 1

   Angler               Hometown            No./lbs-oz 

1.  Cliff Pace          Petal, MS             5  14-04
  Day 1: 5   14-04 
2.  Kevin VanDam        Kalamazoo, MI         5  14-00
  Day 1: 5   14-00 
3.  Hank Cherry         Maiden, NC            5  13-08
  Day 1: 5   13-08 
4.  Edwin Evers         Talala, OK            5  13-03
  Day 1: 5   13-03 
5.  Michael Iaconelli   Pitts Grove, NJ       5  12-15
  Day 1: 5   12-15 
6.  Alton Jones         Lorena, TX            5  12-08
  Day 1: 5   12-08 
7.  Chris Zaldain       San Jose, CA          5  12-03
  Day 1: 5   12-03 
8.  Bobby Lane          Lakeland, FL          5  11-13
  Day 1: 5   11-13 
9.  Keith Combs         Huntington, TX        5  11-11
  Day 1: 5   11-11 
9.  Aaron Martens       Leeds, AL             5  11-11
  Day 1: 5   11-11 
11. Gerald Swindle      Warrior, AL           5  11-05
  Day 1: 5   11-05 
12. Brandon Palaniuk    Rathdrum, ID          5  09-06
  Day 1: 5   09-06 
13. Skeet Reese         Auburn, CA            4  08-05
  Day 1: 4   08-05 
14. John Crews          Salem, VA             2  06-02
  Day 1: 2   06-02 
--------------------------------------------------------------
Totals
Day   #Limits    #Fish      Weight
 1        12        66      162-14
----------------------------------
          12        66      162-14