Building a better monster
By Jeff Nedwick on Jul 6, 2013 | In Bass Tournaments

Belletini and Cox win Monster Quest VIII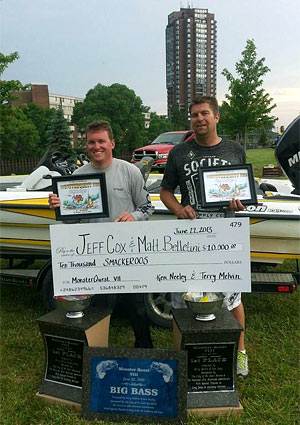 Champions Matt Belletini and Jeff Cox show off their trophies and big 10000 dollar check after 21 pounds 8 ounces of smallmouth bass win Monster Quest VIII on Lake St. Clair. Photo Courtesy of Matt Belletini
Monster Quest bass tournament organizers seem to have hit upon a winning formula - use a pro / am format to encourage participation, give back to the community by supporting local charities and finally, conduct the tournament on Lake St. Clair, one of the world's best smallmouth bass fisheries.
However, the already popular Monster Quest tournaments, now in their 5th season, saw participation in their most recent tournament increase significantly when they added a new wrinkle – partnering with a community that supports bass fishing and bass fishing tournaments.
Looking to capitalize on the popularity of Lake St. Clair as a world class bass fishing destination, the city of Saint Clair Shores convinced Monster Quest tournament organizers Ken Neeley of KD Outdoors and Terry Melvin of Lunch Money Lures to relocate the Monster Quest tournament to the city's 9 Mile Road Boat Ramp (Chapton Harbor).
The city worked hard to promote the event and coordinated the efforts of the many volunteers who helped direct traffic in and out of the launch site.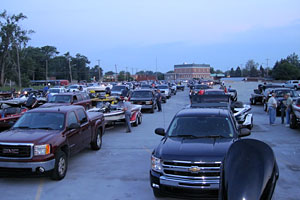 Some of the 90 bass fishing teams participating in the June 22, 2013 Monster Quest VIII on Lake St. Clair line up in the morning at the Nine Mile Road Boat Ramp in St. Clair Shores. Photo Credit: Roy Randolph
The partnership seems to have paid off as 90 teams from as far away as Indiana, Ohio and Louisiana travelled to St. Clair Shores to participate in the June 22, 2013 event - nearly double the participation of last summer's event.
The business case for hosting the tournament was easy to make for St. Clair Shores Parks and Recreation Director Greg Esler, who had little trouble convincing city planners to provide $10,000 in Tax Increment Financing (TIF) funds to support it.
"The event was a great success," said Esler, adding that local gas stations, restaurants and tackle shops saw a tremendous spike in business. Terry Melvin says St. Clair Shores Mayor Kip C. Walby was at the boat ramp at 5:30 in the morning with other city council members and representatives.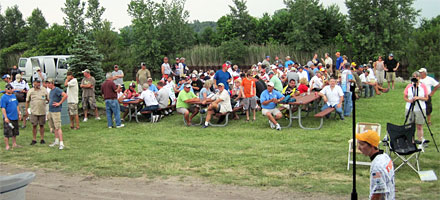 Spectators, anglers, city officials and media gather at Lake St. Clair to watch the June 22, 2013 Monster Quest VIII weigh in at the Nine Mile Road Boat Ramp in St. Clair Shores. Photo Credit: Roy Randolph
While St. Clair Shores' decision to invest in the Monster Quest tournament was fairly low-risk, the strategy for the winning team of Jeff Cox and Matt Belletini was not.
Cox and Belletini rolled the dice by electing to fish an area near the Charity Islands in Saginaw Bay. During practice, the team located an area holding good numbers of big smallmouth but the 324 mile round trip left them with less than 1.5 hours to catch them. "We knew it was a risky move, but the weather looked good so we decided to try it," said Belletini.
Casting three-inch Nemesis Gobies in four to nine feet of water, Cox and Belletini caught only 5 keepers – but they turned out to be the right five when their 21 pounds 8 ounces, capped off with a 5 pound 5 ounce fish that also took big bass honors, beat out 2nd place finisher Skip Johnson (fishing alone) by more than one pound.
For their efforts, Cox and Belletini took home $10,000, plus the $500 big bass prize. They also earned an additional $250 from Nemesis for catching their fish on Nemesis baits.
But Cox and Belletini weren't the only tournament beneficiaries.
Giving back to the community is an important part of all Monster Quest tournaments and this year's event was no exception. Several tournament anglers will be back to St. Clair Shores later this summer to take 49 special needs children bass fishing as part of a summer camp program. Speaking at last year's event, Melvin said, "The focus on supporting family-friendly charities helps make this one of the most popular tournaments of the year."
Although the first place team made the long run to Saginaw Bay, most teams elected to fish closer to the launch site in Lake St. Clair and were rewarded with typically strong bags of Lake St. Clair smallmouth.
And the hospitality and community support shown by the city of St. Clair Shores made it even more enjoyable for both anglers and spectators.
More tournament results and information on our forum - MonsterQuest VIII 6/22/13 RESULTS.
By Jeff Nedwick