Detroit Lions and Kevin VanDam team up for charity
By Jeff Nedwick on Jun 20, 2013 | In Bass Tournaments, BASS Elites, BASS, KVD, Chad Pipkens, Charity Tournament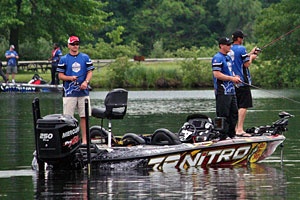 Detroit Lions Coach Jim Schwartz and Kevin VanDam fish Kent Lake along with one lucky sponsor drawing winner (back deck) during the 2013 KVD Charity Classic charity bass fishing tournament June 10th. Photo Credit: Jeff Nedwick
Detroit Lions players, bass fishing pros and sponsors battled the elements and the bass on Monday in the 2nd annual Detroit Lions / KVD Charity Fishing Tournament. And like last year's inaugural event, the bass proved to be a tougher opponent than any the Lions will likely face on Sundays.
The competition was intense as several Bassmaster Elite Series pros took time out of their busy tournament schedule to support the effort. However, the bass didn't seem particularly impressed by the high caliber talent as the top three finishers went to teams captained by non-Elite Series anglers.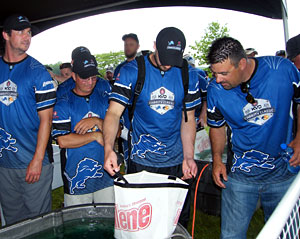 Mark Zona checks out eventual winner Don Watts (2nd from left) big Kent Lake bass during the June 10th 2013 KVD Charity Classic charity bass fishing tournament.
Leading the way was the team sponsored by country music station WYCD who two-stepped their way to a relatively easy victory. Local bass pro Don Watts, WCYD's Steve Grunwald, Premier Pet Supply owner Mike Palmer and former Lions safety Stuart Schweigert finished with a five bass limit weighing 13 pounds 15 ounces - nearly two and half pounds better than their closest competitor.
The difference maker was a monster 5 pound, 14 ounce bass caught by Watts that earned him big fish honors. The big bass, like the others caught by Watts' team, came while fishing jerkbaits in eight to nine feet of water.
In second place with 11 pounds 9 ounces was Team Plano, featuring local bass pro Aaron Feeback, Greg Yourst, John Bonamego and Roy McBurne. Third place went to the team of Kurt Keller, Todd Keller and Paul Caldwell with 11 pounds 8 ounces.
Although the forecasted storms never materialized, the heavy rains and rough weather that passed through the area just prior to the tournament may have contributed to the overall tough bite as some notable big names struggled to find a consistent pattern.
The team of Kevin VanDam and Lions Head Coach Jim Schwartz - one of three sponsored by Bass Pro Shops – weighed in only one bass. Randy VanDam and Lions safety John Wendling fared no better, also weighing only one bass. Jonathon VanDam had the best showing of the VanDam-led teams, but still failed to post a limit, coming in with only three bass.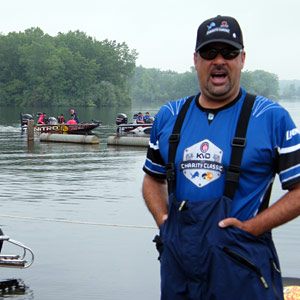 Mark Zona does a little all-in-good-fun trash-talking about ending up last boat out before the June 10th 2013 KVD Charity Classic tournament as KVD drives by in the background.
None struggled more than the team of Mark Zona, host of ZONA'S Awesome Fishing Show, and Lions defensive end Willie Young. Zona and Young expressed extreme confidence, engaging in some good-natured trash talking with the other competitors prior to the start of the tournament. But when the tournament was over, they stood alone as the only team to come in empty handed. "When we pulled up on our first spot, KVD was fishing there and we figured we must be in the right place", said Zona. "Obviously, it didn't pan out for either of us".
For some, the struggles were downright painful.
Bassmaster Elite Series pro Terry Scroggins, Carhartt Marketing Manager Tim Humes and Lions rookie defensive end Ziggy Ansah also failed to weigh a limit. Adding injury to insult, Humes received a hook in the back courtesy of an errant Ansah cast. Ansah affirmed his status as a rookie angler by gingerly holding a bass for a photograph, which prompted emcee Dave Mercer to observe that opposing NFL quarterbacks might avoid being sacked by Ansah by wearing a picture of a bass on their jersey.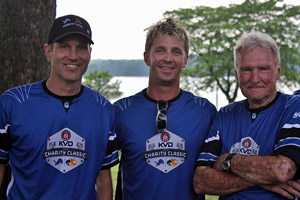 Detroit Lions football players, Bassmaster Elite Anglers and celebrities abound during the June 10th 2013 KVD Charity Classic tournament at Kensington Metropark such as retired punter Jason Hanson, Elite Angler Chad Pipkens and one of the three owners of B.A.S.S. Jerry McKinnis all pictured here. Photo Credit: Jeff Nedwick
Despite the tougher than expected fishing conditions, the event raised more than $80 thousand dollars for the Detroit Lions Living for the City philanthropic initiative and youth initiatives and conservation efforts supported by the Kevin VanDam Foundation.
By Jeff Nedwick