NBAA Super Big Bass and Angler of the Year Drawings
By editor on Jan 11, 2013 | In Bass Tournaments, TBF, NBAA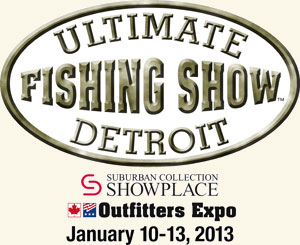 Saturday, January 12th 11:30 a.m. is the date and time for this year's NBAA Super Big Bass and Angler of the Year drawings at the Ultimate Fishing Show Detroit. This year you can enjoy special seminars, raffles and a great show at the Suburban Collection Showplace. Anglers from across NBAA who have captured big bass honors or who have qualified for the angler of the year drawings in 2012 will have a chance to win thousands in cash and prizes.
Special prizes that will be awarded in the Super Big Bass drawings include Humminbird graphs, Lock-n-Hauls, Minn Kota chargers, and more. Plus, this doesn't even include the CASH!!! You do not need to be present to win the top 10 prizes in the Super Big Bass drawing or the Angler of the year awards. However, there will be special prizes and drawings for those attending this exciting event.
Along with the Super Big Bass Drawings, NBAA will also be holding the special Angler of the Year drawings. Winners will be chosen for the following Angler of the Year contests – Auto Value, Garneau Baits, Humminbird, Lucky Craft, Mercury, Minn Kota, Tro-Kar and WaveSpin reels. And don't forget, the Wrangler Rugged Wear Angler of the Year award will be awarded to the top angler in all of NBAA.
Plus, NBAA will be going over exciting details for the upcoming season and signing up new members.
Below is a listing of the items for the upcoming drawings.
Angler of the Year:
NBAA Overall Angler of the Year – Minn Kota Trolling Motor
Humminbird – Humminbird Graph
Lucky Craft – Lucky Craft Prize Pkg
Auto Value – Misc Sponsor Prizes
Tro-Kar – Tro-Kar Prize Pkg
Minn Kota – Minn Kota Charger and prizes
Mercury – Misc Sponsor prizes
WaveSpin – WaveSpin reel
Garneau Baits – Garneau Prize Pkg
Super Big Bass:
1 – Power Pole
$500 Cash
$250 Cash
$100 Cash & 2 – Minn Kota Portable Chargers
$100 Cash & 2 – Minn Kota Portable Chargers
$100 Cash & 2 – Lock-n-Hauls
$100 Cash & 2 – Humminbird Graphs
$100 Cash & 2 – Star brite Boat Care Packages
$100 Cash & 2 – Please Release Me fish care pkgs
2 – Lazer Sharp/Eagle Claw Prize Pkgs
2 – Leverage Landing Nets – MUST BE PRESENT TO WIN.