TBF No Entry Fee Division Championship Series Set for 2013
By editor on Nov 16, 2012 | In Bass Tournaments, TBF, TBF Divisionals

TBF News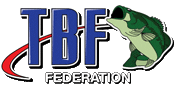 Ponca City, Okla. - November 16, 2012 The Bass Federation (TBF), the national leader in NO cost or low cost tournament fees, announced today the dates and locations of the seven 2013 No Entry Fee Division Championships. This year's hosts are the state federations of Washington, Arizona, Tennessee, Texas, Ohio, Rhode Island and New Jersey.
A TBF member only has to locally fish their TBF state federation qualifying tournaments to make the state team and attend the division championship. "The division championships are the stepping stone to the biggest events in bass fishing today," TBF President, Robert Cartlidge, stated. "If they earn a spot on the state team, everything past the state level is a no entry fee event. From there, the potential winnings for grassroots anglers could approach one million. TBF is the industry leader in no cost and low cost tournament fishing opportunities and we are proud of that fact."
Two anglers from each state progress to the TBF Federation National Championship, with over $200,000 in cash and prizes up for grabs. From there, 14 TBF anglers advance to the FLW BFL All-American where the top prize is $100,000 cash. The 2012 BFL All–American event was won by Missouri TBF angler, Brain Maloney, who qualified through the TBF ranks to win that prestigious event.
The top anglers from the TBF Federation Championship also earn a berth in the Forrest Wood Cup, all for no tournament entry fee! The TBF National Champion earns the esteemed "LIVING THE DREAM" prize package, which includes cash prize, fully paid entry fees into the FLW tour of his/her choice, travel funds and use of a wrapped Ranger Boat and Chevrolet truck for the year!
What does this mean to the average angler? It means there is no better or more cost effective place to fish than with TBF and FLW outdoors. You can join TBF, fish close to home and qualify to fish all the biggest events in fishing! TBF members just like YOU do it every year!
It's easy to get started, and you don't have to own a boat. Simply contact your local state federation through the TBF website at www.bassfederation.com or give us a call at 580.765.9031 to get your club joined up with TBF or to find a TBF club near you.
2013 TBF Divisional Championship Series dates and locations:
April 28-May 3, TBF Southwest Division Championship, Lake Havasu, Lake Havasu City, Arizona
May 5-10, TBF Northwest Division Championship, Pot Holes Reservoir, Moses Lake, Washington
June 2--7, TBF Southern Division Championship, Lake Barkley, Clarksville, Tennessee
June 9-14, TBF Central Division Championship, Lake Ray Roberts, Denton\Sanger, Texas

September 1-6, TBF Northern Division Championship, Ohio River, Wheeling, West Virginia

September 8-13, TBF Eastern Division Championship, Connecticut River, Middletown, Connecticut
September 15-20, TBF Mid-Atlantic Division Championship, Lake Hopatcong, Mt. Arlington, New Jersey
The Bass Federation Inc. (TBF) is owned by those we serve and dedicated to the sport of fishing. TBF is the largest and oldest, organized grassroots fishing organization there is. TBF affiliated state federations and their member clubs conduct more than 20,000 fishing, youth and conservation events at the local level each year and have provided a foundation for the entire bass fishing industry for more than 40 years. Visit bassfederation.com.