2013 Bassmaster Classic Qualifiers: Room For One More!
By editor on Nov 3, 2012 | In Bass Tournaments, BASS, Bassmaster Classic, Weekend Series, JVD, KVD

B.A.S.S. News
Three anglers from Michigan! Two from Indiana!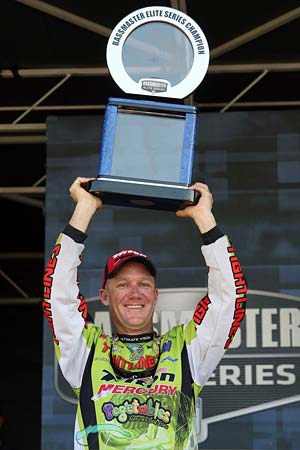 Toyota Tundra Angler of the Year Brent Chapman qualified for the classic through AOY, through an Opens victory and through his Elite Series win at the Toledo Bend Battle in Many, La. Photo Credit: B.A.S.S.
BIRMINGHAM, Ala. — The 2013 Bassmaster Classic on Oklahoma's Grand Lake o' the Cherokees, Feb. 22-24, will feature 53 of the best bass anglers in the world. Fifty-two of them have been identified. One is yet to be determined.
That final qualifier will come from the 2012 Toyota Tundra Bassmaster Weekend Series National Championship on Sam Rayburn Reservoir in Texas, Nov. 7-10. The top 50 "weekend warriors," winnowed down from 25 states, will be vying for $250,000 in prize money and a coveted berth in the Classic.
Of the 52 anglers already qualified for the Super Bowl of bass fishing, six earned their spots through the B.A.S.S. Federation Nation, eight qualified through the Bass Pro Shops Bassmaster Opens, seven took their slots by winning Bassmaster Elite Series tournaments, and the rest got in through their positions in the Bassmaster Elite Series Toyota Tundra Bassmaster Angler of the Year points standings.
Chris Lane, the 2012 Classic champion, triple qualified for the upcoming Classic; he was already qualified to compete as the defending champion, but also won an Open and finished 14th in the AOY race. Likewise, 2012 Angler of the Year Brent Chapman earned his way to the Classic three times over as AOY and through wins in the Opens and the Elite Series.
As for the 52 anglers who are "in," here are a few interesting facts:
Alabama leads the way with eight qualifiers. Florida, Tennessee and Texas each have four. It's the sixth year in a row that Alabama has sent the most anglers to the Classic. Since the championship's inaugural event in 1971, Texas has qualified the most anglers with 289.
Arkansas is the only state to qualify at least one angler for the Classic every year. This time, 1995 Classic champ Mark Davis and six-time B.A.S.S. winner Mike McClelland will be representing the Natural State.
Maine sends its first angler to the Classic in 2013 — Jonathan Carter of South Portland, who just qualified through the Federation Nation Championship. Twenty-one states and the Republic of Zimbabwe are already represented in the 2013 Classic. The only states that have never produced a Classic qualifier are Alaska, Hawaii, North Dakota and Wyoming.
Fifteen of the 52 anglers already qualified will be Classic rookies. The odds are good that the Weekend Series champion will also be a rookie.
Four-time Classic champ Kevin VanDam has the most experience of anyone in the field. He'll be competing in his 23rd championship ... in a row. It's the second longest streak in Classic history. Between 1974 and 2001, Rick Clunn fished 28 consecutive Classics.
The average qualifier for the 2013 Classic has already fished 5 1/2 championships, making this one of the most experienced and accomplished fields in Classic history.
There are eight former Classic champions in the 2013 field, including Mark Davis (1995), Boyd Duckett (2007), Alton Jones (2008), Michael Iaconelli (2003), Chris Lane (2012), Takahiro Omori (2004), Skeet Reese (2009) and Kevin VanDam (2001, 2005, 2010 and 2011). Between them, they've won 11 world championships.
There are seven former Toyota Tundra Bassmaster Anglers of the Year in the 2013 Classic field, including Brent Chapman (2012), Mark Davis (1995, 1998 and 2001), Michael Iaconelli (2006), Aaron Martens (2005), Skeet Reese (2007), Gerald Swindle (2004) and Kevin VanDam (1992, 1996, 1999, 2008, 2009, 2010 and 2011). Between them, they've won 15 AOY titles.
B.A.S.S. Federation Nation qualifier Gerry Jooste of Zimbabwe will be fishing his fifth Classic through the BFN. Jooste already held the record at four, and his fifth qualification further solidifies his status as one of the greatest amateur anglers in the world.
Another BFN qualifier, Indiana's Mark Dove, will be fishing his second Classic. Dove finished 26th in the 1997 championship, and the 16-year gap between appearances ties a Classic record previously held by two other anglers.
With 53 anglers, the 2013 Classic will feature the second largest field in championship history. In 2003, there were 61 anglers in the Classic. The 2004 championship also featured 53 anglers.
Classic qualifiers will be vying for a first-place payday of $500,000, the most coveted trophy in sportfishing and a piece of bass fishing immortality. The names of the anglers who have won the Classic read like a who's who of fishing — Kevin VanDam, Rick Clunn, Hank Parker, Denny Brauer, Michael Iaconelli, Skeet Reese and more.
Fifty-two anglers have earned the right to fish the 2013 championship, and there's room for one more — the winner of the Weekend Series National Championship, Nov. 7-10.
2013 Classic qualifiers and their qualification routes are:
Defending Bassmaster Classic Champion
Chris Lane of Guntersville, Ala.
Bassmaster Elite Series Champions
Brent Chapman of Lake Quivira, Kan.
Boyd Duckett of Demopolis, Ala.
Todd Faircloth of Jasper, Texas
Alton Jones of Waco, Texas
Ish Monroe of Hughson, Calif.
Brandon Palaniuk of Rathdrum, Idaho
Jeremy Starks of Scott Depot, W.Va.
Jonathon VanDam of Kalamazoo, Mich.
Bassmaster Opens Series Champions
Tracy Adams of Wilkesboro, N.C.
Hank Cherry of Maiden, N.C.
Jason Christie of Park Hill, Okla.
Pete Gluszek of Mt. Laurel, N.J.
Josh Wagy of Dewitt, Va.
Casey Scanlon of Lenexa, Kan.
Bassmaster Federation Nation Champions
Andy Bravence of Globe, Ariz. (Western Division)
Jonathan Carter of South Portland, Maine (Eastern Division)
Mark Dove of North Vernon, Ind. (Northern Division)
Gerry Jooste of Harare, Zimbabwe (Mid-Atlantic Division)
Jared Knuth of Wahoo, Neb. (Central Division)
Mark Pierce of Clarksville, Tenn. (Southern Division)
Pages: 1· 2