Metry Maintains Lead at Gusty Northern Open
By editor on Jul 21, 2012 | In Bass Tournaments, BASS Opens, BASS, Northern, JVD

B.A.S.S. News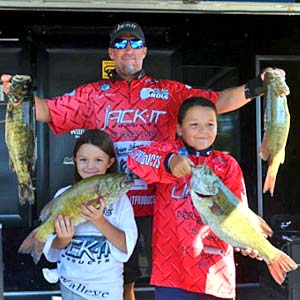 Brian Metry continues to lead the Bassmaster Northern Open after the day two weigh in on Lake St Clair shown here with his children and his big smallmouth bass. Photo Credit: B.A.S.S. / David Hunter Jones
DETROIT, Mich. – The weather changed for all of the competitors at the Northern Open on Lake St. Clair today, but the sun continued to shine the brightest on local angler Brian Metry. Many pros complained that the emerging sun and fierce winds didn't have their expected effect, but Metry added 22 pounds to his 23-05 catch from Day 1 and has a 14-ounce lead over Oklahoman Jason Christie.
"They were really crunching it today," Metry said, referring to his Jack-It Products crankbait. "I'm fishing a deep spot where the water is cool, and the current is helping to replenish the area." He intends to follow the same rotation tomorrow, starting in a place where he can virtually will a 15-pound limit to the boat, then going to his big fish spot to upgrade.
Starting with an early limit helps him to relax, he said. "I have all kinds of temptation to do it differently, but if I stick to my game plan instead of following temptation I might win this thing," Metry explained.
Despite adding 21-07 to his 23-pound Day 1 catch, Christie said the fishing was tougher. He only landed 10 keepers and caught the last good one with 10 minutes left to fish.
"The fish just moved a little bit, a hundred yards or so," he explained. "It took me a while to find them. I'm going to go back to the same place tomorrow and grind them out. I could come in with 12 pounds, or I could have 25."
The third angler to weigh more than 20 pounds each day is another local, Brian Ward. Of the Top 3, all of whom had more than 20 pounds both days, he was the only one to improve his weight on Day 2, adding 22-01 to his 21-14 first-day weight. As a result, he sits just half a pound behind Christie and less than a pound and a half out of the lead.
"I'm not going to change my plan," Ward said. "I have a particular spot and a particular lure that I'm using." He's keying on areas with abundant baitfish, particularly perch, trying to "match the hatch." Despite claims to the contrary from the vast majority of pros, Ward was resolute that "the sun helps."
Rounding out the Top 5 are two anglers in their early 20s, but despite their youth they both bring strong credentials to the final day of competition. Andrew Upshaw of Texas (4th, 42-03), competed in the 2012 Bassmaster Classic. While the win would give him a second consecutive Classic berth, he said he's "a lot more worried about making the Elites than the Classic."
Despite hailing from the heart of East Texas big bass country, Upshaw declared himself a finesse fisherman at heart. "The Northern Opens fit my style of fishing really well," he said. "Every day it's been different, everything from a tube to a drop shot to a crankbait, and I'm just figuring out how to catch the big ones."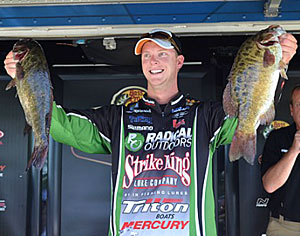 Recent Elite Series champion Jonathon VanDam is fishing strong again sitting in 5th place to make the Bassmaster Northern Open cut on Lake St Clair. Photo Credit: B.A.S.S. / David Hunter Jones
His fellow 20-something Jonathon VanDam (5th, 41-04) won the most recent Elite Series event on Green Bay, so his place at the upcoming Grand Lake Classic is already assured. He's fishing the same lure he fished in Green Bay, a drop shotted Strike King Dream Shot worm, and hopes it will produce the same results. Unlike Upshaw, whose catch today was nearly 4 pounds better than what he weighed in yesterday, VanDam saw his weight fall off by 2 pounds. He said he'll "swing for the fences" tomorrow.
Jon Swartz of Three Rivers, Mich., leads all co-anglers with a two-day total of 27-03, an average of more than 4 ½ pounds per fish. Today he weighed in a tournament-best three-fish co-angler limit of 15-09 behind 2000 Bassmaster Classic winner Woo Daves.
"He's a legend," Swartz said of Daves. "I couldn't have asked for a better pro partner. I caught most of my fish on soft plastics, everything from purple to orange, working them slowly through the weeds." Swartz has a lead of nearly 2 ½ pounds more than his nearest competitor.
Despite the claims of many that the sunshine didn't make the fish as aggressive as usual, it was still a banner day, with the vast majority of both the pro and co-angler fields bringing limits to the scales. It took a two-day total of 38-06 to make the 12-man cut on the pro side, and 34-12 to squeak into 40th place, the last money spot. On the co-angler ledger, six fish for 23-03 earned the last spot to fish on Saturday, and it took 21-01 to get a check.
Complete day 2 results and more pictures on the GreatLakesBass.com B.A.S.S. forum.
2012 Bass Pro Shops Bassmaster Opens Series Title Sponsor: Bass Pro Shops
2012 Bass Pro Shops Bassmaster Opens Series Official Sponsors: Toyota, Bass Pro Shops, Berkley, Evan Williams Bourbon, Mercury, Nitro Boats, Skeeter Boats, Triton Boats, Yamaha
2012 Bass Pro Shops Bassmaster Opens Series Supporting Sponsor: Boat U.S., BOOYAH, Carhartt, Humminbird, Luck "E" Strike, Minn Kota, Power-Pole
About B.A.S.S.
For more than 40 years, B.A.S.S. has served as the authority on bass fishing. The organization advances the sport through advocacy, outreach and an expansive tournament structure while connecting directly with the passionate community of bass anglers through its Bassmaster media vehicles.
The Bassmaster brand and its multimedia platforms are guided by a mission to serve all fishing fans. Through its industry-leading publications — Bassmaster Magazine and B.A.S.S. Times — comprehensive website Bassmaster.com and ESPN2 and Outdoor Channel television programming, Bassmaster provides rich, leading-edge content true to the lifestyle.
The Bassmaster Tournament Trail includes the Bassmaster Elite Series, Bass Pro Shops Bassmaster Open Series, Carhartt Bassmaster College Series, Cabela's B.A.S.S. Federation Nation events and the ultimate celebration of competitive fishing, the Bassmaster Classic.
B.A.S.S. offers an array of services to its more than 500,000 members and remains focused on issues related to conservation and water access. The organization is headquartered in Birmingham, Ala.