Ross, Hilldore Win NBAA Lake St Clair Open
By editor on Jun 18, 2012 | In Bass Tournaments, NBAA
NBAA News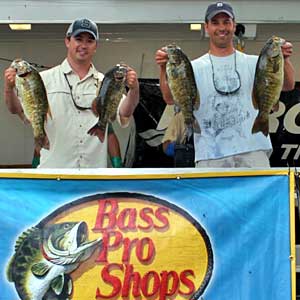 The team of Rob Ross and Adam Hilldore won the 2012 NBAA Lake St Clair Open bass tournament June 16 with 5 smallmouth bass weighin 21.47 pounds. Photo Credit: NBAA
What a day on Lake St. Clair! This amazing body of water never lets up! Big bag after big bag of smallmouth bass came to scales at the Lake St. Clair Open on June 16, opening day. The team that topped them all was the team of Rob Ross and Adam Hilldore. They weighed in an amazing bag of smallmouth bass weighing 21.47 pounds!
This giant bag of fish was worth more than bragging rights! It also earned them some extra Father's day money. The duo took home $5000 for topping a field over 80 boats. Coming in a close second with 21.12 lbs was the team of Gene Zuber and Mike Czarnecki. Their catch was worth $1250.00 in cash! The team of Mike McGrane and Mark Hill came in third. Mike and Mark brought in just under 21 lbs, worth a nice payday of $1000!
Big Bass?!? You want to talk about big bass?!? Just ask the 2nd place team about big bass. Gene Zuber and Mike Czarnecki brought in a whopper of a smallmouth that topped the scales at 7.07 pounds! Yes, that's correct 7.07 lbs! This giant bass was worth another $500 to the team.
However, the big question was who was going to win the Mystery Bait contest sponsored by Wayne Carpenter and Xtreme Bass Tackle. The lucky winners were Mike McGrane and Mark Hill. Mike and Mark won $250 in cash and prizes from Xtreme Bass Tackle.
In total nearly $12,000.00 in cash and prizes were paid out. Special sponsor prizes included items from Bass Pro Shops, Wrangler Rugged Wear, Tro-Kar, Humminbird, Lucky Craft, Minn Kota, Gamma Line, Lock-n-Haul, Eagle Claw, Auto Value, Star Tron, Please Release Me, and more. NBAA would like to thanks the sponsors for all of their support. NBAA would also like to thank all of the anglers for coming out and making the 2012 St Clair Open such a great event!
Complete results on the NBAA forum.