7th Annual Lake St Clair Open is this Saturday
By editor on Jun 10, 2012 | In Bass Tournaments, NBAA

NBAA News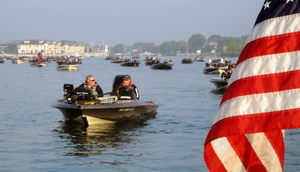 The 2012 Lake St Clair Open bass tournament is this Saturday June 16, picture from the 2011 Lake St Clair Open takeoff.
One of the biggest tournaments in Michigan is kicking off on June 16th. The 7th annual NBAA Lake St Clair Open is launching out of Harley Ensign on Lake St Clair. Last year's open was one of the best in recent history with the top 30 teams bringing in nearly 18 pounds. It has been said that the fishing has never been better on Lake St Clair and the big weights seem to prove this.
If you're looking to hook up with some monster smallmouth bass the St Clair Open is what you're looking for. You can register online or at the ramp. Along with a great tournament there will be raffles and other great prizes available to win. Plus, Wayne Carpenter from Xtreme Bass Tackle has a special mystery bait contest that he'll be running. This special contest will be worth an extra $250 in cash and prizes. So what are you waiting for? Register today!
For questions on the Lake St Open, please e-mail Jack Horning
Or download a registration form.