Your chance to fish in a tournament with Lions players and pro bass anglers!
By editor on Jun 4, 2012 | In Bass Tournaments, Pro Anglers, KVD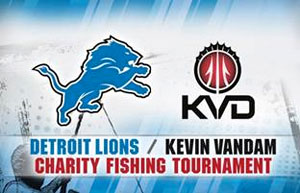 Do you want to be part of something cool? Do you want to fish against the greatest angler in the world? Do you want to fish alongside of Detroit Lion players and staff? Do you want to support a great charity for a great cause? I'm guessing you answered YES to all of the above. If so, you need to be a part of the Detroit Lions/Kevin VanDam Charity Fishing Tournament. This is a once in a lifetime opportunity to fish alongside the greatest angler in the world and some of your favorite Detroit Lions players and staff.
The field is limited and is filled on a first come, first serve basis. Registrations for 3 person teams are going on now. This is your chance for you and a couple of your buddies to be part of the hottest bass fishing tournament in Michigan this year. Detroit Lion players scheduled to be on hand include Willie Young, Kyle Vanden Bosch, Jahvid Best, Nate Burleson, Nick Fairley, Calvin Johnson, Brandon Pettigrew, Tony Scheffler and Stephen Tulloch. Professional anglers scheduled to be on hand include Tim Horton, Kim Stricker, Jonathan VanDam, Mark Zona and Kevin VanDam. For more details on how you and your buddies can be part of this big event read below.
If you'd prefer not to fish but would still like to be part of the event you can do that too. During weigh in there will be a special dinner open to the public. Tickets to attend the dinner are limited and will be sold on a first come, first serve basis. This is a special event like no other. Spots for fishing and the dinner will go fast. If you want to be part of this charity fishing tournament you'll need to act NOW!
Details for the Detroit Lions/KVD Charity Fishing Tournament.
Date: Tuesday, June 12th, 2012
Location: Kent Lake, Kensington Metropark, Milford, Michigan
Time: 9:00am – 4:30pm, Tournament facilitated by BASS. Weigh-in emcees are Dave Mercer and Dan Miller
Dinner: 4:30pm - 7:00pm with casual dinner during weigh-in
BASS TOURNAMENT: total weight, 5 fish per team; only largemouth and smallmouth bass may be weighed; minimum 14" length; only artificial lures permitted. All state and federal laws apply.
PRIZE PACKAGES: 1st, 2nd, 3rd, 4th, and 5th place teams will receive prize packages that include rod/reels, outdoor equipment, gift cards and more. In addition there will be prize packages for the biggest legal non-species fish and smallest legal non-species fish.
Registration for a 3 person team participating in the tournament using a personal boat and equipment, and not fishing with a member of the Detroit Lions is $500.00 per person. There are specific requirements and rules that must be met to fish the tournament with a personal boat – see the tournament rules document for further details. There are a very limited number of these spots available so early registration is encouraged to reserve your place in the tournament. Each angler registered will receive a complimentary breakfast, box lunch, and dinner ticket.
Registration Information - http://www.kevinvandam.com/promotions/promo/detroit-lions-kvd-charity-fishing-tournament
Tournament also includes a BIG FISH CONTEST with a cash prize. Tickets for the BIG FISH CONTEST will be sold at check-in.
SPONSORS: Interested in becoming a sponsor for the event? Please click here.
TEAM CHECK-IN: Check-in will be at Kensington Metropark the day of the event starting at 9:00 am. All Tournament participants will also receive an exclusive KVD / Detroit Lions Tournament Jersey. Release forms must be signed at or before check-in to participate in the tournament.
WEIGH-IN DINNER: A casual meal will be available during the weigh-in. Each angler registered to fish will use their dinner ticket to receive a complimentary dinner. The dinner is open to the public and tickets can be purchased for $100.00 each – kids 12 and under are free (limit of two per guest).
This is a great opportunity for family to come to the weigh-in and meet Kevin VanDam and Detroit Lions players and staff. Celebrities will be available to sign autographs, but outside items are discouraged as this is a Charity Event. Reasonably priced souvenirs will be available for purchase. To purchase tickets please fill out the registration form. ONLY 100 tickets will be sold. When they're gone, they're gone. Gates for the weigh-in open at 4:00pm.
Tournament Schedule:
9:00am – Registration
10:00am – Breakfast / Participants Mingle with Athletes / Pre-Tournament Briefing
11:00am – Launch Boats / Staging
12:15pm – Start Tournament - Group 1
12:30pm – Start Tournament - Group 2
4:15pm – End Tournament – Group 1
4:30pm – End Tournament – Group 2
4:30pm – 7:00pm - Weigh-in, Dinner, Silent Auction, Awards