June fishing tourney opens up three spots for Augusts Fish Your Bass Off
By editor on Jun 4, 2012 | In Bass Tournaments, NBAA

NBAA News
Last Chance for MIS Cares – Don't Miss Out!
Sign Up by June 8th!!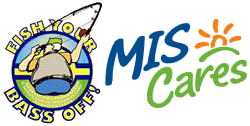 Due to the overwhelming success of Fish Your Bass Off, Michigan International Speedway's annual August fishing tournament benefitting MIS Cares, organizers at MIS and Jerry's Pub have launched 'The Qualifier.' "For two weekends a year, this area comes alive with awesome NASCAR racing and fishing at Jerry's Pub!" speedway President Roger Curtis said. "We have a great time with all the anglers and drivers who participate in Fish Your Bass Off, so we decided to extend the tournament to June for more teams to participate."
The Qualifier fishing tournament will be held Thursday, June 14 at Jerry's Pub on Wamplers Lake. The top-three fishing teams from The Qualifier will automatically gain entry into Fish Your Bass Off on Thursday, Aug. 16. But that's not all: The top-three angling teams at The Qualifier will also win $500 for first place; $350 for second; and $150 for third. Twenty-six teams of two are welcomed to join The Qualifier. Entry fee is $100 per team.
Besides anglers, The Qualifier event is from 5 to 8 p.m. and open to the public free of charge. Activities at Jerry's Pub that evening include a tiki bar party with live music by Fat Mouth Charlie, BBQ samples, show cars and a meet and greet with some of the ARCA Racing Series drivers.
To buy your ticket to attend the weigh-in/dinner/auction for Fish Your Bass Off in August, please call the MIS ticket office 9 a.m. to 4:30 p.m. Monday through Friday at (517) 592-1178. Tickets are $40. Only a limited number of tickets will be sold.
To fish in The Qualifier, please visit http://bit.ly/JtaD9s and download the entry form. SIGN UP BY June 8th to guarantee your spot!
MIS Cares, a 501© (3) non-profit entity under the umbrella of the NASCAR Foundation, focuses on raising funds for various local charitable causes the speedway supports. MIS Cares in 2011 alone awarded $75,000 in cash donations to local charities through its grant program. Another $50,000 was awarded through sponsorships and tickets those groups raffle off, also to raise money.
Nestled in the lush Irish Hills of Southeastern Michigan, Michigan International Speedway is the Great Escape, a venerable NASCAR national park where fans can get away and enjoy the very best in racing and camaraderie. It's the love of racing and the thrill of a great time for race fans and drivers alike.
All race tickets are on sale at http://www.MISpeedway.com or by phone at 800-354-1010.
Keep up with Michigan International Speedway via Twitter @MISpeedway or on Facebook at www.facebook.com/MISpeedway. You can also follow track president Roger Curtis on Twitter at @MISRoger.
Join our Mobile Fan Club by texting MISCLUB on a Sprint Handheld or other mobile device to 69050. Standard text message rates may apply.
Michigan International Speedway 2012 Schedule
Friday, June 15 ARCA Racing Series RainEater Wiper Blades 200
Saturday, June 16 NASCAR Nationwide Series Alliance Truck Parts 250 and Gatorade Pole
Sunday, June 17 NASCAR Sprint Cup Series Quicken Loans 400
Friday, Aug. 17 NASCAR Sprint Cup Series Practice
Saturday, Aug. 18 NASCAR Camping World Truck Series VFW 200 and Gatorade Pole Day
Sunday, Aug. 19 NASCAR Sprint Cup Series Pure Michigan 400
Tuesday, Sept. 11 Spirit of America Blood Drive