Shinichi Fukae Joins Troll Perfect Pro Staff
By editor on May 27, 2012 | In FLW Tour, Pro Anglers, Pro Teams, Sponsorship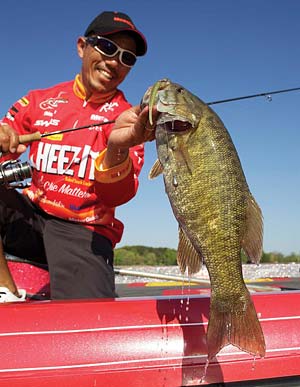 FLW Tour angler Shinichi Fukae signed a partnership with Troll Perfect the trolling motor tension adjusting system. Photo Credit: Shinichi Fukae
Perfect Outdoor Products, manufacturers of the patented Troll Perfect trolling motor tension adjusting system, is pleased to announce the signing of a partnership with FLW Tour angler Shinichi Fukae (as well as his personal page on facebook).
Shinichi, a successful professional angler from Palestine, Texas, will be using a Troll Perfect on his RangerTM boat with MercuryTM motor during the 2012 season. In his career, since 2004, he has 3 wins, 17 top-10 finishes, and has held titles ranging from "Rookie of the Year" to "Angler of the Year," and has weighed in an 11-pound tournament bass. His total earnings have topped the $1,000,000 mark.
"I am honored to join the Troll Perfect pro staff. I have been using Troll Perfect since I found it, and I really like it. It works great on my MotorGuideTM trolling motor and lets me focus on fishing all day long. I think Troll Perfect is the 'perfect' tool and a must-have item for anglers who seek an advantage," says Shinichi.
Senior Manager Ed Laabs adds, "We are proud to have a great fisherman and true gentleman like Shinichi Fukae representing, and assisting in the promotion of our Troll Perfect products. We feel our Troll Perfect product can benefit all anglers, and will provide Shinichi an extra advantage which will compliment his fishing skills during the 2012 tournament schedule." For more information, call 248-747-8520, write to: Perfect Outdoor Products, PO Box 70551, Rochester Hills MI 48307, or visit our website: www.trollperfect.com.