Lane, Brown Win PAA Tour Team Title
By editor on Jan 29, 2012 | In Bass Tournaments, PAA

PAA News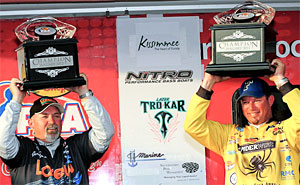 Gerald Brown and Bobby Lane keep the lead to win the inaugural PAA Tour Team Challenge on Lake Toho with 64.64 pounds of Florida bass. Photo Credit: PAA
KISSIMMEE, Fla. – Spiderwire pro Bobby Lane has a pretty good memory for where fish are in a lake, where a specific piece of cover or structure may have a wrinkle and what to do to catch a fish based on years of experience.
He's also kept a tally of his big tournament finishes in Florida, and his home state hasn't been too good to him.
"I was second here a year ago to Gerald Swindle, I finished third in another one, second in another, and had several other thirds, fourths and fifths," Lane said. "This is a good feeling, a really good feeling. These fish owed me and owed me for several years. Now we got the best of 'em this week."
That "we" reference was to himself and his team partner, Gene Larew Baits pro Gerald Brown of Oklahoma. They joined forces along with 17 other teams in the inaugural Bass Pro Shops PAA Tour Team Challenge on Lake Toho and won with 64.64 pounds.
At stake were more than $100,000 in cash and prizes including two new Nitro Z-8 and Z-7 boats with Mercury 225 Optimax and XS outboards, T-H Marine Atlas jackplate, Minn Kota Talon shallow water anchors and PAA Tournament Series points toward the PAA Angler of the Year title and qualification for the Toyota Texas Bass Classic championship.
Lane and Brown won the Nitro Z-8 with Mercury Optimax along with the Talons for the Minn Kota/Humminbird Big Bass award. Lane's fat 10.59-pounder caught Thursday held up, and he added a 10.02-pounder Friday.
"This was an awesome week," Brown said. "I really can't explain it. I learned a lot from Bobby, and we had a great time out there."
Phoenix Boats pro and founder Gary Clouse teamed with Culprit pro John Kremer of Florida for second place. They finished with 60.47 pounds after catching Saturday's best limit of 24.94 pounds on Culprit 10-inch worms.
Jasper Engines pro Chad Morgenthaler of Illinois and Evinrude pro Glenn Browne of Florida were third with 60.11. They led after the first day with a stunning 31.89 pounds, the best of the tournament, but struggled the final two days in their top area.
Brown, Lane mixed it up
Running more than 35 miles to Lake Kissimmee from the Lakefront Park launch on the north end of Toho, Lane and Brown pulled into their lily pad field Saturday morning and found traffic.
"It looked like a big convention going on in there," Brown said. "There were probably 12-15 other boats in there, everyone just fishing, and we eased around and caught two before the sun got up good."
That's when they went sight fishing for a couple of bigger bass Lane said they located Friday. But they didn't find them, and windy conditions played a bit of a factor Saturday. They brought in a limit weighing 14.99 pounds but needed just 10 to knock off Clouse and Kremer.
Lane and Brown threw 11-inch Gene Larew El Salto worms and a 3.5-inch saltwater minnow, along with Berkley Craw Fatty pitch baits, Grass Pig swimbaits and Texas-rigged straight-tail worms. They stuck with darker colors in Okeechobee, green pumpkin/red and junebug/red.
"It got tougher Saturday," Lane said. "But we hung in there and picked around to get whatever we could. This one's pretty special."
Clouse, Kremer tossed worms
Working an area of vegetation about 100 yards by 50 yards wide, Kremer and Clouse threw junebug-colored 10-inch Culprit worms all week.
"We had them on quarter-ounce sinkers and 15-pound test line," said Kremer, a noted tournament stick in central Florida. "It was just a matter of putting it out there and working it slowly, which is typical for this time of year."
Spawning bass in the Kissimmee grass aren't known for much chasing, so a near-deadstick presentation is almost always a good bet in January. Casting or pitching to holes and letting it sit is a favored tactic.
"We worked them so slowly that John made me take off the reel handle when I'd make a cast and then ask for it back when it was time to make another one," Clouse joked. "He really put on a clinic out there with the worm. We had a great day."
About the PAA
The Professional Anglers Association is a non-profit organization that gives professional anglers a unified voice in order to aid in the growth of the sport of professional bass fishing. The PAA also aims to administer educational programs to the average angler, to increase enjoyment of the sport, and to embrace sound conservation practices to further the future of the sport. Web: www.FishPAA.com
2012 PAA Tournament Series Premier Sponsors: Bass Pro Shops, E21 Carrot Stix, Optima Batteries, Nitro Performance Bass Boats