Lane, Brown Jump To The Top on Toho
By editor on Jan 28, 2012 | In Bass Tournaments, PAA

PAA News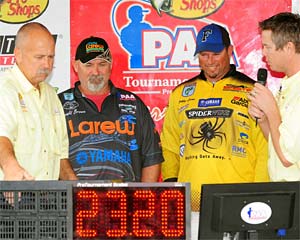 Bobby Lane and Gerald Brown lead the PAA Tour Team Challenge on Lake Toho after day 2 of tournament competition. Photo Credit: PAA
KISSIMMEE, Fla. - Spiderwire pro Bobby Lane of Florida and Gene Larew pro Gerald Brown of Oklahoma weighed 23.20 pounds Friday to jump into the lead of the Bass Pro Shops PAA Tour Team Challenge on Lake Toho.
Brown and Lane brought in another double-digit lunker - at 10.02 pounds - to anchor their catch of 49.65 pounds. They have a slim margin of just more than a pound over first-day leaders Evinrude pro Glenn Browne of Florida and Jasper Engines pro Chad Morgenthaler of Illinois, who have 48.23 pounds.
Close behind are the Missouri team of Bass Pro Shops pro Brian Snowden and TheGreatOutdoors.com pro Jeff Hager, who have 40.75 pounds.
"We battled the weather and had just two good bites, but found another area with some fish in it so we'll go back there Saturday," said Lane, who lives in Lakeland and has fished the central Florida lakes all his life. He and Brown are locking into Lake Kissimmee.
The field was greeted by gusting wind and spitting rain Friday morning. The rain subsided mid-morning but the wind continued most of the day. The front finally moved out of the area about 5 p.m. Sun and clear skies are expected for Saturday's final round.
Eighteen teams featuring some of the top pros in the sport are competing in the PAA's season-opening event. More than $100,000 in cash and prizes is at stake, including a Nitro Z-8 with a Mercury 225 Optimax and T-H Marine Atlas jackplate, Nitro Z-7 with a Mercury Pro XS, and MinnKota Talon shallow water anchors for the big bass winners. Also at stake are points toward the PAA Angler of the Year title and qualification for the Toyota Texas Bass Classic world championship in September on Lake Conroe.
Saturday's final launch will be at 7 a.m. at Lakefront Park in Kissimmee, with the free weigh-in at 4:30 p.m. at Bass Pro Shops off of International Drive in Orlando.
Brown, Lane running long
With years of experience with Florida's quick storm systems, Lane wasn't worried Friday morning about the wind and rain that blew in overnight.
"It's 60-something degrees," he said. "It's not going to bother them. It just makes it a little tougher to talk to the fish."
Lane and Brown are running about 37 miles into Lake Kissimmee, where they are mixing up sight-fishing and casting. They were tight-lipped about any details but are glad the weather will be better Saturday.
"It was miserable first thing," Lane said. "But then it got a little better. Saturday may be a little tougher. We'll have to try to grind it out early."
Browne, Morgenthaler confident
After taking the first-day lead with 31.89 pounds, Browne and Morgenthaler returned to their best area – their only area, unless they have a secret backup – and mined it for 16.34 pounds to stay in the hunt.
That's about what was expected considering the weather, they said. They're working a shallow flat with grass where bass are bedding but haven't really camped out in it. They made one good pass Thursday and then the wind created tough sight-fishing and pitching conditions Friday.
"I think the outside of it might have gotten a little trashed but not too badly inside," Browne said. "If the wind lays down and the sun shines good, we'll have a shot."
Morgenthaler said even with their Power Poles planted, it still was tough Friday.
"We haven't beaten up on it because we blew through so fast," he said. "I really hoped we could put it away or get on up there, but we couldn't. We'll give it another shot pretty hard Saturday and see what happens."
Snowden, Hager consistent
A catch of 17.68 pounds, including an 8.40-pounder, kept Snowden and Hager in the hunt with one day left.
They're also working some bedding fish and mixing up a little offshore action for pre- and post-spawners. They had 23.07 on the first day and, with one or two bites capable of making a difference, are happy with the consistency.
"Hopefully if the wind lays down we'll be allright," Snowden said.
Hendrick, Eaker move up
Consistency factored in for TheGreatOutdoors.com pro David Hendrick and Bojangles pro Guy Eaker with a solid 20.92-pound limit.
That was the second-biggest of the day, putting them in fourth place. They're about 10 pounds out of the lead.
Eaker said he lost two giants, estimated at 9-10 pounds each. One broke his 20-pound test line and the other came unhooked at the boat just outside the net.
Bebber, Wilkerson grinding
After a solid first day of 28.22 pounds, Tiremax pros Charles Bebber and Chris Wilkerson of Texas had a disappointing plunge with just 7.81 pounds.
As longtime sticks in the Texas team and regional circuits, they're not completely disheartened. Bebber said Wilkerson "is one of the best sight-fishemen I know" and their cohesiveness will keep them in the chase Saturday.
"We put all our eggs in the sight-fishing basket and knew the weather would throw us a curve ball," Bebber said, "but we didn't think it would be this much of a curve."
About the PAA
The Professional Anglers Association is a non-profit organization that gives professional anglers a unified voice in order to aid in the growth of the sport of professional bass fishing. The PAA also aims to administer educational programs to the average angler, to increase enjoyment of the sport, and to embrace sound conservation practices to further the future of the sport. Web: www.FishPAA.com