Lane wins Harris Chain Open, first berth in 2013 Classic
By editor on Jan 22, 2012 | In Bass Tournaments, BASS Opens, BASS, Southern

B.A.S.S. News
Garneau Baits pro Luke Gritter finishes 8th with 44-13!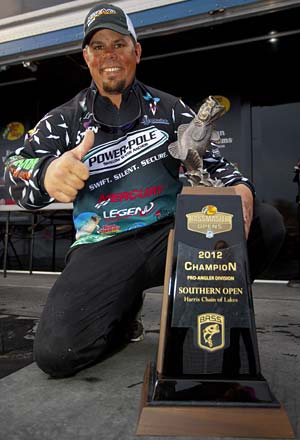 Chris Lane wins the 2012 Bassmaster Southern Open on Florida's Harris Chain and a spot in the 2013 Classic. Photo Credit: B.A.S.S.
Orlando, Fla. -- Chris Lane of Guntersville, Ala., made it look easy on Florida's Harris Chain of Lakes in the kick-off event of the 2012 Bass Pro Shops Southern Open series. As the only angler to weigh in 20 or more pounds of bass each day on the way to his third B.A.S.S. win with a three-day total of 72-11 pounds. Clifford Pirch of Payson, Ariz., finished second with 58-1.
Citing the need to slow down and fish his areas thoroughly, Lane used a variety of baits to claim the title and a provisional berth in the 2013 Bassmaster Classic on Oklahoma's Grand Lake o' the Cherokees, Feb. 22-24. If Lane fishes the remaining two events in the Southern Open season, he'll cement the spot in bass fishing's greatest championship.
"I caught fish on several soft plastics, including 7-inch Gambler Sweebo worms, Gambler Cane Toads and the Gambler Big Easy, but I found my bass with a chartreuse Lucky Strike RC2 crankbait," Lane said. "I used it as a search bait. When I found bass with it, I'd pick up the soft plastics and really work the area over."
Despite having a five-pound lead going into the final round, Lane had a scare on Saturday morning. After catching a couple of small keepers, his co-angler caught two bass weighing a cumulative 15 pounds on consecutive casts.
"I was rattled," Lane admitted, "but I knew what I had to do. I was making mistakes, and I needed to slow down."
And he did. Lane's next bass was his best of the day, a lunker that inhaled a Sweebo worm. When the day was over, his best five weighed 28-5, good enough for the Lucky Strike heavyweight of the tournament.
Day Three's big bass belonged Keith Carson of Debary, Fla., and weighed 9-13.
Garneau Baits pro staffer Luke Gritter from Kalamazoo, Michigan finished in 8th place with a 15-bass 3-day total of 44-13 after weighing in 5 bass for a little over 13 pounds the final day. Chris Bowes says, "We always joke that Luke Gritter is the most popular angler to come out of Kalamazoo, Mich."
Avery McCormick of Mobile, Ala., had the lead on the co-angler side on Days One and Two despite not catching a limit (3 bass for co-anglers) on either of the first two days. It caught up with him in the final round. He had just one bass and it weighed only 14 ounces.
Michael Bradford of Scottsboro, Ala., saw McCormick's stumble as an opportunity. His three-day total of 27-9 earned him $35,000 in cash and merchandise, including a Triton-Mercury boat and motor package.
2012 Bassmaster Opens Official Sponsors: Toyota, Bass Pro Shops, Berkley, Humminbird, Mercury, Minn Kota, Skeeter Boats, Triton Boats, Yamaha.
2012 Bassmaster Elite Series Supporting Sponsors: BoatUS, BOOYAH Bait Company, Lowrance, Luck "E" Strike, Nitro Boats, Power-Pole.
About B.A.S.S.
For more than 40 years, B.A.S.S. has served as the authority on bass fishing. The organization advances the sport through advocacy, outreach and an expansive tournament structure while connecting directly with the passionate community of bass anglers through its Bassmaster media vehicles.
The Bassmaster brand and its multimedia platforms are guided by a mission to serve all fishing fans. Through its industry-leading publications — Bassmaster Magazine and B.A.S.S. Times — comprehensive website Bassmaster.com, ESPN2 and Outdoor Channel television programming, Bassmaster provides rich, leading-edge content true to the lifestyle.
The Bassmaster Tournament Trail includes the Bassmaster Elite Series, Bass Pro Shops Bassmaster Open Series, B.A.S.S. Federation Nation events presented by Yamaha and Skeeter Boats and the ultimate celebration of competitive fishing, the Bassmaster Classic.
B.A.S.S. offers an array of services to its more than 500,000 members and remains focused on issues related to conservation and water access. The organization is headquartered in Birmingham, Ala.