Chris Lane Grabs Second-Day Lead On The Harris Chain
By editor on Jan 20, 2012 | In Bass Tournaments, BASS Opens, BASS, Southern

B.A.S.S. News
Michigan bass pro Luke Gritter advances to final day in 8th place!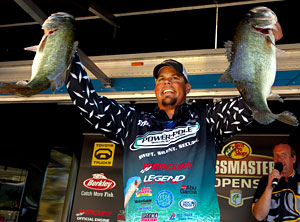 Big bass like these have given Elite Series pro Chris Lane a 5-pound lead going into the final round of the Bass Pro Shops Bassmaster Southern Open on Florida's Harris Chain. Photo Credit: James Overstreet
TAVARES, Fla. – It was a day of regulars and records on the Harris Chain of Lakes at the Bass Pro Shops Bassmaster Southern Open. The regulars were local anglers like Chris Lane and Tim Frederick, who continued to show their dominance. The record – at least for B.A.S.S. history on these waters – belonged to Bassmaster Elite Series rook Jared Miller of Norman, Okla.
Lane, formerly of Lakeland, Fla., and now residing in Guntersville, Ala., had another stellar day after weighing in 20 pounds, 8 ounces yesterday. His 5-bass limit weighed 23 pounds, 14 ounces, giving him a two-day total of 44-6 and the lead going into the final day of competition, but he said it wasn't easy.
"I really had to slow down and change some things," Lane said. "The fish changed overnight because it was a little colder. The water temperature was 58 degrees this morning, when it had been in the low 60s on previous mornings."
Lane has been remarkably steady thus far, but admits things can change in a hurry on the Harris Chain. "I'm expecting some surprises tomorrow. It's possible for anyone to catch a 30-pound bag here the way these spawners are moving up."
Will Lane change his methods or locations in the final round? Even he doesn't know just yet.
"I've got a spot I haven't been to yet," he said. "It's not that far from where I'm fishing, but it's a long idle to get back there. I'm not sure I can leave the fish I'm on to fish this other area, but I know it hasn't been fished by anyone, and it could be a great backup spot. I'll make that decision on Saturday."
Tim Frederick, the Day One leader, wasn't able to match his first round magic, but his second round total of 38-11 was good enough to keep him in the hunt in third place. Clifford Pirch of Payson, Ariz., is second with 39-6.
The day's big catch belonged to Elite Series pro Keith Poche with 25-3. He's optimistic about his chances on the final day.
"I had a terrible first day because I had to share the water with so many other boats," Poche said. "With just 12 boats on the water tomorrow, I like my chances to have another good day."
Poche is catching his bass on Lake Eustis using a shallow-running crankbait, targeting staging fish that are preparing to spawn.
One angler who won't be fishing on Saturday but already made his mark in the tournament is Jared Miller, whose 11-pound, 10-ounce largemouth took over big bass honors in the tournament. The fish is the largest ever weighed in BASS' history on the Harris Chain. The previous best lunker weighed 11-1.
"I found her on a bed last week during practice," Miller said, a little surprised that she was still there when competition began. "I caught her on Little Lake Harris. I spent five hours trying to catch her yesterday. Because of the wind and water clarity, I could just barely see her."
Miller used a white "bed fishing jig" made by his father, Jeff, to catch the giant. "On the first day I caught one weighing about 8 1/2 on the jig, but I didn't even weigh it for big fish because I knew I was going to catch this one."
Miller used a 7-foot, heavy-action Duckett Micro Magic rod, a Revo MGX casting reel and 20-pound-test Trilene 100% Fluorocarbon line to fish the jig. He didn't use a trailer on the bait.
Michigan bass pro Luke Gritter advanced to the final day sitting in 8th place with 10 bass weighing 31-12 after catching 15-5 today!
Avery McCormick held onto his lead on the co-angler side of the competition with a two-day total of 26-7.
The top 12 anglers on the pro and co-angler sides will move on to the final round tomorrow. The final round weigh-in will be staged at Bass Pro Shops in Orlando.
About B.A.S.S.
For more than 40 years, B.A.S.S. has served as the authority on bass fishing. The organization advances the sport through advocacy, outreach and an expansive tournament structure while connecting directly with the passionate community of bass anglers through its Bassmaster media vehicles.
The Bassmaster brand and its multimedia platforms are guided by a mission to serve all fishing fans. Through its industry-leading publications — Bassmaster Magazine and B.A.S.S. Times — comprehensive website Bassmaster.com, ESPN2 and Outdoor Channel television programming, Bassmaster provides rich, leading-edge content true to the lifestyle.
The Bassmaster Tournament Trail includes the Bassmaster Elite Series, Bass Pro Shops Bassmaster Open Series, B.A.S.S. Federation Nation events presented by Yamaha and Skeeter Boats and the ultimate celebration of competitive fishing, the Bassmaster Classic.
B.A.S.S. offers an array of services to its more than 500,000 members and remains focused on issues related to conservation and water access. The organization is headquartered in Birmingham, Ala.