B.A.S.S. Imposes One-Lure Rule For The Bassmaster Classic And Elite Series
By editor on Jan 20, 2012 | In BASS Elites, BASS, Bassmaster Classic

B.A.S.S. News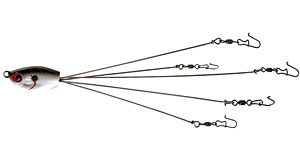 Castable umbrella rigs like this one are the hottest bass lure in the land right now leading B.A.S.S. to ban them from all Elite Series events and the Bassmaster Classic.
BIRMINGHAM, Ala. — B.A.S.S., upon the recommendation of its Bassmaster Elite Series Rules Committee, has amended its tournament rules to limit anglers competing in the Bassmaster Classic and Bassmaster Elite Series to the use of a single lure during practice and competition.
The rule change, which does not apply to Bassmaster Open, B.A.S.S. Federation Nation, College B.A.S.S. and other events, clarifies the intent of long-standing rules permitting only one rod, one reel and one cast at a time. No longer permitted are double soft jerkbait rigs, drop shot rigs with jigs used as weights, double topwater setups and other multi-lure rigs, such as "umbrella rigs."
The change becomes effective Feb. 1 and includes the upcoming Bassmaster Classic at Shreveport-Bossier City, La., Feb. 24-26.
Elite Series Rules Committee members, comprised of 2012 Bassmaster Elite Series qualifiers, seemed most concerned about new multi-lure rigs such as The Alabama Rig, which Bassmaster Elite Series pro Paul Elias used to win an event on Lake Guntersville in October. In the weeks since, tens of thousands of the multi-lure devices have been sold, and they have proved extremely effective in both recreational and competitive fishing.
The Alabama Rig and similar setups from other manufacturers consist of a weighted head with five wire leaders trailing behind. Soft plastic swimbaits and similar lures are attached to the leaders, imitating a school of baitfish.
Rules Committee members believe the rig eliminates some of the skill that should be required in tournament competition at the highest level. "It doesn't matter how you work it," said one of the anglers. "The fish can't help themselves."
"The Alabama Rig has become enormously popular in recent months, and it has definitely had an impact on the tournaments in which it has been used," noted Trip Weldon, B.A.S.S. tournament director. "Personally, I have enjoyed catching bass on umbrella rigs and found them to be very effective in some situations. I have witnessed first-hand the excitement this technique has generated in our sport.
"However, the Elite Series Rules Committee members unanimously asked to be held to a higher standard," he added. "We have decided to honor their recommendation."
The rule change follows a precedence of imposing more stringent restrictions in Elite Series and Classic competition than in other B.A.S.S. events. For example, landing nets are prohibited in the Elites and the Classic but not in other circuits. Additional rules specific to the Elites include off-limits periods, no-information restrictions and new limits on boats that can be used in competition.
B.A.S.S. officials emphasized that the decision should not be construed as disapproval of multi-lure rigs.
"We are as excited as the rest of the country about the new multi-lure rigs," said Bruce Akin, B.A.S.S. CEO. "We will continue to cover new ways to utilize these tools in Bassmaster Magazine and on Bassmaster.com. Our Classic and Elite tournaments simply have a higher standard for the sake of competition. The rest of us will enjoy learning how to catch more fish with these tools."
A Rules Committee member added, "I don't have a problem with the use of umbrella rigs or multi-lure rigs to catch bass. If you are out fun fishing, there may be nothing more fun to use. However, our events represent the highest level of professionalism in our sport and I think as participants of these events, we should be held to a higher standard, as well. I like the idea of one rod, one reel, one lure."
About B.A.S.S.
For more than 40 years, B.A.S.S. has served as the authority on bass fishing. The organization advances the sport through advocacy, outreach and an expansive tournament structure while connecting directly with the passionate community of bass anglers through its Bassmaster media vehicles.

The Bassmaster brand and its multimedia platforms are guided by a mission to serve all fishing fans. Through its industry-leading publications — Bassmaster Magazine and B.A.S.S. Times — comprehensive website Bassmaster.com, ESPN2 and Outdoor Channel television programming, Bassmaster provides rich, leading-edge content true to the lifestyle.

The Bassmaster Tournament Trail includes the Bassmaster Elite Series, Bass Pro Shops Bassmaster Open Series, B.A.S.S. Federation Nation events presented by Yamaha and Skeeter Boats and the ultimate celebration of competitive fishing, the Bassmaster Classic.

B.A.S.S. offers an array of services to its more than 500,000 members and remains focused on issues related to conservation and water access. The organization is headquartered in Birmingham, Ala.