North American Bass Circuit Announces 2012 Schedule
By editor on Dec 13, 2011 | In Bass Tournaments, NABC

NABC News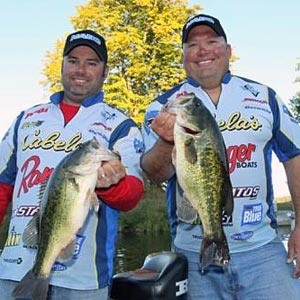 Reigning NABC World Bass Champions Buckley Smith and John Roundsley. Photo Credit: NABC
NOVEMBER 10, 2011—MINNETONKA, MN—World-class bass fishing, premier destinations and hefty payouts are on tap in the North American Bass Circuit's second season of team-format tournament action.
"We worked with our anglers, fisheries managers, sponsors and site hosts to select the best bass fisheries—at peak fishing times—to put together dynamite destinations for the 2012 trail," said Executive Director Dan Johnson.
The NABC's 2012 schedule is as follows:
Qualifiers
May 12 - Lake Winnebago Chain at Menominee Park, Oshkosh, WI
June 23 - Madison Chain at Green Lantern on Lake Waubesa, Madison, WI
August 4 - Gull Lake, MN
Sept. 8 - Leech Lake at Trapper's Landing Lodge, Walker, MN
NABC World Bass Championship
Oct. 5-6 - Mississippi River Pools 4-5, MN/WI
"The Winnebago system is a hotbed for large- and smallmouth action, with an amazing amount of water on which our anglers can fish a variety of presentations," Johnson noted. "And the Madison Chain has a rich history of great bass tournament action as well."
With nearly 10,000 acres of top-notch largemouth water, Gull Lake is another must-fish destination for serious bass fans. "It's the perfect place for NABC teams to showcase their talents to their 500,000 fellow North American Fishing Club members, who'll be following the event online and in North American Fisherman magazine, along with other top print and digital media outlets," Johnson predicted.
"After Leech Lake and Trapper's Landing Lodge proved themselves premier venues at the NABC World Bass Championship in September, our anglers were eager to go back," he continued. "And with its amazing bass fishery, the Mississippi River is a perfect setting for the season's grand finale. With this lineup, I can't wait to watch the action unfold."
Once again, the NABC plans to limit qualifier fields to 50 boats. Registration opens Jan. 9, with earlybird sign-ups taken through Feb. 13. For 2012, teams will be required to fish a minimum of two qualifying tournaments to earn points toward the World Bass Championship, and three for the Team of the Year race. Details on locations, rules and more will be announced shortly. The NABC is open to all anglers. For more, visit northamericanbasscircuit.com, call toll-free (877) 893-7947, or email events@namginc.com.
Sponsors of the NABC include Cabela's, the World's Foremost Outfitter for hunting, fishing and outdoor gear, Ranger Boats, Stratos Boats and the North American Fishing Club. Supporting sponsors include Mercury Marine, Rapala, Sufix, Trigger X, Detwiler-MarineTech Products, Gemini Sports Marketing, Wave Fishing, O2 Marine Technologies and Optima Batteries.