California Woman Lands $100,000 Grand Prize Playing FLW Fantasy Fishing Presented By Straight Talk
By editor on Nov 12, 2011 | In FLW Outdoors, Fantasy Fishing
FLW Outdoors News
Mother of two's free hobby results in Monday morning surprise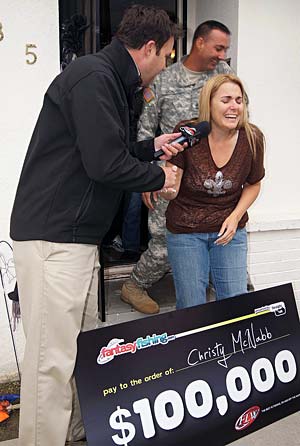 FLW Outdoors TV host Jason Harper surprises Fantasy Fishing point champion Christy McNabb of Kerman California with $100,000. Photo Credit: FLW Outdoors
MINNEAPOLIS, Minn. (Nov. 7, 2011) – She may not fish, but she definitely knows a thing or two about the people who do. Christy McNabb of Kerman, Calif., used that knowledge to claim $100,000 in the richest fantasy sport on the planet.
While the game may be fantasy, the reality is McNabb was the overall point champion during the 2011 season of FLW Fantasy Fishing presented by Straight Talk. Jason Harper, the host of television's FLW Outdoors, rang McNabb's doorbell in Kerman at 10 a.m. Monday and surprised her with a replica check for $100,000.
"I never dreamed in a million years this would happen," McNabb said. "This is absolutely amazing."
The 38-year-old mother of two admits she didn't know much about professional fishing before she started playing the free game and had to do all of her own research to keep up with her 20 family members in the Fresno, Calif., area who also play Fantasy Fishing. McNabb said that she and her mother are the only two females in her family who play Fantasy Fishing.
"I'm on Facebook a lot and I used to play FarmVille all the time and my dad talked me into playing Fantasy Fishing," McNabb said. "I gave up FarmVille because I had no more time for it. I was busy with Fantasy Fishing."
The 2011 Fantasy Fishing season consisted of 10 tournaments surrounding the Walmart FLW Tour. All the prizes are guaranteed, including $15,000 to the winning player for each of the qualifying events.
Fantasy Fishing participants choose the anglers they anticipate having the highest finish in no particular order. Players receive Angler of the Year points for each angler they have selected in the top 10. Of the 10 selected anglers, each player must choose the angler they think will win the tournament. For a tie-breaker, participants must choose the total weight for the winning angler.
In addition, participants may choose to employ the use of Player's Advantage, a unique tool that offers additional resources and information to its members. Player's Advantage members gain access to additional statistics, history on anglers, information about fisheries, weather conditions, plus several additional tips providing them the best advantage for each tournament. Players that had Player's Advantage won at a rate of four-to-one over those that did not access Player's Advantage.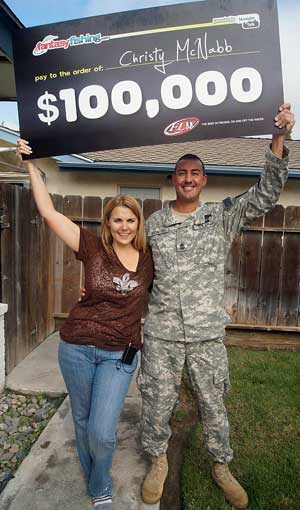 2011 Fantasy Fishing point champion Christy McNabb of Kerman California wns $100,000 with her 20-year serviceman husband. Photo Credit: FLW Outdoors
McNabb said the $100,000 cash prize couldn't have come at a better time. McNabb and her husband, who is a 20-year serviceman with the Army stationed in San Francisco, have a daughter with a muscular disorder who has required multiple medical procedures, including one in July that carried a price tag of $20,000. McNabb said the couple recently received three letters in the mail the same day from insurance companies denying coverage for the procedures.
"We'll be able to have those done now," said an emotional McNabb. "This weekend was horrible after receiving those letters. This is really going to help us out. I've been thinking about this all weekend and the chances of winning this money and how much it would help out. I've been doing a lot of praying."
McNabb's fantasy sport participation has turned into a very real life-changing experience and said she is already looking forward to the next season, which kicks off with the FLW Tour's Lake Okeechobee event Feb. 9-12, 2012.
"I think everybody should play Fantasy Fishing," McNabb said. "I cannot believe I won this much money and it was free to play."
Terri Hett of Canton, Kan., claimed second place overall and won a Ranger Z-520 boat with a Ranger Trail Trailer, 250 Mercury outboard, Minn Kota Maxxum 80 trolling motor, Lowrance electronics and trolling motor batteries – all valued at $54,000. The mother of two is a self-proclaimed fantasy sports fanatic who enjoys fishing in ponds with her family.
Hett said she started playing Fantasy Fishing as a way to bond with her daughter, who was left severely disabled and confined to a wheelchair after contracting a virus during early childhood. The daughter loves to fish and uses custom fishing equipment, so the Ranger Z-520 boat they won is certain to provide new opportunities for the family to spend more time fishing new waters
Pages: 1· 2