James Graves III and Lance Freeman win JWC
By editor on Nov 11, 2011 | In Bass Tournaments, BASS, BASS Federation Nation, Youth
B.A.S.S. News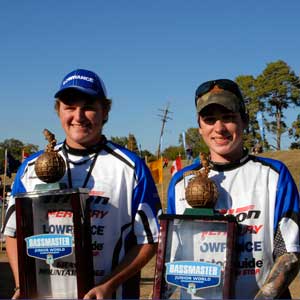 James Graves III won the 11 to 14 year olds division while Lance Freeman won the 15 to 18 division on Bayou DeSiard during the 2011 Bassmaster Junior World Championship. Photo Credit: B.A.S.S./Tyler Reed
MONROE, La. — Most of the 2011 Bassmaster Junior World Championship competitors said today could have gone better. But for James Graves III, it really couldn't have.
Graves blew away the field on Bayou DeSiard in Monroe, La., with 5 pounds, 12 ounces, which was 3 pounds, 10 ounces better than his closest opponent in the 11- to 14-year-olds age division, Adam Farner.
"I was catching them on almost every cast this morning," said Graves, a member of the Orange County High School Anglers in Virginia. "I caught about 10 today, but only four were keepers."
Graves was the only angler in the field to bring in more than two fish, and he credits the cypress trees in the shade against the bank for his good fortune. He was fishing a shaky head around the cypress trees slowly, and the bass would just pick it up.
Lance Freeman fished pretty slowly too, and it paid off for him as well. Freeman won the 15- to 18-year-olds age group with 2 pounds, 10 ounces — all from a single fish.
"I was fishing a spinnerbait and caught a few short fish," said Freeman, a member of the West Kentucky Junior Bassmasters. "But I caught the keeper flipping a Fish Candy Bait Co. Beave Bug in watermelon red."
Freeman and his Southern Division counterpart, Alan Shelton, covered a lot of water today, claiming they fished three-quarters of the bayou. They had most of their success on the northern end of the bayou. Together, the pair caught about 15 fish but only had three keepers in the boat.
"I am astounded that I won," exclaimed Freeman afterward as he held his trophy. "I'm just speechless."
The Junior Bassmaster contenders were driven around the bayou by volunteer anglers from University of Louisiana at Monroe (ULM), all of whom were complimentary of the young competitors.
"I would have fished the same stuff James did," said Nick LaDart, Graves' driver. "He really adapted today from the cloudy conditions in practice yesterday. He did great."
The families of the winners gathered around as soon as Graves and Freeman were presented their trophies.
"I'm just so proud of him," said Lance's mother, Vonda Freeman, with tears in her eyes. "I knew he could do it. He never gives up."
To learn more about the Junior Bassmaster program, visit www.bassmaster.com/youth. For more information about the B.A.S.S. Federation Nation, go to www.bassmaster.com/federation-series.
FINAL STANDINGS – 2011 BASSMASTER JUNIOR WORLD
CHAMPIONSHIP – BAYOU DESIARD, MONROE, LA

Ages 11 to 14
Place  Angler        Division     Bass  Weight
1. James Graves III  Mid-Atlantic  4     5-12
2. Adam Farner       Northern      2     2-2
3. Alan Shelton      Southern      2     2-1
4. Mark Morrison     Eastern       1     1-2
5. Tanner Boday      Western       0     0-0
5. Austin Bray       Central       0     0-0
5. Zachary Horrocks  Mid-Atlantic  0     0-0

Ages 15 to 18
1. Lance Freeman     Southern      1     2-10
2. Trevor Ladner     Central       1     1-8
3. Matthew Cipriano  Eastern       1     1-1
3. Jordan Lochhead   Western       1     1-1
5. Henry Schomaker   Mid-Atlantic  0     0-0
5. Hunter Colwell    Northern      0     0-0
About B.A.S.S.
For more than 40 years, B.A.S.S. has served as the authority on bass fishing. The organization advances the sport through advocacy, outreach and an expansive tournament structure while connecting directly with the passionate community of bass anglers through its Bassmaster media vehicles.
The Bassmaster brand and its multimedia platforms are guided by a mission to serve all fishing fans. Through its industry-leading publications — Bassmaster Magazine and B.A.S.S. Times — comprehensive website Bassmaster.com, ESPN2 and Outdoor Channel television programming, Bassmaster provides rich, leading-edge content true to the lifestyle.
The Bassmaster Tournament Trail includes the Bassmaster Elite Series, Bass Pro Shops Bassmaster Open Series, B.A.S.S. Federation Nation events presented by Yamaha and Skeeter Boats and the ultimate celebration of competitive fishing, the Bassmaster Classic.
B.A.S.S. offers an array of services to its more than 500,000 members and remains focused on issues related to conservation and water access. The organization is headquartered in Celebration, Fla.