Combs, Iaconelli Claw to Top of TTBC Leaderboard
By editor on Oct 28, 2011 | In Bass Tournaments, FLW Tour, BASS Elites, PAA

By Alan Clemons, PAA Communications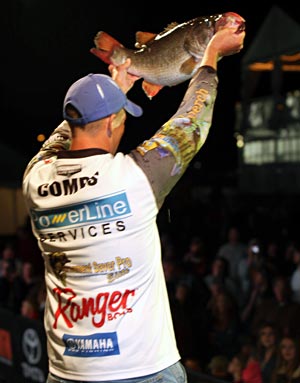 Keith Combs caught this 10 pounds 8 ounce giant largemouth bass on day one of the Toyota Texas Bass Classic to anchor his leading 28-8 limit. Photo Credit: PAA
CONROE, Texas – Two big flurries of activity and one record-setting bite helped the top three anglers take command of the leaderboard Friday at the Toyota Texas Bass Classic.
Powerline Services pro Keith Combs of Texas had a record-setting day on Lake Conroe to take the lead with a stunning five-bass limit weighing 28 pounds, 8 ounces. That catch was anchored by a 10-8 largemouth he caught about three hours into the day that claimed ATX Wheels Big Bass award.
Both were individual TTBC records for Lake Conroe. This is the third season for the tournament on Conroe; the first two tournaments were held on Lake Fork as team events. Combs qualified for the TTBC through the Bassmaster Elite Series after a strong rookie season in which he finished among the top 15 in the Toyota Tundra Angler of the Year points race.
"I caught one pretty fast, and then the second keeper was the big one," Combs said. "I was getting kind of freaked out, though, because I hadn't caught one in a while. It had been a couple of hours since I'd had a good bite."
Toyota Trucks pro Mike Iaconelli of New Jersey was second with 26-12 and Yamaha pro Alton Jones of Texas was third with 24-4. Both said their catches came in a wild flurry of activity that gave them the opportunity to leave their top areas alone and go check other places to fish Saturday and, possibly, Sunday.
The TTBC field is comprised of the top 15 points finishers from this season's Bass Pro Shops PAA Tournament Series, Bassmaster Elite Series and Walmart FLW Tour. Rounding out the field are defending TTBC champion and Nitro pro Brian Snowden of Missouri and four sponsor exemptions.
All 50 anglers will return to Lake Conroe Saturday for the second round, leaving Waterpoint Marina at 8 a.m. in two 25-boat flights. The field will be trimmed to the Tundra 10 for Sunday's final shootout. At stake is more than $400,000 in cash and prizes.
Combs worked hard
Combs competed on the PAA Tournament Series in 2010 and won the tour's mid-summer tournament on Lake Tawakoni with a record-setting performance, which helped him financially to make the jump to this season's Elite Series after qualifying through the Bassmaster Central Open circuit.
Friday morning, he set the hook on a bass "that really didn't do anything," he said, but didn't give any ground.
"She just kind of buried up in some brush and stayed there," Combs said. "I had 10-pound test line on and wasn't putting a lot of pressure on her, but I could feel her give a little bit and then just sit. I figured the line would break but I didn't give up."
After about a minute, Combs estimated, she moved out of the brush and he was able to get her safely to the boat. After measuring and weighing her with the Boga Grip scales each TTBC angler uses for the catch-weigh-release format, Combs put her in the livewell. Anglers may bring in one bass larger than 21 inches to weigh for the ATX Wheels Big Bass Award.
Combs then continued his milk run on Conroe.
"I think I hit 51 places," he said. "That's the only way I know how to fish. If I sit in one spot, it seems like all I catch is little ones."
Iaconelli got juiced
Iaconelli prepares for a tournament by going over maps and old notebooks he's compiled about the fishery, but rarely gets time to pre-practice due to his hectic schedule.
He didn't get to practice on Conroe until Monday morning, the first official day of practice, and quickly began checking key spots. He got clued in on one piece of the puzzle, which led him to try something else and develop two patterns.
Friday morning, that work paid off when he caught two keepers on the first two passes in his top area. Then, things ramped up.
"I don't know exactly what it was but I knew something had changed," he said. "Maybe the air pressure, maybe catching those fish … I don't know exactly. But the whole school ignited and it was like every cast. Then it became a decision of going for 21-22 pounds or staying and trying to get 30 pounds."
There are no points on the line in the TTBC, no qualifications for championships or other events. It's all or nothing for three days and that's what Iaconelli had in mind.
"My goal for the first day was to catch 30 pounds," he said. "The way the weather conditions set up with the front moving in, clouds and probably the next two days may be high pressure and bluebird skies with tougher fishing, I knew I wanted to beat them up and hammer on them."
Iaconelli finished second last year and has an itch, as he does in every tournament, to finish holding the trophy.
"I always try to have three patterns just in case something happens," he said. "This week I was only able to really develop two, so hopefully it won't get to needing something other than them. We'll see how things shake out with the weather and maybe I won't need but two. It's always good to have a backup or two, though."
Jones worked fast
The TTBC's real-time Fishhound.com leaderboard showed Jones at the top with 24-4 just about immediately Friday morning.
Then, nothing for the rest of the day.
"I caught them all in about 30 minutes and then left," he said. "It's nice to be able to manage your fish and in a tournament like this, that's a good thing. I think the cold front moving in helped because it made my decision easier to leave."
Jones said he has three or four areas and fished just one of them Friday. He'll probably hit his best spot Saturday and then move, if necessary.
"I didn't have to touch any of my other areas and just looked around for some new ones," he said.
About the PAA
The Professional Anglers Association is a non-profit organization that gives professional anglers a unified voice in order to aid in the growth of the sport of professional bass fishing. The PAA also aims to administer educational programs to the average angler, to increase enjoyment of the sport, and to embrace sound conservation practices to further the future of the sport. Web: www.FishPAA.com