Bass Pro Shops Tournament Rewards – It pays to Fish!
By editor on Oct 26, 2011 | In Bass Tournaments, NBAA

NBAA News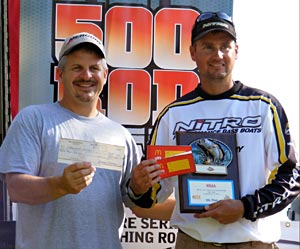 Jason Young (R) receives a $500 Bass Pro Shops Tournament Rewards program incentive check from NBAA National Director Jack Horning. Photo Credit: NBAA
Just ask NBAA angler Jason Young if it pays to Fish. Jason recently took a 3rd place in the WFN 1 on 1 National Championship fishing out of his Nitro boat. Not only did Jason get a nice check for taking 3rd, he also received an additional $500 from the Bass Pro Shops Tournament Rewards program.
That's not the end of this story. Jason also competed in this year's NBAA Fall Classic on Muskegon Lake. Jason had another top 10 finish and it looks like he'll be taking home another $500 from the Tournament Rewards program.
Anglers remember, when you're buying your next boat you owe it to yourself to check out the latest line of Nitro and Tracker bass boats. Not only are these some of the finest looking boats on the market today, but one of the best values you'll find anywhere of any boat.
Plus, with their awesome incentive programs, you can get paid to fish. Just ask Jason, he'll be happy to share his story.

For a Tracker or Nitro dealer near you go to - www.trackerboats.com/ or www.nitro.com/.

To find out how to qualify for the Tournament Rewards program go to - www.tournament-rewards.com/

For more information on how you can join one of the fastest growing bass tournament circuits in the nation, go to www.nbaa-bass.com