B.A.S.S. Reporter's Notebook: Like son, like father
By editor on Oct 25, 2011 | In Bass Tournaments, BASS Elites, BASS, BASS Federation Nation, Bassmaster Classic, Pro Anglers

B.A.S.S. News
B.A.S.S. Reporter's Notebook: Like son, like father; Tommy Martin considers his options; Miller's secret weapon; Parker encouraged; and … Said on stage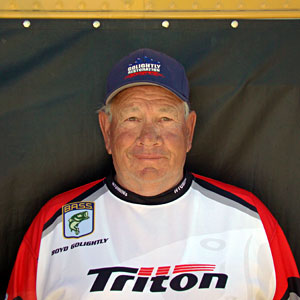 Boyd Golightly qualifies for the B.A.S.S. Federation Nation Championship from Wyoming one year after his son Bill. Photo Credit: B.A.S.S.
Like son, like father: Boyd Golightly is following in his son's footsteps.
Just as Bill Golightly did in 2010, Boyd Golightly will compete for Wyoming in the B.A.S.S. Federation Nation Championship presented by Yamaha and Skeeter Boats. Father and son went up against each other in early qualifying rounds to become the only angler to represent Wyoming in 2011.
"He normally beats me every time we go out. He's much better at fishing than I am," said Boyd, who lives in Preston, Idaho, but competes within the Wyoming Federation, which is in the Western Division.
The Nov. 3-5 championship on the Ouachita River out of Monroe, La., will qualify six anglers for the 2012 Bassmaster Classic and one for the 2012 Bassmaster Elite Series. To end up with a Classic berth, a Federation Nation angler must outfish all other anglers from his or her division. To be the overall 2011 champ and claim both Classic and Elite Series prizes, an angler must beat the entire field, this year set at 54.
Boyd Golightly is aiming to be one of the six Classic qualifiers.
"I fished hard to get here, and hopefully I can make it," he said. "My world won't end if I don't, but I would like to."
Bill Golightly's 2010 entry was his third championship (his others were in 2004 and 2006). His father will be competing this year in his first finals. So far, the younger Golightly does not have advice for his father about going up against the Federation Nation's best.
"Oh, he gave me a little information, but not much. He did remind me to not 'burn' my fish when I was pre-fishing," Boyd said.
He towed his boat about 1,600 miles from Idaho to Louisiana to get in some pre-practice time before the final off-limits period began Oct. 17. His next look at tournament waters will be Nov. 1, when the official practice time begins.
The Ouachita will test the field, he said. He estimates that an average of 8 to 10 pounds a day will put an angler at or near the top of the leaderboard.
"They say that at times you can catch 30 pounds in one spot," he added. "But it was pretty tough for me."
Tommy Martin considers his options: Seventy-year-old Tommy Martin said Monday that he has not accepted or declined his invitation to become a Bassmaster Elite Series pro in 2012.
"I appreciate the opportunity, and I feel like I'm in good enough shape and healthy enough to do it," said Martin, who will turn 71 in November. "For a day or so more, I'd like to put some thought into it before I say what I'm going to do."
The 19-time Bassmaster Classic qualifier and 1974 Classic champ earned the Elite Series invitation by being No. 4 in points in the three-event 2011 Bass Pro Shops Bassmaster Central Open circuit. The Top 5 in Central Open points were tapped for the Elite Series on Oct. 22 at the season's final event.
Martin said he's also considering entering both the Central and Southern Open divisions in 2012.
He returned to the Opens in 2009 after a few years' hiatus from Bassmaster tournaments. He said he enjoys competing in the Opens as long as the event is about a one-day trip from his home in Hemphill, Texas.
Miller's secret weapon: Newly tapped to join the Bassmaster Elite Series, Jared Miller of Norman, Okla., has a cache of custom tackle, thanks to his father.
Jeff Miller made many of the lures his son used during the 2011 Bass Pro Shops Bassmaster Central Open season, his avenue into the Elite Series.
"Some are balsa square-bills (crankbaits) made by hand, from scratch," said the 27-year-old pro who finished third in Central Open points. "I caught all my Table Rock fish on his jigs. His lures really, really work well. He does it just for fun, and he's very good at it."
The custom lures are not for sale, and Jeff Miller makes only enough for himself, his son and a few others close to him.
Jared broke out his father's custom jigs for an 18-place finish on Table Rock Lake in the Oct. 20-22 Central season finale, good enough to result in an Elite Series invite. Now he's gunning for a Bassmaster Classic entry by using his father's lures against Ouachita River bass in the 2011 B.A.S.S. Federation Nation Championship presented by Yamaha and Skeeter Boats. The competition will be Nov. 3-5 out of Monroe, La.
Back home on Monday, Miller said he had definitely decided to step up into the Elite Series. He was already contacting potential sponsors.
"I'm excited. I know I have a lot of work in front of me," he said.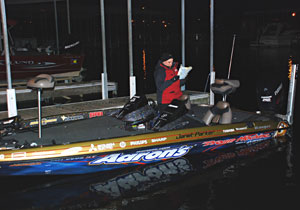 Bass pro Janet Parker studies a lake map before tournament morning take off. Photo Credit: B.A.S.S./Deb Johnson
Parker encouraged: Janet Parker of Little Elm, Texas, won't stop trying to be the first woman to qualify for the Bassmaster Elite Series
She came close in the 2011 Bass Pro Shops Bassmaster Central Open season, and she caught the ear and eye of the media and the public as she worked toward her goal.
After Day 2 of the Table Rock Lake season finale, when it was apparent that the Elite Series would not happen for her this season, she talked about a measure of success that isn't points or pounds: being an inspiration to women and girls to try fishing. Bassmaster.com reported what she said.
That evening she received many comments on her Facebook page. One, in part, read: "Hey, Janet, saw what happened at Table Rock and I'm sorry, but it happens to all anglers at one time or another. I also know that doesn't help to hear that, but I read your article on Bassmaster.com and how you felt you were a role model for women. Well, let me tell you, you are a role model for men, too."
Pages: 1· 2