Chris Zaldain best pro of 2011 in Central Open
By editor on Oct 23, 2011 | In Bass Tournaments, BASS Elites, BASS Opens, BASS, Pro Anglers, Central

B.A.S.S. News
Five qualify for 2012 Bassmaster Elite Series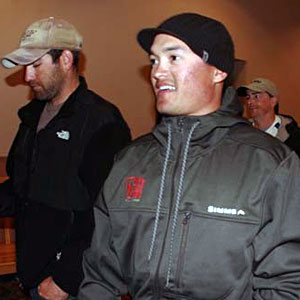 Chris Zaldain (Front) totaled up 804 points over the three 2011 Bassmaster Central Opens to finish in the first spot into the 2012 Elite Series. Casey Scanlon (L) is first angler out in 6th place. Photo Credit: B.A.S.S.
BRANSON, Mo. — Chris Zaldain of San Jose, Calif., led the list of five anglers who qualified Saturday to move up in 2012 into the top tier of competition, the Bassmaster Elite Series, through the Bass Pro Shops Bassmaster Central Open circuit.
With 804 points over the circuit's three events of 2011, Zaldain wrapped up the season as the top angler.
The other Elite qualifiers were James Niggemeyer of Van, Texas, second with 743 points; Jared Miller of Norman, Okla., third with 742 points; Tommy Martin of Hemphill, Texas, fourth with 738; and Kevin Ledoux of Choctaw, Okla., fifth with 734.
Casey Scanlon of Lenexa, Kan., finished short of the top five, with 722 points. As the sixth-place angler, he would be the first one tapped for the 2012 Bassmaster Elite Series if any of the top five decline the invitation.
Zaldain, 27, said he won't be able to help out Scanlon on that score.
"I'll definitely fish the Elites," he said. "That's why I joined the Opens this year."
The 27-year-old competed this season after a six-year hiatus since the 2005 Western Opens. He wasn't on hand at Saturday's final Central Open weigh-in in Branson, Mo., to hear the news in person. Because he didn't make the Saturday cut, he used the time to scout nearby Bull Shoals Lake, site of a 2012 Elite event, anticipating the need.
Miller, 27, who also said he'd accept the Elite invitation, headed home to get ready for the Nov. 3-5 B.A.S.S. Federation Nation Championship presented by Yamaha and Skeeter Boats in Monroe, La., on the Ouachita River. Miller is hoping to qualify for the 2012 Bassmaster Classic through the Federation.
Niggemeyer's top-five points finish double-qualified him for the 2012 Elite season; he had finished 58th in Elite points when the 2011 season was over in June. His 2012 Elite seat will be taken through the Opens, not awarded to another pro.
2011 Points Report
Pro Division, Bass Pro Shops Bassmaster Central Open
10/22/2011

Angler                             Points Lbs-Oz
1   Chris Zaldain San Jose, CA         804 57- 0
2   James Niggemeyer Van, TX           743 49- 6
3   Jared Miller Norman, OK            742 48- 0
4   Tommy Martin Hemphill, TX          738 49-15
5   Kevin Ledoux Choctaw, OK           734 46-10
6   Casey Scanlon Lenexa, KS           722 54- 8
7   Sammy Burks Joplin, MO             689 42-13
8   Trevor Romans Plano, TX            683 42- 2
9   Mark Tyler Vian, OK                674 41- 4
10  Rick Clunn Ava, MO                 673 42- 7
11  Lendell Martin Nacogdoches, TX     672 42-12
12  Clark Reehm Lufkin, TX             669 41- 6
13  Jimmy Johnson Ganado, TX           663 41-15
14  Mark Tucker Saint Louis, MO        661 53- 3
15  Chris Ford Kennedale, TX           648 40- 9
16  Ricky D Scott Van Buren, AR        641 37- 7
17  Jerry Dolezal Bullard, TX          633 39- 9
18  Ryan Lovelace Denison, TX          628 38- 0
19  Jami Fralick Martin, SD            613 34- 3
20  Janet Parker Little Elm, TX        612 41-11
21  Dale Hightower Sand Springs, OK    608 36-11
22  Roger Hughes Bartlesville, OK      600 38-11
23  Jeff Kriet Ardmore, OK             577 33- 3
24  Christopher Lee Keithville, LA     566 31-14
25  Tim Webb Olpe, KS                  563 31- 4
26  Brian Clark Haltom City, TX        555 32-11
27  Dewayne French Mammoth Spring, AR  549 34- 2
28  OT Fears Sallisaw, OK              537 29-14
29  Stephen Browning Hot Springs, AR   533 37- 4
30  Jeff Cloud Lubbock, TX             527 27- 3
31  Peter Daniels Shreveport, LA       523 28- 9
32  Cecil Kingsley Lawrence, KS        509 28- 4
33  Paul Ferguson Whitehouse, TX       505 29- 2
34  Mark Smith West Monroe, LA         503 31- 1
35  Ken Iyobe Tokoname, JPN            497 27- 1
36  Rob Burns Plano, TX                497 26-12
37  Roy Sanford Brookeland, TX         487 27- 6
38  Jim Culp Tulsa, OK                 481 26- 0
39  Todd Castledine Nacogdoches, TX    479 25-15
40  Jacky Hawthorne Greenville, TX     477 26- 5
41  Tommy Durham Whitney, TX           476 29-13
42  Billy McCaghren Mayflower, AR      475 26- 9
43  Homer Humphreys Jr. Minden, LA     474 21-12
44  Brandon Mosley Choctaw, OK         467 26- 6
45  Shane Williams Keithville, LA      464 28- 1
46  Joey Nania Liberty Lake, WA        460 29- 4
47  Tony Chachere Opelousas, LA        455 24- 2
48  Gary Riffle Paris, TX              451 25- 1
49  Jeffery Lemoine Des Allemands, LA  439 24- 1
50  Lisa Sternard Clarksville, TN      434 27- 5
51  Ricky Campbell Waxahachie, TX      432 28- 0
52  Keith Surber Longview, TX          422 20- 8
53  Dale Jackson Van, TX               422 18- 5
54  Billy Cline South Lake, TX         420 40- 0
55  Brady Winans Greenville, TX        417 20-11
56  Scott Dean Terrell, TX             415 21- 7
57  Logan Sherrer Karnack, TX          406 21-12
58  Michael Yoder Texarkana, AR        398 23-11
59  Mark Goines Shady Point, OK        391 22- 5
60  Brannon Long Longview, TX          380 19- 5
61  John Johnson Jacksonville, MO      377 20- 4
62  Alan Kelly Excelsior Springs, MO   373 18- 3
63  Chad Griffin Cresson, TX           371 20- 8
64  Keith Williams Conway, AR          364 24- 2
Pages: 1· 2