Lady luck at Table Rock for Texas' Janet Parker
By editor on Oct 22, 2011 | In BASS Elites, BASS, Pro Anglers

B.A.S.S. News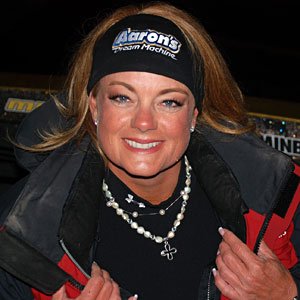 Janet Parker shows off her lucky pearls hoping she makes the 2012 Elite Series cut. Photo Credit: B.A.S.S./Deb Johnson
BRANSON, Mo. — Kevin VanDam has his cookies, Boyd Duckett his red shoes, Ish Monroe his sandwiches. Scratch any superstar fishing pro and you'll find some sort of lucky charm he or she would not leave home without. Janet Parker of Little Elm, Texas, is no different.
She did not forget her lucky pieces this week in her attempt to qualify for the Bassmaster Elite Series via the Bass Pro Shops Bassmaster Central Open circuit. If she ends up in the top five in points after Saturday's season finale on Table Rock Lake, she'll be the first woman to compete as an Elite angler.
A self-described "girlie-girl," several of Parker's good luck pieces are ultrafeminine. One is a set of tiny white flowers with rhinestone centers; these are painted on, one on each of her big toes.
The pedicure art is a result of what she calls her "tournament ritual." On the eve of a tournament, she spends an hour being babied at a salon. A stranger in Branson, she had been directed to the shop by a local whose nails Parker admired. The coincidence of the salon's name, "AJ Elite," wasn't lost on her.
"I was meant to come here," she joked.
She had only one hour to spend on her treat, so she asked that her fingernails be filed and polished by one nail technician while another worked on her feet. Stretched out in a vibrating lounge, she held one foot up for the pedicurist, the waiting bare foot soaking in a bubbling tub strewn with rose pedals. Her shins were wrapped in steamy towels.
"Shape them this way," she motions to the man working on her fingernails. "Otherwise, they get in the way of my fishing."
Looking good is a mental boost, but being pampered is the point of the salon trip.
"Isn't it wonderful?" she sighed as she enjoyed her treat. "People who don't do this don't understand how relaxing this is."
At the docks Friday, as she waited for the second competition day to begin, she displayed another charm.
"I always wear pearls during competition," she said, peeling back the collars of her multiple layers of outerwear to display two necklaces, both crafted by her sister.
Another talisman for Parker comes in the shape of a very large dog. The Aaron's character Lucky Dog (an actor in a costume) appeared at Thursday's weigh-in at State Park Marina in Branson. Aaron's is a major sponsor of Parker's, so she and Lucky Dog mingled with the crowd and posed for snapshots.
Parker needed the luck. Thursday she weighed in one fish. With just 2 pounds, 5 ounces, on the board after one day for 76th place, she dropped from second in points to 15th. To pull up and become the first lady of the Elite Series, she will need to make up ground Friday.
She was counting on a forecasted change for lower wind speed. She said Thursday's breezy conditions hurt her bite. Given less wind, she said, her spots will pay out.
A morning fog delay also helped her, she said.
"I have more of an afternoon bite, so I have an advantage over those who are counting on something in the early morning," she said.
The Open on Table Rock Lake will continue through Saturday, when final points will be tallied and the Elite spots awarded. Friday's weigh-in, free and open to the public, will take place at State Park Marina in Branson. Saturday's weigh-in will be at the Branson location of Bass Pro Shops.
2011 Bass Pro Shops Bassmaster Opens Official Sponsors: Toyota, Bass Pro Shops, Berkley, Evan Williams Bourbon, Mercury, Skeeter Boats, Triton Boats, Yamaha
2011 Bass Pro Shops Bassmaster Opens Supporting Sponsors: Humminbird, Luck "E" Strike, Minn Kota, Nitro Boats
About B.A.S.S.
For more than 40 years, B.A.S.S. has served as the authority on bass fishing. The organization advances the sport through advocacy, outreach and an expansive tournament structure while connecting directly with the passionate community of bass anglers through its Bassmaster media vehicles.
The Bassmaster brand and its multimedia platforms are guided by a mission to serve all fishing fans. Through its industry-leading publications — Bassmaster Magazine and B.A.S.S. Times — comprehensive website Bassmaster.com, ESPN2 and Outdoor Channel television programming, Bassmaster provides rich, leading-edge content true to the lifestyle.
The Bassmaster Tournament Trail includes the Bassmaster Elite Series, Bass Pro Shops Bassmaster Open Series, B.A.S.S. Federation Nation events presented by Yamaha and Skeeter Boats and the ultimate celebration of competitive fishing, the Bassmaster Classic.
B.A.S.S. offers an array of services to its more than 500,000 members and remains focused on issues related to conservation and water access. The organization is headquartered in Celebration, Fla.