Arkansas' Dodson knows best at Table Rock
By editor on Oct 21, 2011 | In Bass Tournaments, BASS Opens, BASS, Central

B.A.S.S. News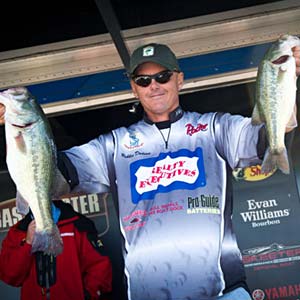 Robbie Dodson Jr leads on day one of the Bassmaster Central Open on Table Rock Lake. Photo Credit: B.A.S.S./Adam Harbottle
BRANSON, Mo. — Fishing was tough enough before Mother Nature threw a curve for the opening pitch of the Bass Pro Shops Bassmaster Central Open today at Table Rock Lake.
A prolonged Indian summer has kept bass in a holding pattern for weeks at Table Rock and the first major cold front of autumn hit this week to put the fish into more of a fall funk. Despite the tough conditions, Harrison, Ark., angler Robbie Dodson Jr. relied on his experience at Table Rock Lake to amass a five-fish limit weighing 15 pounds, 9 ounces to take the pro division lead in the third and final Bassmaster Central Open.
"I didn't even practice the way the weather was this week," said Dodson, who won a major tournament at The Rock last week. "I thought I would be better off not to know really what was going on since it was probably going to change with this front coming through. I fish here enough to know pretty well what to start off on. So I just started off doing what I thought I should do."
However, what he thought would work didn't, and he was forced to scramble. "There is nothing really working out there," he said. "It was a real tough bite. We struggled all day. I just ran around and fished everywhere I thought I had caught a fish before and hopefully run into a little wad of them."
"I had two bites by noon and caught a 4-11 and another one on a Rick Clunn Trickster spinnerbait. I then pulled into one pocket this afternoon and caught four in about four throws and my partner caught one, and that was the last bite we had all day."
Bassmaster Elite Series pro James Niggemeyer of Van, Texas, figured out a pattern for a 14-3 limit that moved him into second place. "I am moving around quite a bit," he said. "I basically caught all of my fish on two lures anywhere from 5 feet all the way out to 25. There is a bit of a pattern there, but my big fish (a 5-pound largemouth he added to the mix) was a blessing. I had two or three keepers right from the get-go, and then bounced around and caught fish throughout the day."
Elite pro Clark Reehm went "junk fishing" and bagged a 12-9 limit good for third place. "I ended up getting a gift fish," said the Lufkin, Texas, angler. "I was reeling one in on a crankbait when I looked down and saw a smallie with it. My partner reached down with the net and the smallie grabbed the crankbait and I got both fish." Rounding out the top five in the boater division are two other Elite pros — Brian Snowden of Reeds Spring, Mo., in fourth with 12-8; and Stephen Browning of Hot Springs, Ark., in fifth with 11-13.
Mission, Kan., angler Mike Perry scratched out two fish weighing 5-9 to lead the co-angler division. The other top five co-anglers are Jon Englund of Farwell, Minn., and Jim Furr of Hemphill, Texas, both with 4-8; Michael Savage of Clever, Mo., had 4-7; and Clayton Coppin of Wagoner, Okla., had 4-4.
This event hosted by the Branson/Lakes Area Chamber of Commerce and Convention and Visitors Bureau was originally slated for April but was postponed because of dangerously high water levels at Table Rock.
Tomorrow's launch, weigh-in and the final-day launch will be held at the Table Rock State Park Marina, 380 State Park Marina, Branson, Mo. The Day Three weigh-in will move to the Branson Landing water fountains next to Bass Pro Shops in Branson, near 1 Bass Pro Drive.
Day one results are on the GreatLakesBass.com B.A.S.S. Forum.
2011 Bass Pro Shops Bassmaster Opens Official Sponsors: Toyota, Bass Pro Shops, Berkley, Evan Williams Bourbon, Mercury, Skeeter Boats, Triton Boats, Yamaha
2011 Bass Pro Shops Bassmaster Opens Supporting Sponsors: Humminbird, Luck "E" Strike, Minn Kota, Nitro Boats
About B.A.S.S.
For more than 40 years, B.A.S.S. has served as the authority on bass fishing. The organization advances the sport through advocacy, outreach and an expansive tournament structure while connecting directly with the passionate community of bass anglers through its Bassmaster media vehicles.
The Bassmaster brand and its multimedia platforms are guided by a mission to serve all fishing fans. Through its industry-leading publications — Bassmaster Magazine and B.A.S.S. Times — comprehensive website Bassmaster.com, ESPN2 and Outdoor Channel television programming, Bassmaster provides rich, leading-edge content true to the lifestyle.
The Bassmaster Tournament Trail includes the Bassmaster Elite Series, Bass Pro Shops Bassmaster Open Series, B.A.S.S. Federation Nation events presented by Yamaha and Skeeter Boats and the ultimate celebration of competitive fishing, the Bassmaster Classic.
B.A.S.S. offers an array of services to its more than 500,000 members and remains focused on issues related to conservation and water access. The organization is headquartered in Celebration, Fla.