The spotlight's on Janet Parker
By editor on Oct 7, 2011 | In BASS Elites, BASS Opens, BASS, Pro Anglers
B.A.S.S. News
B.A.S.S. Reporter's Notebook: The spotlight's on Janet Parker; Elite Series Marshal registration opens next week; Shryock almost quit; and … Who will win the Mercury Films Fest?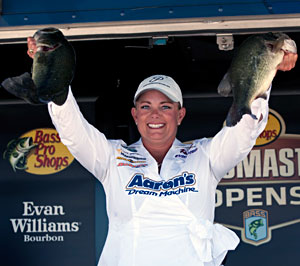 Janet Parker has a rock solid chance to be the first woman to qualify for the Bassmaster Elite Series. Photo Credit: B.A.S.S.
The spotlight's on Janet Parker: As the first woman with a rock-solid chance at qualifying for the Bassmaster Elite Series, Janet Parker of Little Elm, Texas, is garnering a lot of media attention.
"It's amazing," she said. "I'm trying to handle it with grace."
Fishing-related print and digital media have been especially attentive. One webcast dubbed her bid "the story of the year."
"I can't get over how the fishing community is responding," she said.
Parker's chance at the Elite Series will happen at the Oct. 20-22 Bass Pro Shops Bassmaster Central Open on Table Rock Lake out of Branson, Mo. As the third of three Central Opens of the 2011 season, the Missouri event will mark the finish line of the points race. Elite Series berths will be offered to the Top 5 anglers in overall points. Parker owns the No. 2 spot in points going into Table Rock, the product of a sixth-place and a 10th-place finish in the first two Central Opens of 2011.
To get where she is in points, Parker had to out-fish most of the Central Open field — twice. While several other women compete in the Central Open circuit, the field is male-dominated.
At Table Rock, she'll have to turn in a decent performance to seal an Elite Series berth. She estimated that to stay within the Top 5 in points, she needs to finish at Table Rock in 50th place or better.
If she qualifies, Parker said she won't let the opportunity slide to turn Elite, to make fishing history as the first woman to compete at the top level of Bassmaster competition.
She's thought only briefly about the media spotlight that is likely to come with such an accomplishment. She witnessed the media microscope trained on Kim Bain-Moore in 2009 when Bain-Moore was the first woman to compete in a Bassmaster Classic; both fished the now-disbanded Women's Bassmaster Tour through which Bain-Moore won her Classic qualification.
Like Bain-Moore, Parker has already shown she can handle media attention. A second-year Open competitor, who also has the experience of several other circuits since 2005, she is used to being interviewed. She makes scores of appearances each year for the charities she supports and on behalf of her sponsors, like her annual appearance at a Talladega Superspeedway event to lead the NASCAR parade with her Aaron's Dream Machine, a Ranger-Evinrude E-TEC rig wrapped by Aaron's, the rent-to-own retailer that's one of her major sponsors.
Bassmaster.com will closely follow Parker's quest to be Elite. During the Table Rock event, the website will post reports and extensive photo galleries dedicated to her bid.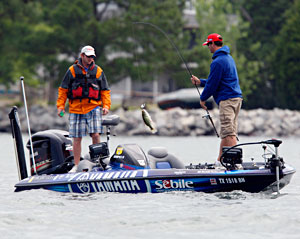 Todd Faircloth is observed by his B.A.S.S. Marshall. Photo Credit: B.A.S.S.
Elite Series Marshal registration opens next week: Anglers who want to be a Marshal in a 2012 Bassmaster Elite Series event can sign on as early as Oct. 10.
Oct. 10 at 9 a.m. EST will mark the start of priority registration at Bassmaster.com for B.A.S.S. Federation Nation and B.A.S.S. Life members.
Starting Oct. 17 at 9 a.m. EST, Marshal registration on Bassmaster.com will be available to all B.A.S.S. members.
A Marshal in the Elite Series rides along in a competitor's boat to serve as that angler's official observer for the day. It's the Marshal's job to ensure all rules are adhered to. On the eve of the event, Marshals are randomly assigned to Elite Series anglers — to one pro for the first day, then to another for the second day of competition.
The Marshal experience is a front-row seat to watch a tournament. As observers, they not only meet pros and spend a day on the water with them, they can pick up techniques and tackle tips just by watching and asking questions (Marshals do not fish).
The cost of Marshal participation is still $100 per tournament. Details are available at the registration page on Bassmaster.com.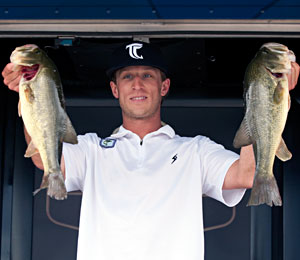 Fletcher Shryock almost quit the Bassmaster tournament series but now has qualified for the 2012 Bassmaster Classic and Elite Series. Photo Credit: B.A.S.S.
Shryock almost quit: Fletcher Shryock was downright discouraged at the start of the 2011 Bass Pro Shops Bassmaster Open season.
He considered quitting. Few would have blamed him. He finished 161st in his first event, the 2011 Southern Open on Florida's Kissimmee Chain of Lakes.
"I originally signed up just for that first tournament," said the 26-year-old from Newcomerstown, Ohio. "When I finished 161st, I wasn't going to continue. I said to myself, 'You are definitely just a normal Joe, and you need to quit wasting your money.'
"Then one of my buddies talked me into doing Lake Norman — which I won," he said.
His prizes were cash, a boat rig he used the rest of the season, and a 2012 Bassmaster Classic berth.
So encouraged, Shryock decided to dive into the Northern Open division with the goal of qualifying for the Bassmaster Elite Series by being among the Top 5 in points after three events.
Pages: 1· 2