B.A.S.S. Reporter's Notebook: To be Elite
By editor on Oct 7, 2011 | In BASS Elites, BASS Opens, BASS, BASS Federation Nation

B.A.S.S. News
B.A.S.S. Reporter's Notebook: To be Elite; Experiment nets Berkley award for New Mexico B.A.S.S. organizations; Clough connections; and … At the mic at the Oneida Northern Open
To be Elite: Five more anglers have earned 2012 Bassmaster Elite Series entries.
Newly qualified for the 2012 Elite Series corps are Michael Simonton, the top points earner of the Bass Pro Shops Bassmaster Northern Opens season; Derek Remitz and Charlie Hartley, longtime Elite Series pros now with a qualification to continue in 2012; Kyle A. Fox, the 23-year-old from Florida who's been shooting for the Elite Series for five years; and Fletcher Shryock, an Open rookie.
Simonton, one of three from Ohio who earned Elite Series status, was an Elite Series qualifier in 2010. Financial reasons held him back then.
"I couldn't find the funding, so I think we're going back to the drawing board," said Simonton, who is from Fremont, Ohio. "I've been dreaming about this since third or fourth grade."
The points competition ended Saturday on New York's Oneida Lake, site of the final Northern event of the season. The Top 5 in points after each three-event season in all three Open divisions — Central and Southern as well as Northern — qualify to move up and compete at the highest level.
Simonton wrapped up second place in the tournament, securing his No. 1 finish in points, just 11 points in front of Remitz of Grant, Ala. Coming into Oneida, Remitz was second in points. Thanks to a 19th-place tournament finish, he stayed there.
Hartley of Grove City, Ohio, was 15th in the tournament. Like Remitz, staying high in the Open points secured his entry into the 2012 Elite Series corps.
Fox and Shryock, if they join, would be among the Elite Series corps' youngest guns. Fox, 23, of Lakeland, Fla., entered his first full season of Open events at age 18. Shryock, 26, from Newcomerstown, Ohio, competed in his first Bassmaster tournament in 2011, a Southern Open.
"To go from where I was in January, to now — the Classic as well as the Elite Series — is a dream come true," said Shryock on Monday morning.
He said he's decided to take the step up, but he hasn't officially notified anyone of his intent.
Fox is considering his options.
"The Elite Series is my goal for next year, why I've been fishing the Central and Southern Opens for years, and the Northerns this year. I wanted to learn how to catch bass all around the country, so I'd be ready when I qualified," Fox said.
"I've made the decision that I really want to do it," he added. "Now I'm figuring out the money part of it. The Elite Series is my dream."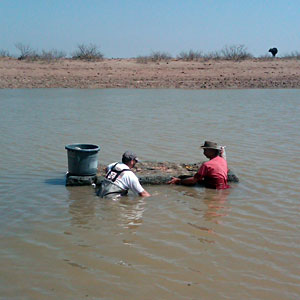 New Mexico B.A.S.S. Federation Nation wins Berkley Conservation Award for studying if gamefish will spawn on suspended artificial platform. Photo Credit: B.A.S.S./Earl Conway
Experiment nets Berkley award for New Mexico B.A.S.S. organizations: Will gamefish spawn on a suspended, artificial platform?
That's the question the New Mexico B.A.S.S. Federation Nation is attempting to answer with a helping hand from the Kids of the Southwest B.A.S.S. Youth Club. The ambitious undertaking was enough to catch the eye of the Berkley Conservation Institute, which has awarded the 2010 Berkley Conservation Award to the New Mexico B.A.S.S. Federation.
The winning project, the Experimental Suspended Spawning Platform project in Elephant Butte Lake, N.M., explored the use of spawning platforms suspended beneath floating islands planted with vegetation. The theory is that the device will improve spawning rates in western desert lakes, which often experience fluctuating water levels that can adversely affect spawning success.
The New Mexico B.A.S.S. Federation designed variables for the project, including different composition of media for spawning beds, various water depths, and changing up types of aquatic vegetation. The goal was to find optimum combinations to attract gamefish, encourage spawning and support rapid growth, survival and increased recruitment. Outcomes from 2010 were used to modify the project in 2011.
The annual Berkley award, worth $2,000 to the New Mexico B.A.S.S. Federation Nation, will be presented in February during the 2012 Bassmaster Classic out of Shreveport-Bossier City, La.
"Berkley congratulates all the entrants on their contributions," said Jim Martin, Berkley Conservation Institute's conservation director. "We are especially impressed with the scope and sophistication of the conservation projects that were submitted."
Submissions from B.A.S.S.-affiliated clubs for the 2011 round of BCI awards are now being accepted. An email that provides details of the candidate project should be addressed to nclough@bassmaster.com. The deadline is Jan. 1, 2012.
Clough connections: On any given work day, B.A.S.S. Conservation Director Noreen Clough won't be in her office. She's far more likely to be in, say, a Washington, D.C., meeting, or in Minnesota discovering bass anglers' concerns.
Her recent travels took her to the West and Midwest over a three-week period. The long string of indoor conference work was broken only by a short Columbia River fishing trip with colleagues. (She earned bragging rights for hooking into a 40-pound salmon.) Such an outing is rare; most of her work takes place at conference tables, where she forges strong relationships and learns and teaches, all to benefit B.A.S.S. members and bass fishing.
"As one of only a handful of sportfishing organizations with a dedicated conservation director position, B.A.S.S. has always felt it essential to be at the various tables where decisions affecting the future of our sport are being developed," Clough said.
Her recent travels included her ongoing work with the Sport Fishing and Boating Partnership Council. She attended a Council Fisheries Committee meeting in San Francisco, where the topic was the future direction of the Fish and Wildlife Service's fisheries program.
Pages: 1· 2