Ish Monroe takes the trophy on Oneida Lake
By editor on Sep 24, 2011 | In Bass Tournaments, BASS Opens, BASS, Northern
B.A.S.S. News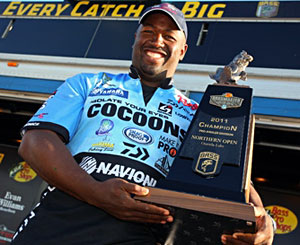 California's Ish Monroe takes the Bassmaster Northern Open title on Oneida Lake leading wire-to-wire with 15 bass weighing 51-2. Photo Credit: B.A.S.S./James Overstreet
He rode a hot frog bite all three days and backed it up with a prototype flipping bait to sack 51-2, more than 2 pounds ahead of runner-up Michael Simonton.
"I tell you what, this feels awesome. I've won on all the (B.A.S.S.) levels: an Elite Series event, Federation-level event and now that I've won an Open it feels really good," he said as he clutched his trophy.
For his win, Monroe earned a brand new bass boat and motor as well as a handsome paycheck of more than $9,000. The total package is worth north of $54,000. He's not concerned about not picking up the 2012 Bassmaster Classic berth because he qualified through the Bassmaster Elite Series. He would have double qualified if he had fished all three events, the prerequisite for earning the Opens berth. He was fishing Oneida for pride and most importantly, fun.
"The thing that carried me through this week — and the whole season — has been the fact that I've had fun," he said. "That's been my focus throughout the Elites and into these Opens, and it's worked out really well. I'm having a blast!"
Monroe relied on two baits and several areas. He threw a Snag Proof Ish's Phat Frog (three different models: white, black and clear) across the top of matted grass along the bank, and when the wind blew, he punched through the grass with a heavy weight and a black and blue flipping bait. The key with the flipping bait was the River2Sea specialty flipping weight. It sports a matte black finish. Monroe reasons that lighter-colored weights give off too much flash under the dark mats and spook fish.
Michael Simonton made a hard charge at Monroe, but Monroe's 4-pound cushion proved too much for Simonton's 16-9 stringer and 48-12 total. Simonton, a Fremont, Ohio, native earned $13,800 for his runner-up finish. Simonton enjoyed the relatively little pressured presented to him by the smaller field.
In third place, earning $11,500 is John Pelletier of Nassau, N.Y. He tallied 45-7 over three days. In fourth is Elite Series pro Pat Golden of High Point, N.C., who earned $9,200 for his three-day catch of 45-7. Rounding out the top five is Elite Series pro Randy Howell of Springville, Ala., who won $8,280 for his total of 44-5.
On the co-angler side, Kevin Haley of Syracuse, N.Y., took home a brand new Skeeter bass boat with Yamaha outboard for his three-day catch of 26-8. Haley relied on a pair of baits: a Bass Pro Shops XPS walking topwater bait and a 3-inch Strike King Shadalicious swimbait. Five of his nine keepers fell for the topwater, the other four ate the swimbait. He gives much credit to his pros, all three of whom put Haley on solid fish each day.
In second place is Kevin Phelps of Allentown, Pa., with 25-12; in third place is Anthony Savino of Marlboro, N.Y., with 24-13; in fourth place is Michael Rinaldi of North Haledon, N.J., with 24-11; and in fifth place is Aaron Anders of Boston, Ontario, Canada.
The Syracuse Convention & Visitors Bureau and Onondaga County Parks hosted the event.
Final results are on the GreatLakesBass.com B.A.S.S. Forum.
2011 Bass Pro Shops Bassmaster Opens Official Sponsors: Toyota, Bass Pro Shops, Berkley, Evan Williams Bourbon, Mercury, Skeeter Boats, Triton Boats, Yamaha
2011 Bass Pro Shops Bassmaster Opens Supporting Sponsors: Humminbird, Luck "E" Strike, Minn Kota, Nitro Boats
About B.A.S.S.
For more than 40 years, B.A.S.S. has served as the authority on bass fishing. The organization advances the sport through advocacy, outreach and an expansive tournament structure while connecting directly with the passionate community of bass anglers through its Bassmaster media vehicles.
The Bassmaster brand and its multimedia platforms are guided by a mission to serve all fishing fans. Through its industry-leading publications — Bassmaster Magazine and B.A.S.S. Times — comprehensive website Bassmaster.com, ESPN2 and Outdoor Channel television programming, Bassmaster provides rich, leading-edge content true to the lifestyle.
The Bassmaster Tournament Trail includes the Bassmaster Elite Series, Bass Pro Shops Bassmaster Open Series, B.A.S.S. Federation Nation events presented by Yamaha and Skeeter Boats and the ultimate celebration of competitive fishing, the Bassmaster Classic.
B.A.S.S. offers an array of services to its more than 500,000 members and remains focused on issues related to conservation and water access. The organization is headquartered in Celebration, Fla.