Ish Monroe ups the ante on Day Two of the Bassmaster Northern Open
By editor on Sep 24, 2011 | In Bass Tournaments, BASS Opens, BASS, Northern

B.A.S.S. News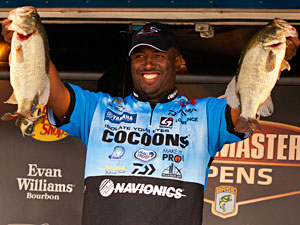 Californian Ish Monroe extends his Bassmaster Northern Open lead on Oneida Lake with a 16 pound limit of largemouth bass. Photo Credit: B.A.S.S./James Overstreet
SYRACUSE, N.Y. — Bassmaster Elite Series pro Ish Monroe retained his lead on Day Two of the third and final Bass Pro Shops Bassmaster Northern Open with a 16-0 limit today, extending his lead over the field to 35-14, nearly 4 pounds ahead of the pack. Though Oneida Lake is full of substantial smallmouth bass, Monroe is sticking to the shallows and targeting largemouth with a topwater frog.
"My day started slow and I had to bounce around a bit; the wind kind of hurt me," he said. "If the wind blows north or south, I can pick a bank and fish the area, but that east wind killed me because it rolls across the entire lake."
Monroe said that his frog — a Snag Proof Ish's Phat Frog — doesn't work too well in the wind, so he resorted to flipping creature baits into shallow grass.
"With the wind blowing like it was today, all the protected stuff had boats on it," he said. "Tomorrow's going to be great; there will only be the top 12 guys so I can fish some of those other areas that I couldn't today. I've got an area where I can start if the wind dies down, and hopefully catch a few and have a good day. I think if I get 16 or so pounds again I'll be hard to catch."
Giving chase to Monroe is Michael Simonton of Fremont, Ohio. Simonton enjoyed the windy conditions today as they forced him to fish new water.
"The rolling waves were hitting my best bank from yesterday pretty hard, so I was forced to fish these two little spots that turned out to be magical little spots," he said. "They're probably 15 feet across, and I caught good fish out of them."
Simonton is cautiously optimistic about repeating his 17-1 from today, but — like Monroe — will move around more with the abbreviated field. He has 32-3 after two days.
In third place is John Pelletier of Nassau, N.Y., who caught 16-7 today, upping his total to 31-10; in fourth place is Elite Series pro Pat Golden of High Point, N.C., who added 15-5 to his total, giving him 31-9; in fifth place is Fletcher Shryock of Newcomerstown, Ohio, who caught 13-7 today, giving him 30-9.
Pro anglers are vying for a boat and motor package, cash and a coveted berth in the 2012 Bassmaster Classic in Shreveport-Bossier City, La., this coming February. Co-anglers are fishing for a fully rigged boat and cash as well. While Monroe has a somewhat commanding lead on the pro side, the co-angler division is tightly knotted; 2 pounds separate the top 13 anglers.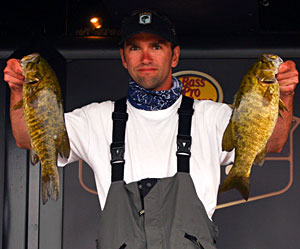 Co-angler Kevin Haley leads the non-boater pack in a tight race on Oneida Lake with a two-day total of 17-6. Photo Credit: B.A.S.S./James Overstreet
Leading the charge is Kevin Haley of Syracuse, N.Y., with 17-6. Haley added 7-11 to his total today. An ounce behind him is Kevin Phelps of Allentown, Pa., who caught 8-12 today. In third place is Anthony Savino of Marlboro, N.Y., with 16-15. Savino caught 9-0 today. In fourth place is Ronald Flamisch of Northampton, Pa., who added 7-10 to his total, giving him 16-12, and in fifth place is Michael Rinaldi on North Haledon, N.J., who caught 9-0 today, giving him a total of 16-3.
The Syracuse Convention & Visitors Bureau and Onondaga County Parks are hosting the event. Tomorrow's launch will take place at Oneida Shores Park, 9400 Bartel Road, Brewerton, N.Y. The weigh-in will move to the Bass Pro Shops in Auburn, N.Y., located at 1579 Clark St., and will begin at 3:30 p.m. ET.
Complete day two results are on the GreatLakesBass.com B.A.S.S. Forum.