California's Ish Monroe cracks Oneida for 2-pound lead after Day One
By editor on Sep 22, 2011 | In Bass Tournaments, BASS Opens, BASS, Northern
B.A.S.S. News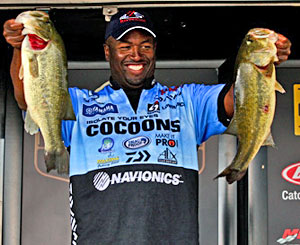 Ish Monroe leads the Oneida Lake Bassmaster Northern Open on day one with 19 pounds 14 ounces. Photo Credit: B.A.S.S.
SYRACUSE, N.Y. — Anglers had no problem filling out limits on Day One of the third and final Bass Pro Shops Bassmaster Northern Open on Oneida Lake in central New York.
The trick, however, was finding better-than-average fish to bring to the scales. Bassmaster Elite Series pro Ish Monroe of Hughson, Calif., found the five best of the 138-boat field, amassing 19 pounds, 14 ounces to take the lead on the first day of competition.
Monroe's mantra throughout the Bassmaster Elite Series season and Bassmaster Opens has been "just have fun." Monroe played his cards close to his vest and was reluctant to share any information on his techniques, but he did allow that his bite was an early one.
"This lake is awesome, just awesome," he said. "I had everything that I weighed in by 8:30 this morning. It was pretty interesting. It was partly my spot, partly me and partly just having fun. I feel like I can catch 'em like this every single day."
In second is former Elite Series pro Kurt Dove of Del Rio, Texas. He managed 17-9 and was a bit more open about his pattern.
"I caught 12 or 14 smallmouth today, and one good largemouth. I'm fishing in an area that's got some grass and should have some largemouth in it," he said. "It was a bit of a grind; I finally got my limit by 10:30, then between 11 and one o'clock they bit pretty good. I'm throwing reaction baits and working three areas over hard and fishing the best I can.
"I don't know if I can do it again tomorrow, but I'm going to go out there and enjoy the wet weather."
In third place is Fletcher Shryock of Newcomerstown, Ohio, with 17-2. Though Shryock isn't gunning for the Bassmaster Classic berth at stake in this Open — he's already in the 2012 Classic via a Southern Open win — he's fishing the Northern Opens in an attempt to become a more well-rounded angler.
Shryock said he has his sights set on the Elite Series and feels he needs to become familiar with as many bodies of water as possible.
In fourth place is Elite Series pro Jami Fralick of Martin, S.D., with 16-5, and rounding out the top five is Elite pro Pat Golden of High Point, N.C., with 16-4.
In the co-angler division, Richard Rodriguez of Williamsburg, Va., found a three-fish co-angler limit that weighed 9-12. An ounce back is Keith Diluzio of North East, Pa., and Kevin Haley of Syracuse, N.Y., both with 9-11. Rick Best of Fulton, N.Y., is fourth with 9-7, and in fifth place is Thomas Hajjar of Garnet Valley, Pa., with 9-4.
Co-anglers are competing for a fully-rigged boat and motor package along with a cash prize.
The City of Syracuse is hosting the event. The Day Two launch, weigh-in and the Day Three launch will be held at Oneida Shores Park, 9400 Bartel Road, Brewerton, N.Y. On Day Three, the weigh-in will move to the Bass Pro Shops in Auburn, N.Y., located at 1579 Clark St.
Complete day 1 results are on the GreatLakesBass.com B.A.S.S. Forum.
2011 Bass Pro Shops Bassmaster Opens Official Sponsors: Toyota, Bass Pro Shops, Berkley, Evan Williams Bourbon, Mercury, Skeeter Boats, Triton Boats, Yamaha
2011 Bass Pro Shops Bassmaster Opens Supporting Sponsors: Humminbird, Luck "E" Strike, Minn Kota, Nitro Boats
About B.A.S.S.
For more than 40 years, B.A.S.S. has served as the authority on bass fishing. The organization advances the sport through advocacy, outreach and an expansive tournament structure while connecting directly with the passionate community of bass anglers through its Bassmaster media vehicles.
The Bassmaster brand and its multimedia platforms are guided by a mission to serve all fishing fans. Through its industry-leading publications — Bassmaster Magazine and B.A.S.S. Times — comprehensive website Bassmaster.com, ESPN2 and Outdoor Channel television programming, Bassmaster provides rich, leading-edge content true to the lifestyle.
The Bassmaster Tournament Trail includes the Bassmaster Elite Series, Bass Pro Shops Bassmaster Open Series, B.A.S.S. Federation Nation events presented by Yamaha and Skeeter Boats and the ultimate celebration of competitive fishing, the Bassmaster Classic.
B.A.S.S. offers an array of services to its more than 500,000 members and remains focused on issues related to conservation and water access. The organization is headquartered in Celebration, Fla.