Wolak Wins Walmart FLW Tour Open On Lake Champlain
By editor on Sep 18, 2011 | In Bass Tournaments, FLW Tour, FLW Outdoors
FLW Outdoors News
Casey Martin wins co-angler title, $20,000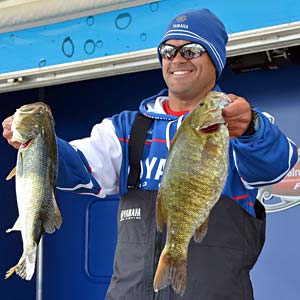 Dave Wolak wins the FLW Tour Lake Champlain bass tournament with 20 bass weighing 81 pounds. Photo Credit: FLW Outdoors
PLATTSBURGH, N.Y. (Sept. 18, 2011) – David Wolak of Wake Forest, N.C., caught a five-bass limit weighing 19 pounds, 7 ounces Sunday to win $125,000 at the Walmart FLW Tour on Lake Champlain presented by Snickers Peanut Butter Squared with a four-day catch of 20 bass weighing 81-0.
The catch gave him the win by a solid 6-pound, 4-ounce margin over pro Gary Yamamoto of Palestine, Texas, who caught a total of 20 bass weighing 74-12 and earned $31,329.
"The key for me this week was being able to make the proper adjustments," said Wolak who finally got redemption from a second place finish at Lake Champlain in 2007 and fifth in 2010 in FLW Series competition. "I fished in rain and cold and wind and was able to adapt correctly for every situation.
"On Thursday and Friday when we had the cold, wind and rain grass was gold," Wolak continued. "Yesterday and today I looked for clean hard bottom. I covered a lot of water using my history and experience on this lake to make wise decisions. I was very fortunate and was able to capitalize on my past failures this week.
"Current played a huge role in my victory as well," Wolak went on to say. "The lake is still pretty high so I looked for areas that had moving water, especially when I was targeting smallmouth. One of the great things about this lake is that it replenishes itself; if you catch one fish in an area go back because the fish will go back.
"Lake Champlain is a pretty special place for me. There is no other fishery in the country where you can catch both large- and smallmouth that are the same size," continued Wolak. "You can fish north or south, anywhere you go you'll catch fish. I must have caught over 50 fish today. It was amazing. I will be back every year."
Known as the mixologist, Wolak's winning sack contained four large- and one smallmouth today. His primary bait was ½ ounce Fin-tech Title Shot Jig for the largemouth and ¼ ounce Title Shot Jig for the smallmouth.
Wolak opened the tournament in second place Thursday with five bass weighing 22-8. On Friday he added another five bass weighing 19-4 to maintain second place. He then caught five bass weighing 19-13 on Saturday to make the crucial top-10 cut in first place. On Sunday he sealed his victory with a 19-7 stringer that included one kicker largemouth that weighed over 5-pounds.
The remaining top 10 pros finished the tournament in:
3rd: Daryl Biron, South Windsor, Conn., 20 bass, 72-15, $26,829
4th: Band Aid/Neosporin pro Glenn Browne, Ocala, Fla., 20 bass, 72-6, $22,329
5th: Walmart pro Wesley Strader, Spring City, Tenn., 20 bass, 70-3, $17,829
6th: Straight Talk pro Scott Canterbury, Springville, Ala., 20 bass, 70-2, $15,129
7th: Brian Bylotas, Olyphant, Pa., 20 bass, 69-8, $14,229
8th: Bryan Schmitt, Deale, Md., 20 bass, 68-15, $13,329
9th: Kyle Mabrey, McCalla, Ala., 20 bass, 64-9, $12,429
10th: J Todd Tucker, Moultrie, Ga., 20 bass, 62-11, $11,529
A complete list of results can be found at FLWOutdoors.com.
Second place Yamamoto said that he fished docks with Senkos all week long. The key to his success was that he was hooking the Senkos backwards with #6 ¾ to 1 inch screws. This allowed the bait to go back toward the dock and according to Yamamoto, they didn't know what hit them.
Overall there were 50 bass weighing 153 pounds, 7 ounces caught by 10 pros Sunday. The catch included five, five-bass limits.
Casey Martin of Huntsville, Ala., won the Co-angler Division and $20,000 Saturday with a three-day total of 15 bass weighing 49 pounds, 9 ounces followed by Christopher Hall of Clarks Summit, Pa., in second place with 15 bass weighing 45-11 worth $6,715.
In FLW Tour Open tournaments, pros and co-anglers are competing for valuable points that could help them qualify for the 2012 Forrest Wood Cup presented by Walmart, the world championship of bass fishing. The top five pro and co-anglers in the point standings from the four FLW Tour Open tournaments will qualify.
The Walmart FLW Tour stop on Lake Champlain presented by Snickers Peanut Butter Squared was hosted by the City of Plattsburgh – New York and the Adirondack Coast Visitors & Convention Bureau, and was the ninth of 10 Walmart FLW Tour tournaments of the 2011 season. The Walmart FLW Tour on Lake Guntersville presented by Mercury will be the next tournament and will be held Oct. 20-23 in Guntersville, Ala. The event will be hosted by the Marshall County Convention & Visitors Bureau and boats will launch from Lake Guntersville State Park in Guntersville, Ala. For a complete schedule, visit FLWOutdoors.com.
Coverage of the Lake Name tournament will be broadcast in high-definition (HD) on VERSUS. "FLW Outdoors" will air Oct. 30 from 1 to 2 p.m. ET. "FLW Outdoors," hosted by Jason Harper, is broadcast to more than 500 million households worldwide.
For regular updates, photos, tournament news and more, follow FLW Outdoors on Facebook at Facebook.com/FLWFishing and on Twitter at Twitter.com/FLWOutdoors.
ABOUT FLW OUTDOORS
FLW Outdoors is the best in fishing, on and off the water. Anglers worldwide can compete for millions over the course of 191 tournaments in 2011. FLW Outdoors has taken fishing mainstream with the world's richest fantasy sports game, FLW Fantasy Fishing presented by Straight Talk, where competitors can play for free as well as sign up for Player's Advantage to gain an edge. For more information about FLW Outdoors and FLW Fantasy Fishing, visit FLWOutdoors.com or FantasyFishing.com.