Parker poised to be first female Elite Series pro
By editor on Sep 15, 2011 | In Bass Tournaments, BASS Elites, BASS Opens, BASS

B.A.S.S. News
B.A.S.S. Reporter's Notebook: Parker poised to be first female Elite Series pro; Texas B.A.S.S. Club's good idea leads to Berkley Conservation Institute award; and … Another six are on their way to Federation Nation Championship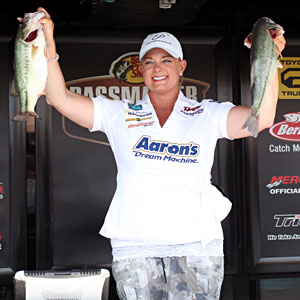 Bass pro Janet Parker is poised to become the first female Elite Angler in 2012. Photo Credit: B.A.S.S.
Parker poised to be first female Elite Series pro: Janet Parker has a clear shot at becoming the first woman to compete in the Bassmaster Elite Series.
From Little Elm, Texas, Parker said if she qualifies she won't hesitate to commit for the 2012 Elite Series season.
"I am on top of the world," she said. "I can't tell you how excited I am to have this chance."
Parker took a big step toward the Elite Series on Sept. 10 with a 10th-place finish on the Arkansas River in the Bass Pro Shops Bassmaster Central Open division. The high finish jumped her from sixth to second place in the points standings. If she can stay in the Top 5 through the end of the season, she'll be among the Open invitees for the 2012 Elite Series.
To be Elite, she figures she needs a 50th-place or better finish in the one remaining tournament on the 2011 Central Open schedule, the Oct. 20-22 event on Table Rock Lake out of Branson, Mo.
"If I can get that eligibility, I want to fish the Elites. I want to make history as the first female," she said.
Parker has 536 points to the Central Open leader's 567 points. (The No. 1 position is held by another Elite Series hopeful, Chris Zaldain, a pro who makes a long drive from California to compete in the Central Opens.) Parker is 33 points ahead of the No. 5 angler.
A former Bassmaster Women's Tour (WBT) pro, Parker joined the 2010 Opens when the women's tour disbanded after the 2009 season. She had competed in all four seasons of the women's tour's existence, garnering a win on the Ouachita River in 2009 and qualifying for the championship.
"After the WBT, I decided that the Opens would tell me if I am ready to fish at the Elite level. With the last three tournaments in the Opens, I've had strong finishes, and I've been competing against Elite guys who have opted to fish the Opens too. I've got a lot to learn … but I'm never going to improve if I don't continue to challenge myself."
"If I don't make it, I'll look on it as a sign that I wasn't ready, and I'll be happy with that too — but I'm really hoping that I'm ready."
Parker said that between her fishing career, sponsor and charity appearances, and a job with a company that organizes corporate fishing events, she's on the road 42 to 48 weeks a year, so a hectic Elite Series schedule would not be a lifestyle change. She has been running a wrapped rig for years sponsored by Aaron's, the rent-to-own retailer, so a wrap isn't an obstacle. She said she realizes that being under a microscope as the first Elite Series woman pro could be a heavy demand on her time.
"I'll just have to learn how to say 'no,'" she said. "I realize none of it will be easy — it's going to be grueling and exhausting — but it's something I want to do."
Parker isn't the only woman faring well in the 2011 Central Open season. Lisa Sternard of Clarksville, Tenn., was in 19th place in points after the Arkansas River event. Sternard, also a successful women's tour competitor, would have to make up some ground at Table Rock to get an Elite Series invitation; her standing at 434 points is 69 ticks away from the current fifth-place holder's 503 points.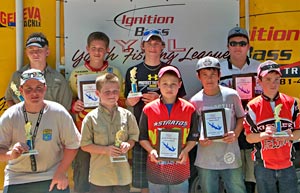 The Magnolia-Tomball Bass Club founded the Ignition Bass Youth Fishing League. Photo Credit: B.A.S.S.
Texas B.A.S.S. Club's good idea leads to Berkley Conservation Institute award: The Magnolia-Tomball Bass Club, a B.A.S.S. Federation Nation affiliate in southeastern Texas, has been tapped to receive the 2010 Berkley Angler Recruitment and Retention Award from the Berkley Conservation Institute.
The award comes with $1,500 in Berkley products. The club will receive the award during the 2012 Bassmaster Classic in Shreveport-Bossier City, La., in February.
The Magnolia-Tomball Bass Club was recognized for its part in founding the Ignition Bass Youth Fishing League. Several club members approached Ignition Bass in 2009 with the idea for a youth program that involved competition. Ignition Bass agreed to take on the project with the oversight of a board of directors for the nonprofit youth circuit.
The Ignition Bass Youth Fishing League now has four age divisions and six regular-season tournament events with an average of 27 anglers competing in each event. To date, a total of $8,400 has been awarded as $1,000 and $500 savings bonds and Academy Sports + Outdoors gift cards. Kids in the league are taught catch-and-release and how to keep bass alive; in three years of tournament fishing, only two dead fish have been brought in by the kids.
Jim Brockman, tournament director for Ignition Bass, runs the Youth Fishing League on a volunteer basis. He was a member of the Magnolia-Tomball Bass Club when it hit on the idea to ask an established organization to "do something for the kids," Brockman said.
"And that's how it got started. Members of the Magnolia-Tomball Bass Club volunteer their time and their boats if needed for the kids who don't have a boat," he said.
Most of the kids who participate are Texans, although two travel from Louisiana. The program reaches about 55 kids over a season, although many of the kids take part in every event of the season.
Pages: 1· 2