B.A.S.S. Reporter's Notebook: Who's happy with the 2012 Elite schedule?
By editor on Sep 10, 2011 | In Bass Tournaments, BASS Elites, BASS Opens, BASS, Central

B.A.S.S. News
B.A.S.S. Reporter's Notebook: Who's happy with the 2012 Elite schedule?; For Kelly Jordon; To shake the rust out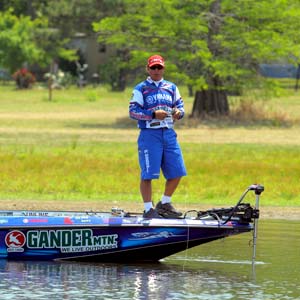 Dean Rojas, fishing the 2011 Battle on the Bayou here, is happy with the 2012 Bassmaster Elite Series schedule. Photo Credit: B.A.S.S. / Seigo Saito
Who's happy with the 2012 Elite schedule? Dean Rojas, for one.
Rojas owns wins at Toledo Bend and Oneida Lake, two of the eight stops on the slate in 2012 for the Bassmaster Elite Series. But he likes every fishery on the newly announced schedule.
"With the exception of one, I've had a Top-10 finish at each one of them," said Rojas, a Bassmaster Elite Series pro from Lake Havasu City, Ariz. "I liked the 2011 schedule, but I like this one even better."
The "exception" is the Mississippi River out of La Crosse, Wis.
"It's an unknown to me, and that's the beauty of it," he said. "I won't go in with preconceived notions. And I can enjoy anticipating what's around every corner."
Rojas' high satisfaction with the new schedule comes in no small part from the June stop at Toledo Bend Reservoir. That's where he won in 2011 and secured his fourth Bassmaster title and a berth in the 2012 Bassmaster Classic. The win was all the sweeter because it came early in the season, thus eliminating a three-month sweat for a Classic qualification.
Rojas had another win on Toledo Bend, a February 2001 victory in a Bassmaster Top 150. He noted that the 2012 schedule will take the Elite Series corps to The Bend in June.
"Every time I've done well there, it's always been springtime. It's going to be a different lake with that different timing," he cautioned.
If he had to pick a favorite, it would be Oneida Lake, he said. The upstate New York lake was the site of his 2008 Elite Series win, a third place in a 2009 Elite Series event, and a fourth in a 2007 Bassmaster Major.
Oneida's Aug. 23-26 slot in the 2012 schedule doesn't mirror the timing of his Aug. 10, 2008, win, he noted, but it's close enough.
"The bass will still be in their summer haunts. That isn't likely to change until mid-September," he said.
He hasn't been fishing on Oneida since 2009, but he made a point to drive over it twice when his travels brought him near.
What did a few minutes on a bridge do for him?
"Well, it made me feel really good to see 'my' lake again," he said, laughing. "It fishes a lot like Lake Havasu, the way it's laid out, so I feel so comfortable there."
Rojas watchers could consider Douglas Lake in Tennessee (May 3-6) as his third-strongest "like" of 2012. There he earned a second-place finish to Rick Clunn's 2001 win in a Bassmaster Megabucks event. But, of course, there's Elite Series pro Ott DeFoe to consider on Douglas. Because he lives there, DeFoe will be the all-out favorite.
And then there's the "mystery" stop, a TBA site to be slotted into the schedule on June 28-July 1, between La Crosse and New York. Rojas gives the concept of a mystery lake another nod.
"I like that," he said. "But you know, I take them one at a time. Right now, it's the first up that I'm most looking forward to, and that's the Classic and the Red River."
He hasn't been back to compete on the Red since the Bassmaster Classic in 2009, in which he finished 18th. He's planning a late fall scouting trip, he said.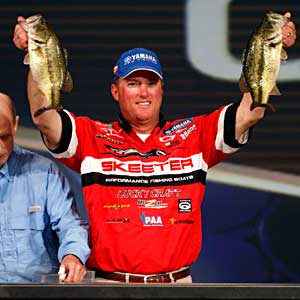 Kelly Jordan, pictured with two bass during the 2011 Bassmaster Classic, needs some help from others to make it to the 2012 Classic. Photo Credit: B.A.S.S. / Gary Tramontina
For Kelly Jordon: Jeff Kriet grew up in Oklahoma but claims that the Arkansas River that runs through the state has never been among his favorite fisheries.
"I didn't grow up fishing here, although I did fish it some in my early 20s," said the Bassmaster Elite Series pro from Ardmore, Okla.
He said the main reason he's in this week's Bass Pro Shops Bassmaster Central Open out of Muskogee, Okla., is to try to get one of his good friends, Kelly Jordon, into the 2012 Bassmaster Classic.
Jordon was first man out on the Classic qualification points list through the 2011 Bassmaster Elite Series. If an Elite Series pro double-qualifies for the Classic, Jordon will be the first man in. Kriet, who did qualify from the Elite Series, wants to win the Open to get Jordon into the upcoming Classic.
"If I was the first guy out, I'd want him to be fishing," Kriet said. "I'd be mad at him if he'd paid up and didn't go. I figured I'd at least give it a shot."
Kriet is one of two Elite Series pros in position to get Jordon in. Stephen Browning of Hot Springs, Ark., is the other. Like Kriet, Browning's already on the 2012 Classic roster and would be a double-qualifier.
Browning knows the Arkansas River well from the vantage point of his state. He's not claiming any advantage, however.
"This is not the Arkansas River I grew up on. If we were there, I'd feel really at home," he said.
Pages: 1· 2