Finding unpressured fish gives Biffle a 9-pound, 11-ounce lead in Central Open
By editor on Sep 10, 2011 | In Bass Tournaments, BASS Opens, BASS, Central

B.A.S.S. News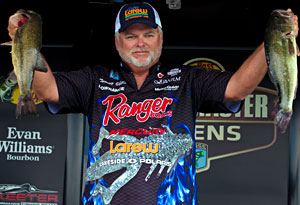 Unpressured bass have given Tommy Biffle a commanding lead at the 2011 Bassmaster Central Open on the Arkansas River in Muskogee Oklahoma. Photo Credit: B.A.S.S./James Overstreet
MUSKOGEE, Okla. — Bassmaster Elite Series pro Tommy Biffle came to the scales with the second largest five-fish limit of the day, good enough to put the Wagoner, Okla., angler into a commanding lead in the Bass Pro Shops Bassmaster Central Open going into the final day of fishing.
Mark Tyler's five-fish limit weighing 17 pounds, 2 ounces was the largest bag of the day, but not enough for the Vian, Okla., pro to overcome a Day One two-fish bag weighing 3-11. Tyler finished 14th overall, just missing the Top 12 cut.
In second place going into Day Two was Janet Parker of Little Elm, Texas, who, like Biffle, was fishing from a jet boat. Parker didn't get the bites she had the previous day, and came to the scales with a three-fish bag weighing just 5-13. Parker finished Day Two in 12th place with 20-15, tied with Chris M. Jones of Bokoshe, Okla.
"It was just a struggle for me today," said Parker, who was fishing in backwaters only accessible by shallow draft jet boat. "I didn't get the bites I did yesterday, and most of what I caught were a lot smaller."
Unlike Parker, Biffle is still onto good fish and thinks he has enough to carry the tournament if he can get to them.
"The fish bit good all day long for me," said Biffle. "I caught a lot of fish, and lost one 4-pounder that I'd like to have back. My amateur caught two or three nice ones too, so they're definitely there."
Biffle has been fishing the same area for the entire tournament, a spot he found on the last day of practice. His big concern going into the final day is the water level, which dropped 4 or 5 inches today as boats locked through into other sections of the Arkansas River.
"It's just going to be a matter of being able to get in there tomorrow," Biffle said. "I might not be able to get there. I'm hoping the rain comes early tomorrow or the water comes up, or I'll just have to fish around those spots."
Biffle caught all his fish today throwing a Biffle Bug with a hard head, working it down the pea gravel banks and bouncing it off the rock bottom. He's fishing 30 minutes from the launch.
Lendell Martin of Nacogdoches, Texas, bumped up from fifth to second with a four-fish bag weighing 11-9. Martin has been running about 75 miles each way to the area he's fishing.
"It was slow, but steady. I probably caught 11 or 12 fish all day," Martin said. "I just tried to fish some different water today. That's the problem with trying to move around too, you just have to try to get in an area that looks good and fish there."
Trevor Romans of Plano, Texas, moved up from 13th place to third with a limit weighing 12-4, giving him 23-13 going into the final day of fishing. Stephen Browning of Hot Spring, Ark., sits in fourth with 23-5 while Shonn Goodwin of Moore, Okla., is fifth with 23-0.
The co-angler division saw the top two from Day One falter, allowing Matt McMillan of Fort Worth, Texas, to move from 13th to first with a three-fish limit of 7-8. McMillan was fishing with pro Jeff Cloud of Lubbock, Texas.
"I caught a three-and-a-half pounder the second or third cast of the day," McMillan said. "Then it was pretty slow for a long time until we got into a section of brush and started flippin' it. I was throwing a shaky head into the nastiest stuff, and managed to catch two more nice fish in there."
McMillan fished the same pool they launched in, which gave him more fishing time. With the water dropping, the fish were pulling off the banks and into deeper water, making the fish more difficult to locate.
Sitting in second place just 10 ounces behind McMillan with 12-13 is Clayton Coppin of Wagoner, Okla. Coppin won the co-angler division during the Bass Pro Shops Bassmaster Central Open on Lewisville Lake, Texas, in February, and got some good bites on the Arkansas River early, then culled up during the day.
"I had a limit by noon, culled at 12:30 and made another cull at 1:20. We were in fish all day," said Coppin, who prefished the Arkansas River for three weeks prior to the tournament and was fishing small soft plastics and jigs. "I'm a bit nervous going into the final day."
The Top 12 pros and co-anglers will fish the final day of the tournament tomorrow, starting with the 6:45 a.m. launch at Three Forks Marina in Muskogee. Weigh-in will take place at the Bass Pro Shops store in Broken Arrow, Okla., starting at 3:45 p.m. CT.
With water levels dropping, Biffle will have to contend with limited access to his fishing area, but whether the other 11 pros will be able to overcome the 9-pound, 15-ounce lead will be determined at the weigh-in for Day Three.
"I've got a feeling it's going to be one of those things where you try to get in, hit a rock, have to back it up and try to get in another way," Biffle said. "I'll just keep on bumping until I hopefully find a way in."
Day 2 results on the GreatLakesBass.com B.A.S.S. Forum.
2011 Bass Pro Shops Bassmaster Opens Official Sponsors: Toyota Trucks, Berkley, Evan Williams Bourbon, Mercury, Skeeter, Triton, Yamaha
2011 Bass Pro Shops Bassmaster Opens Supporting Sponsors: Humminbird, Minn Kota, Nitro Boats
About B.A.S.S.
For more than 40 years, B.A.S.S. has served as the authority on bass fishing. The organization advances the sport through advocacy, outreach and an expansive tournament structure while connecting directly with the passionate community of bass anglers through its Bassmaster media vehicles.
The Bassmaster brand and its multimedia platforms are guided by a mission to serve all fishing fans. Through its industry-leading publications — Bassmaster Magazine and B.A.S.S. Times — comprehensive website Bassmaster.com, and ESPN2 television programming, Bassmaster provides rich, leading-edge content true to the lifestyle.
The Bassmaster Tournament Trail includes the Bassmaster Elite Series, Bass Pro Shops Bassmaster Open Series, B.A.S.S. Federation Nation events presented by Yamaha and Skeeter Boats and the ultimate celebration of competitive fishing, the Bassmaster Classic.
B.A.S.S. offers an array of services to its more than 500,000 members and remains focused on issues related to conservation and water access. The organization is headquartered in Celebration, Fla.