West Virginia's Horrocks and Schomaker earn trips to Bassmaster Junior World Championship
By editor on Sep 10, 2011 | In Bass Tournaments, BASS, BASS Federation Nation
B.A.S.S. News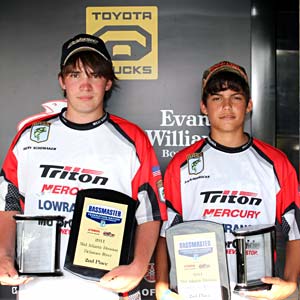 Henry Schomaker and Zach Horrocks of West Virginia won the Mid-Atlantic Junior Bassmaster Divisional titles on Sylvan Lake. Photo Credit: B.A.S.S./Ed Harp
BURLINGTON, N.J. — Two West Virginia young men did their state proud today by winning both age groups in the 2011 Junior Bassmaster Mid-Atlantic Divisional held on Sylvan Lake here in Burlington.
Interestingly, Sylvan did not live up to all the hype about it being a big bass lake. In fact, just the opposite turned out to be the case, at least for today. All the youth anglers reported catching lots of small bass but also reported having trouble catching the coveted 12-inch ones that they could bring to the scales.
In the 11- to 14-year-old age group, Zachary Horrocks managed to land two keeper bass that weighed 1 pound, 15 ounces. That was good enough to claim first place in a tiebreaker over Virginia's James Graves and secure a spot at the Junior World Championship later this year.
Horrocks approach to Sylvan was to fish slow with a Texas rigged Zoom Brush Hog and a wacky rigged Yamamoto Senko. Slow to this young man means drag and stop, drag and stop.
"I figured out that the fish were near the bank but a little ways off it," he explained. "We all caught a lot of short fish. I didn't try to find bigger bass. I just kept catching them until I caught one that measured. I'm glad it worked."
In the 15- to 18-year-old age group, Henry Schomaker brought four bass to the scales that weighed a total of 3 pounds, 11 ounces to claim first place and secure his spot at the Bassmaster Junior World Championship taking place Nov. 5, 2011 on Bayou DeSiard out of Monroe, La.
Schomaker caught his fish by swimming a purple Cabin Creek Finesse Weenie Worm rigged to a Slider Head. He credits much of his success to his new Dobyns fishing rod, a 7-foot, 6-inch medium-heavy model.
"This was the first time I ever fished with that rod. The sensitivity is amazing," he said shortly after his win. "I was swimming my bait and shaking it at the same time. I could feel everything that was going on down there."
Both anglers believe that the mentoring programs in West Virginia helped them deal with the unknowns of this tournament. They both said that without the experience and fishing knowledge they received "back home" they never would have been able to win on a 12 acre lake against five other teams, especially considering that they had never seen the water before this morning.
They also said they intend to continue fishing Junior Bassmaster events and, when they get old enough, Federation Events. But for right now they're going to concentrate on the Junior World Championship.
For final standings of the B.A.S.S. Federation Nation Central Divisional presented by Yamaha and Skeeter Boats, and for more information about the B.A.S.S. Federation Nation, go to www.bassmaster.com/federation-series. http://www.bassmaster.com/federation-series
About B.A.S.S.
For more than 40 years, B.A.S.S. has served as the authority on bass fishing. The organization advances the sport through advocacy, outreach and an expansive tournament structure while connecting directly with the passionate community of bass anglers through its Bassmaster media vehicles.
The Bassmaster brand and its multimedia platforms are guided by a mission to serve all fishing fans. Through its industry-leading publications — Bassmaster Magazine and B.A.S.S. Times — comprehensive website Bassmaster.com, ESPN2 and Outdoor Channel television programming, Bassmaster provides rich, leading-edge content true to the lifestyle.
The Bassmaster Tournament Trail includes the Bassmaster Elite Series, Bass Pro Shops Bassmaster Open Series, B.A.S.S. Federation Nation events presented by Yamaha and Skeeter Boats presented by Yamaha and Skeeter Boats and the ultimate celebration of competitive fishing, the Bassmaster Classic.
B.A.S.S. offers an array of services to its more than 500,000 members and remains focused on issues related to conservation and water access. The organization is headquartered in Celebration, Fla.