Look for locals to dominate the potentially fickle and hazardous Arkansas River
By editor on Sep 2, 2011 | In Bass Tournaments, BASS Opens, Central

B.A.S.S. News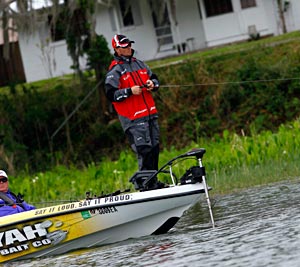 Bass angler Terry Butcher fishes during a 2011 Bassmaster event. Photo Credit: B.A.S.S.
MUSKOGEE, Okla. — The Arkansas River is where many Elite Series pros cut their angling teeth, and they're better off for it. The river can provide a bounty of bass just as quickly as it can seem barren. The second Bass Pro Shops Bassmaster Central Open should lie somewhere in the middle of these extremes, says Talala, Okla., native and Elite Series pro Terry Butcher.
"It can produce 25-pound bags in the spring, but for now, I think that 15 or 16 pounds a day will be pretty good," Butcher said. "I think that it'll fish pretty decent. Also, I think it can be won from anywhere."
Butcher is referring to the lock and dam system that regulates much of the Arkansas River. The entire river is available to anglers, but Tournament Director Chris Bowes believes most of the field will only utilize the first lock upriver of the launch and the first lock below. "To lock any more than one in any direction can be very time-consuming and risky," he says.
Butcher guesses that the field will be evenly spread around the river. Occasionally, the Arkansas River fishes very small, meaning there are lots of anglers in a few places. Anglers also need to be mindful of the traffic on the river and lock schedules, which — if miscalculated — can be disastrous. During the 2011 Elite Series event on the Arkansas River out of Little Rock, Ark., much of the field was in jeopardy of being locked out and suffering late penalties at one time or another.
Most of the fishing will be done in shallow water as there isn't much deep structure. Many anglers will be tossing baits to the bank and the cover that lines it, namely stumps, laydown trees and weeds. Expect lots of flipping and pitching, and spinnerbaits and square-billed crankbaits to be thrown. This same cover — along with logjams — will also present its share of hazards to boaters.
"If you get off of the main channel, it can be a dangerous place," he said. "There are some creeks that may not look bad and they're not, but the next one may look the same and be a minefield."
There are 140 pro anglers vying for a top prize of a berth in the 2012 Bassmaster Classic in Shreveport-Bossier City, La., next February. Along with the berth will come some cash and a boat and motor package. The top co-angler after the three-day event will also take home a boat and motor.
Daily launches will be held at Three Forks Harbor, 5201 Three Forks Rd., Muskogee, Okla., 74403, at 6:46 a.m. CT. Weigh-ins for Day 1 and 2 will be held at Three Forks as well at 2:45 p.m. CT. On Day 3, the weigh-in will move to the Bass Pro Shops at 101 Bass Pro Dr., Broken Arrow, Okla., 74012, at 3:45 p.m. CT. All events are free and open to the public.
For more information about the Bass Pro Shops Bassmaster Opens, visit www.bassmaster.com/open.
2011 Bass Pro Shops Bassmaster Opens Official Sponsors: Toyota, Bass Pro Shops, Berkley, Evan Williams Bourbon, Mercury, Skeeter Boats, Triton Boats, Yamaha
2011 Bass Pro Shops Bassmaster Opens Supporting Sponsors: Humminbird, Luck "E" Strike, Minn Kota, Nitro Boats
About B.A.S.S.
For more than 40 years, B.A.S.S. has served as the authority on bass fishing. The organization advances the sport through advocacy, outreach and an expansive tournament structure while connecting directly with the passionate community of bass anglers through its Bassmaster media vehicles.
The Bassmaster brand and its multimedia platforms are guided by a mission to serve all fishing fans. Through its industry-leading publications — Bassmaster Magazine and B.A.S.S. Times — comprehensive website Bassmaster.com, ESPN2 and Outdoor Channel television programming, Bassmaster provides rich, leading-edge content true to the lifestyle.
The Bassmaster Tournament Trail includes the Bassmaster Elite Series, Bass Pro Shops Bassmaster Open Series, B.A.S.S. Federation Nation events presented by Yamaha and Skeeter Boats and the ultimate celebration of competitive fishing, the Bassmaster Classic.
B.A.S.S. offers an array of services to its more than 500,000 members and remains focused on issues related to conservation and water access. The organization is headquartered in Celebration, Fla.