Shaffer Wins Walmart Bass Fishing League Ohio River Hoosier Division
By editor on Sep 1, 2011 | In Bass Tournaments, BFL, FLW Outdoors

FLW Outdoors News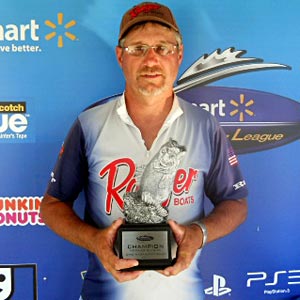 Dick Shaffer of Rockford, Ohio, won the Aug. 27 BFL Hoosier Division tournament on the Ohio River at Rocky Point to earn $5,505. Photo Credit: FLW Outdoors
Boater Dick Shaffer of Rockford, Ohio caught a five-bass limit weighing 12 pounds, Aug. 27 to win $3,505 plus a $2,000 Ranger Cup bonus in the Walmart BFL Hoosier Division tournament on the Ohio River at Rocky Point. Shaffer fished using worms in wooded areas on the main river and in creeks.

The remaining top 10 anglers:
2nd: Ryan Deal, Haubstadt, Ind., five bass, 9-2, $1,753
3rd: Todd Hensley, New Albany, Ind., four bass, 8-12, $1,169
4th: Keith Sickler, Cincinnati, Ohio, four bass, 8-6, $818
5th: Danny Abrams, Greensfork, Ind., four bass, 7-11, $701
6th: Calvin Davidson, Plainfield, Ind., two bass, 6-5, $643
7th: Mike Geisler, Oxford, Ohio, three bass, 6-3, $584
8th: Scott Bateman, Washington, Ind., five bass, 6-2, $526
9th: Mike Quinlin, Mooresville, Ind., five bass, 5-13, $438
9th: Jerry Reagan, Byrdstown, Tenn., four bass, 5-13, $438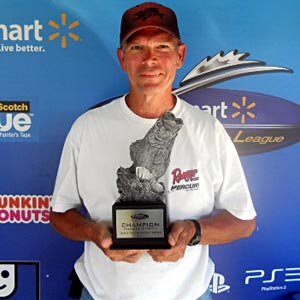 David Snow of Lanesville, Ind., won the co-angler title in the Ohio River event on Aug. 27 to take home $1,753. Photo Credit: FLW Outdoors
David Snow of Lanesville, Ind. caught three-bass weighing 5 pounds, 3 ounces Aug. 27 to win $1,753 in the Co-angler Division. Snow fished tar creek laydowns while using chigger craws.

The remaining top 10 co-anglers:
2nd: Allan Stephens, Florence, Ky., three bass, 4-8, $876
3rd: Scott Moon, Beech Grove, Ind., three bass, 4-7, $585
4th: Jason Thornton, Corydon, Ind., three bass, 4-6, $409
5th: Derek Stafford, Morehead, Ky., two bass, 3-9, $351
6th: Craig Scholle, Sunman, Ind., three bass, 3-7, $321
7th: Richard Michalski, Westport, Ky., three bass, 3-4, $292
8th: Mike McPherson, Highland Heights, Ky., two bass, 3-3, $263
9th: Steve Jones, Indianapolis, Ind., two bass, 2-12, $219
9th: James Thomas Jr., Burlington, Ky., two bass, 2-12, $219
The next BFL Hoosier Division tournament is scheduled for Sept. 24-25 on the Ohio River at Tanners Creek in Lawrenceburg, Ind. After the fifth Hoosier Division tournament is complete, the top 40 boaters and 40 co-anglers based on point standings will qualify for the Oct. 20-22 Regional Championship on the Barren River in Scottsville, Ky. Boaters will compete for a top award of a Ranger 198VX with a 200-horsepower Evinrude or Mercury outboard and a Chevy pick-up, while co-anglers will fish for a new Ranger 198VX.
For regular updates, photos, tournament news and more, follow the BFL on Facebook at Facebook.com/BassFishingLeague. For news surrounding FLW Outdoors on Facebook, follow Facebook.com/FLWFishing and on Twitter at Twitter.com/FLWOutdoors.
ABOUT FLW OUTDOORS
FLW Outdoors is the best in fishing, on and off the water. Anglers worldwide can compete for millions over the course of 191 tournaments in 2011. FLW Outdoors has taken fishing mainstream with the world's richest fantasy sports game, FLW Fantasy Fishing presented by Straight Talk, where competitors can play for free as well as sign up for Player's Advantage to gain an edge. For more information about FLW Outdoors and FLW Fantasy Fishing, visit FLWOutdoors.com or FantasyFishing.com.