NBAA Gull Lake Division 17 Wraps Up the 2011 Season!
By editor on Aug 27, 2011 | In Bass Tournaments, NBAA

NBAA News
Doug Myers with two of the team's bass including the big smallmouth bass of the night from the final NBAA Division 17 Gull Lake bass tournament. Photo Credit: NBAA
Anglers from Division 17 recently wrapped up their regular season. The last regular season event took place on Gull Lake, near Kalamazoo, Michigan. This fantastic fishery did not disappoint as the winning weight brought in by the team of Mike Elkins and Doug Myers topped the scales at over 15 lbs. Their bag included a giant smallmouth that weighed in at over 4 lbs.
Coming in a close second with over 14 lbs was Ryan Olson & Neil Vandebiezen and rounding out the top 3 was the team of Brian Clark & Carlos Vergara with over 13 lbs. More big winners at this event was the team of Bert Boer and Ron Wrege. This team won two National Angler rods at this event.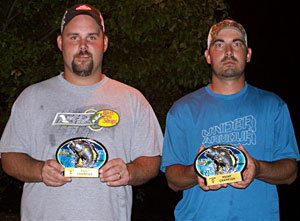 Don Koole and Josh Mertz are the 2011 NBAA Division 17 Gull Lake points champions. Photo Credit: NBAA
Not only that, after the weights and the season results tallied, the team of Don Koole and Josh Mertz won the season point championship race. Don and Josh also beat out their nearest competitor by over 30 points. What a great season for Don & Josh. They also walked away with a couple of great Tro-Kar point championship plaques.