B.A.S.S. Reporter's Notebook: Watching John Murray on Lake Erie
By editor on Aug 26, 2011 | In Bass Tournaments, BASS Opens, BASS, Northern

B.A.S.S. News
B.A.S.S. Reporter's Notebook: Watching John Murray on Lake Erie; B.A.S.S. member to miss his pro debut; 'The Nationals' of November; and … In the news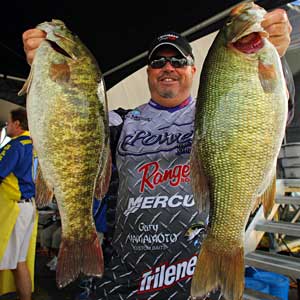 Phoenix Arizona bass pro John Murray shows off two big smallmouth bass from the 2008 Empire Chase Elite Series event. Photo Credit: BASS Communications / Seigo Saito
Watching John Murray on Lake Erie: Bassmaster Elite Series pro John Murray was born and raised in Phoenix, Ariz.; he calls himself a "desert rat." And that's precisely why he's competing this week in the Bass Pro Shops Bassmaster Northern Open on Lake Erie out of Sandusky, Ohio.
"I know to get out of Phoenix in the summer."
Murray was joking, but it's his Western roots that make him a serious threat on Lake Erie. He's already proved he can parlay his experience on deep lakes like Mead and Roosevelt into success on Lake Erie. In Elite Series events there, he finished third in 2007 and fourth in 2008. Last week, he landed a Top-10 finish in an FLW tournament on Erie out of Buffalo.
"I know what to look for on Erie. I feel at home out in the middle of any big lake, looking for open-water fish," he said.
"But will I have enough time to find them? That's what I'm hoping for," he said Monday evening, just a few days away from the Thursday start of the second Northern Open of the season.
Murray was short on practice time because of supercharger trouble on the last day of the FLW tournament. After making the final-day cut in seventh place, the motor glitch rendered him dead in the water and he finished in 10th place. After traveling west to Sandusky for the Bassmaster event, he had the problem fixed and was back in business Monday.
If the winds don't kick up hard, he said, he'll still have enough practice time. A productive practice depends on the wind — or, rather, lack of high winds.
His knowledge of Western reservoirs will help him in the clutch. But his time on Lake Erie near Buffalo will prove to be useless, if what the Ohio locals say is true.
"I've been on Erie for a week, but on the other end, and they say that's not really going to help me. They say it's a different lake, even though it's just 165 miles away," Murray said.
He is not letting such dock talk wear down his confidence. He's at Sandusky only to win and claim what he regards as the tournament's biggest prize: a 2012 Bassmaster Classic entry. He missed a Classic berth by 43 points in the 2011 Elite Series season, and the Open is a second chance.
Murray said he is breaking out of his normally conservative approach to competition. That means all his eggs are in the "big ones" basket.
"The guy who is going to win here will have all big smallmouth. That's what I'm out for; I'm hunting the big ones."
B.A.S.S. member to miss his pro debut: On Sunday, Aug. 14, B.A.S.S. member Mike McCoy was fishing on Lake Erie near Sandusky, Ohio, practicing for the Aug. 25-27 Bass Pro Shops Bassmaster Northern Open. It was the first Bassmaster tournament he'd entered as a pro.
About two hours' drive away in Mentor, Ohio, a storm pounded his split-level home. Hail ripped a hole in the roof. Rain poured through the hole; three inches of rain fell in less than one hour. Unseen, water seeped through walls and crept under flooring.
The first sign of trouble was when McCoy's wife, at home that Sunday, stepped on the downstairs carpet.
Squish.
Water welled up around her foot. As the storm raged, the water rose to above her ankles. She frantically tried to move everything that was downstairs to the upstairs level. She called for help from her family nearby, and she called her husband.
"I came home to devastation," McCoy said.
He and his wife had purchased the house only two weeks before the storm. They were in the middle of painting walls, unpacking and settling in. Now their spare time is spent dealing with insurance matters and taking up drenched carpet, scraping up sodden tiles, pulling up subflooring and positioning huge fans in hopes the walls will dry.
Meanwhile, McCoy, a 42-year-old Florida native who was a Marine until 2004, has been reporting in at his relatively new job as a personnel recruiter for light industry. Up until last weekend he still had hopes for his debut as a fishing "pro," but he finally decided something had to give. He withdrew from the Northern Open.
"I was going to make the step up to pro in this tournament, then fish all three Northern Opens next year," said McCoy, who has competed, mostly as a co-angler, on and off since 2004.
"It wasn't meant to be this year," he said. "I'll get back to it."
'The Nationals' of November: Eight names were added last week to the roster of amateur anglers itching to get at the Ouachita River.
The river out of Monroe, La., will be the site of the Nov. 3-5 B.A.S.S. Federation Nation Championship presented by Yamaha and Skeeter Boats. The event is often referred to as "the Nationals" by Federation Nation members because the year's national champ will be crowned there.
The title of champ for its own sake is coveted among Federation Nation anglers. Yet no one forgets that the championship is a chance at a Bassmaster Classic berth. Six Federation Nation anglers will advance to the 2012 Classic on the Red River out of Shreveport-Bossier City, La.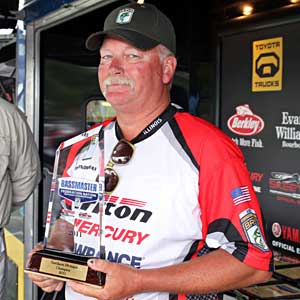 Greg Heindselman is the 2011 Northern Divisional Championship winner heading to the national championship on the Ouachita River. Photo Credit: B.A.S.S./Ed Harp
The eight newest qualifiers for the championship were the best from their state teams in the Aug. 10-12 Northern Divisional. They are: Brian Christianson of La Crosse, Wis.; Todd Serfoss of Bath, S.D.; Bryan McNeal of Enon, Ohio; Andrew Nitchals of Willmar, Minn.; Thomas Kiefer of Fowlerville, Mich.; Matt McCoy of Indianapolis, Ind.; Greg Heindselman of Lewistown, Mo. (who competed on the Illinois team, and who was the overall winner of the Northern Divisional); and Jesse Reynolds of Muscatine, Iowa.
Pages: 1· 2