Yamamoto, Kennedy Slugging It Out on Tough Neely Henry
By editor on Aug 19, 2011 | In Bass Tournaments, PAA

PAA News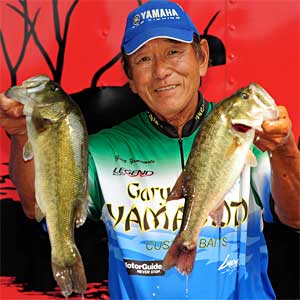 Gary Yamamoto of Texas weighed five bass totaling 15.73 pounds Thursday in the Bass Pro Shops PAA Tournament Series presented by Carrot Stix. Photo Credit: PAA / Chris Dutton
GADSDEN, Ala. – Gary Yamamoto never had dropped a boat into Neely Henry Lake until last Monday morning, the first day of practice for the Bass Pro Shops PAA Tournament Series presented by Carrot Stix.
Four days later, the founder of the successful bait company that bears his name sits atop the leaderboard after the first day of competition with a 5-bass limit weighing 15.73 pounds.
After a more than 40 anglers failed to crack double-digit weights due to tough summer conditions, Yamamoto's catch even surprised him.
"I didn't expect this weight," Yamamoto said on the weigh-in stage. "The first day of practice I caught a few nice ones and then the second day, nothing. So I went back to what I was doing."
Reticent with a field of tough anglers and a tough lake, Yamamoto declined to divulge any other specifics. He caught largemouth Thursday throughout the day, and believes the pattern will hold up. Other than that … Yamamoto has lockjaw.
But he's riding a wave of confidence this season, sitting in 18th place in the PAA Tournament Series point standings with a shot at a berth in the Toyota Texas Bass Classic in October. The top 15 PAA pros, along with the Top 15 from the Bassmaster Elite Series and FLW Tour, earn automatic invitations to the world championship on Lake Conroe.
That's not Yamamoto's concern this week, however. He finished 33rd at Lake Lanier in the March season-opener and was 20th at Table Rock in June. He'd like to put together two more solid days and lock down a win.
"I looked at his bag in the line and told him that's probably as good as what's been caught around here in the last few weeks," said King's Home pro Randy Howell, who lives just 30 minutes away in Springville. "He was surprised, but that's a good limit for this time of year. I think if he can catch nine pounds a day he'll probably win it unless Kennedy keeps going strong, which is possible."
Kennedy in second place
That would be Kinami pro Steve Kennedy of Auburn, just a short two-hour drive from Neely Henry. He's fished the lake and Coosa River all his life and Thursday whacked a limit weighing 14.20 pounds.
"It didn't take long and I was done by about 10:30," Kennedy said of his catch, which included a 4.84-pound largemouth. "It was fun."
Kennedy took his aluminum flatbottom into a narrow, winding creek that opened into a backwater area. He said he threw spinnerbaits, buzzbaits, swimbaits and plastics to cover, although sometimes that didn't matter.
"I flipped over a limb once and two 3-pounders came out of the water repeatedly trying to get it and finally ripped the bait off the line," he said. "Another time, I set the hook on my buzzbait, missed and before I could get the line in a fish had taken the bait. They were crashing into the spinnerbait trying to kill it."
Kennedy said the 2.5- to 3-pounders were good, but not what he wanted.
"I finally picked up the swimbait and threw it for a while," he said. "It wasn't immediate, but I finally got the big bite with that big largemouth. She train-wrecked it. I knew I had to leave it alone so I finally got out of there."
Snowden, Omori are close
Nitro pro Brian Snowden of Missouri and Yamaha pro Takahiro Omori of Texas are within a smidgen of each other in third and fourth place.
Snowden has 11.89 pounds and Omori sits in fourth with 11.83. Omori said he struggled to get five bites all day, working shoreline cover like he prefers, and caught two keepers late in the day to round out his limit.
"I kind of like doing one thing all day and staying with it, but not today," Snowden said. He said swimbaits, jigs, topwaters and other baits were in his arsenal..
"I just kept grinding it out," Snowden said. "What I'm throwing just depends on what the bank looks like."
Auten clings to AoY lead
Ranger pro Todd Auten may have given himself just a bit of breathing room in the PAA Angler of the Year race with his 11.72 pounds, good for fifth place.
"I'm sure it'll get tougher every day and I'll move around more," said the South Carolina veteran. "There are a few boats around where I'm fishing but I'm running a little pattern that I can hit on different parts of the lake, so that's probably what I'll do."
Gene Larew pro Tommy Biffle of Oklahoma is 24th with 8.95 pounds and Hefty pro Mike McClelland of Arkansas is two spots behind with 8.55 pounds. They're the closest to having a shot at unseating Auten, with only eight points separating them.
"I thought I could get on a little offshore deal with my Biffle Bug and had a good practice out there, but the fish weren't there," Biffle said. "I don't know what happened to them. The shad are still there so they're probably just not feeding. I'm going shallow all day Friday and see what happens."
McClelland said he had a "lost opportunity" with a big spotted bass that came unbuttoned, a common refrain among many pros. The Coosa River's spots are legendary for their aggressiveness.
"It's like that on any lake on the river," McClelland said. "They're just flat-out mean."
The tournament continues through Saturday going out of Coosa Landing in Gadsden, with Friday's weigh-in at 2 p.m. and Saturday morning's launch at 6 a.m. Saturday's final weigh-in will be at 4:30 p.m. at Bass Pro Shops in Leeds, just off I-20 east of Birmingham. At stake for the winner is cash and a new Nitro Z-8 with a Mercury 225 Optimax and T-H Marine Atlas jackplate, with a Humminbird 898c Si Combo to the Humminbird Big Bass of the Tournament winner.
About the PAA
The Professional Anglers Association is a non-profit organization that gives professional anglers a unified voice in order to aid in the growth of the sport of professional bass fishing. The PAA also aims to administer educational programs to the average angler, to increase enjoyment of the sport, and to embrace sound conservation practices to further the future of the sport. Web: www.FishPAA.com
2011 PAA Tournament Series Premier Sponsors: Bass Pro Shops, E21 Carrot Stix, Optima Batteries, Nitro Performance Bass Boats
2011 PAA Tournament Series Associate Sponsors: Lazer TroKar, Jasper Engines & Transmissions, Mercury Marine, Boat U.S. Foundation, Fishouflage, U.S. Reel, Sign Designs, Toyota Texas Bass Classic