Kennedy Takes Lead Into Final Day At PAA Tournament Series on Neely Henry Lake
By editor on Aug 19, 2011 | In Bass Tournaments, PAA

PAA News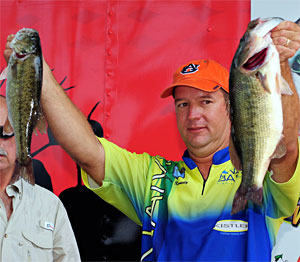 Kinami pro Steve Kennedy of Alabama leads going into the final day with 28.23 pounds on Neely Henry Lake. Photo Credit: PAA / Chris Dutton
GADSDEN, Ala. – In the summer slugfest for Neely Henry Lake, Round 1 went to Gary Yamamoto of Texas and Round 2 went to Kinami pro Steve Kennedy of Alabama.
Now comes the final bell.
The two veterans flip-flopped on the leaderboard Friday and lead the field into the final round of the Bass Pro Shops PAA Tournament Series presented by Carrot Stix. Nineteen pros will fish Saturday after grinding out two tough days.
Kennedy, who lives about two hours away in Auburn, snaked his aluminum flatbottom boat into his backwater creek again and yanked out 14.03 pounds. That gives him a total of 28.23 and first place by more than two pounds. He's throwing several baits for bass ranging from 2.5-5 pounds.
"I was pulling teeth, to be honest, by about 12 o'clock," he said. "I fished all the way to the back of the creek and had four little ones that weighed nothing. Coming out, I changed baits and caught one, lost one, caught two at one time and then caught three largemouth."
His biggest was 5.24 pounds and was caught at 12:30 p.m., about a half-hour before Kennedy had to leave to make the hour-long run to the Coosa Landing check-in.
"It's not easy," he said. "You have to be doing the right thing for them to eat. Some baits they rush it and bump it, or hit it but don't take it."
Yamamoto fell off Friday with a limit weighing 10.11, giving him 25.84 pounds. Water levels fell Thursday and impacted his area.
The rest of the top 10 included Big Bite Baits pro Russ Lane of Alabama (23.34), Ranger pro Todd Auten of South Carolina (22.89) and Bass King pro Joey Nania of Washington (22.05), Strike King pro Mark Menendez of Kentucky (21.67), Jasper Engines pro Chad Morgenthaler of Illinois (21.21), Yamaha pro Adam Brown of Alabama, Legend Boats pro Randy Qualls of Texas (20.84) and King's Home pro Randy Howell of Alabama (20.62).
Kennedy's grinding, too
If it sounds like Kennedy's backwater babies are leaping in his boat, he says that's not the case.
"It's a small area in a narrow creek and there's fish in there, but it's not just wham-wham," he said. "I was getting worried by mid-morning. I've thrown some big baits but I think the smaller spots can't get them, but they're still coming after them. I may have to downsize on some of them."
A big swimbait yielded his big bass Thursday, a largemouth, but on Friday he only was teased when he threw it.
"I had a fish hit it so hard it jolted me," he said. "It was electrifying. I don't know if it was a huge bass or a big striper, because some of them are in there. But whatever it was, it drilled it."
Yamamoto's in shallow
After seeing his weight drop along with the water level, Yamamoto said he wasn't 100 percent certain he'd leave his best area Saturday.
But if he does, he plans to run some other shallow cover.
"I didn't realize they'd dropped it so much," he said. "I might have to run south and try some other spots. I have some docks and shallow stuff to try."
Yamamoto said he's flipping and swimming a twin-tail jig. He landed 10 keepers Friday but had 25 Thursday.
"It's just shallow-water fishing," he said.
Lane surges 15 spots
Lane has fished the Coosa River for years and is used to summer fishing, which for him means crankbaits.
He's on offshore ledges throwing a SPRO Big Daddy Crank and starting out early with a Big Bite Baits Yo Daddy craw around docks. The craw is rigged on a half-ounce weight.
"I only had two good ones in my bag but they were enough to help," he said. "I was disappointed that I didn't catch them Thursday, but that's summer. When it gets like this I throw a deep crankbait pretty fast, grinding, bumping, snatching, twitching and making it move.
"Some guys go slower with Carolina rigs or big worms, but I'm opposite. I think when bass are in a situation where there's no current, or the current stops and they're around cover, they gravitate to that cover. So I'm looking for anything like that and trying to bump the cover, move the bait fast and get a bite. It may only be a few during the day but they're usually good ones."
At stake for the winner is cash and a new Nitro Z-8 with a Mercury 225 Optimax and T-H Marine Atlas jackplate, with a Humminbird 898c Si Combo to the Humminbird Big Bass of the Tournament winner. Also on the line are points toward berths in the Toyota Texas Bass Classic, Oct. 28-30, at Lake Conroe.
Saturday's final weigh-in will begin at 4:30 p.m CT at Bass Pro Shops in Leeds, Ala.
Full standings, photo galleries, stories and more items may be found at www.FishPAA.com
About the PAA
The Professional Anglers Association is a non-profit organization that gives professional anglers a unified voice in order to aid in the growth of the sport of professional bass fishing. The PAA also aims to administer educational programs to the average angler, to increase enjoyment of the sport, and to embrace sound conservation practices to further the future of the sport. Web: www.FishPAA.com
2011 PAA Tournament Series Premier Sponsors: Bass Pro Shops, E21 Carrot Stix, Optima Batteries, Nitro Performance Bass Boats
2011 PAA Tournament Series Associate Sponsors: Lazer TroKar, Jasper Engines & Transmissions, Mercury Marine, Boat U.S. Foundation, Fishouflage, U.S. Reel, Sign Designs, Toyota Texas Bass Classic