Neely Henry Under Fire From PAA Tournament Series Pros
By editor on Aug 17, 2011 | In Bass Tournaments, PAA

PAA News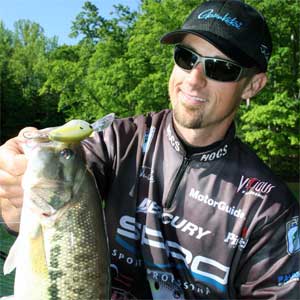 Basscat pro Johns Crews expects to be throwing crankbaits at the upcoming PAA bass tournament on Neely Henry Lake. Photo Credit: PAA
GADSDEN, Ala. – When summer arrives and BassCat pro John Crews ties on a deep-diving crankbait, his thoughts turn to a hot salsa dance technique just about every time he makes a cast.
Bumping. Grinding. Digging. Twitching. Starting and stopping, with a little momentary hesitation for allure.
Crews isn't gettin' down on the deck of his boat. He's making his SPRO Little John DD crank boogie along the bottom and around cover trying to entice bass to bite.
"In warm or clear water I'll stop and twitch it a little more … hit cover, pause and twitch it twice," said the veteran pro from Virginia. "The warmer the water, the faster they want it. It's not a jerkbait deal where it's sitting for a longer period, so you're going to pause maybe a second or two and keep going. They're just waiting for it to act erratically."
Crankbaits will be part of the pros' assault on Neely Henry Lake this week during the season-finale of the Bass Pro Shops PAA Tournament Series presented by Carrot Stix. The tournament is Thursday through Saturday, going out of Coosa Landing.
Daily weigh-ins are 2 p.m. Thursday and Friday at Coosa Landing, with the final weigh-in at 4:30 p.m. at Bass Pro Shops in Leeds just off Interstate 20 east of Birmingham. The field will compete for cash and prizes, including a new Nitro Z-8 with a Mercury 225 and T-H Marine Atlas jackplate, and the Humminbird MinnKota Big Bass Award for the tournament's biggest lunker.
Also at stake is the PAA Angler of the Year points championship. Ranger pro Todd Auten of South Carolina leads the race with 351 points and is riding a hot streak after a Top 10 finish in the Forrest Wood Cup last week on Lake Ouachita in Arkansas.
Right behind Auten are Gene Larew pro Tommy Biffle of Oklahoma, the defending PAA Angler of the Year, with 347 points, and Hefty pro Mike McClelland of Arkansas, with 343 points. BoatUS Weigh-to-Win pro Troy Morrow of Georgia (307) is also within striking distance of claiming the honor.
Neely Henry offers a variety of options with its river-run upper end, midlake tributaries and deep points on the lower end. Crankbaits and offshore tactics will be put to use this week by the pros seeking deeper spots and largemouth feeding or suspended in deep water.
Critical to any deep tactic is finding the right line and angle, and then getting the bait down through the strike zone.
"It's very important to hit at the right angle and I use 12-pound Vicious Pro Elite fluorocarbon line about 90 percent of the time," Crews said. "Long casts are very important. You can't make too long of a cast because you cover more water and keep in strike zone longer.
"Cranking at the right angles also is very important. Do you parallel the point? Throw across? Get out and bring the bait up the point or ledge? Guntersville is a great example for this because if you find a wad of fish, you may crank up two, three or four fish and then not get any more to bite. But you could go to the opposite side and catch two or three more. Angles are more important with deep cranking than flipping, pitching or topwaters."
With the numerous options today in monofilament, fluorocarbon, co-polymer and braided lines for anglers to choose from, it's sometimes confusing which is best for different baits. Monofilament or small-diameter fluorocarbon works best for crankbaits to help impart action and give a little with the minimal stretch.
"You might think that braid is stronger and could work better, but it has zero stretch and so unless you really compensate the rod with a light or medium action rod you're going to pull the bait from the fish with it," said Hefty pro Mike McClelland of Arkansas, who cranks with Sunline.
"When I'm fishing clear water, I still believe the fish can see the line," he said. "That's when fluorocarbon really works best. Monofilament still is a great option, too, and a lot of guys stick with it.
"With crankbaits, I don't use braid unless I'm at Falcon or Amistad in heavy timber. You can get away with 30-pound braid because it has the right diameter. If you get hung up you can pull it until you straighten the hooks and get the bait out. I think if you're catching really big fish like in those situations or on a Mexico lake, that would be the only time."
Crews combines a Pinnacle reel with a Pinnacle Perfecta 7-foot-11 rod, giving him long-cast abilities with the 12-pound Vicious line for deep cranking. The rod's length helps him control and feel the bait better, too.
"The combo of everything you're using to make the long cast and work the bait really makes a difference," Crews said. "You feel everything with the fluorocarbon and can almost tell when you're going to get a bite. When you find what bottom they're on and get dialed in … you may be cranking mud, then it transitions to gravel, then bigger rocks and you get ready because you know you're in the right spot.
"There's something about the big crankbait that gets those fish competitive, too. They start to get competitive when that bait comes vibrating through there. It gets the whole school excited. You don't have to wait for a big worm to get down there. You can make more casts and fish more efficiently."
About the PAA
The Professional Anglers Association is a non-profit organization that gives professional anglers a unified voice in order to aid in the growth of the sport of professional bass fishing. The PAA also aims to administer educational programs to the average angler, to increase enjoyment of the sport, and to embrace sound conservation practices to further the future of the sport. Web: www.FishPAA.com
2011 PAA Tournament Series
What: 2011 Bass Pro Shops Tournament Series presented by Carrot Stix
Where: Neely Henry Lake, at Coosa Landing in Gadsden, Ala.
When: Aug. 18-20
Launch/weigh-in: First two days, launch at 6 a.m. and weigh-in at 2 p.m. at
Coosa Landing in Gadsden, Ala.
Final day launch/weigh-in: Launch at 6 a.m. at Coosa Landing,
weigh-in at 4:30 p.m. at Bass Pro Shops in Leeds, Ala.
At stake: Cash and a 2011 Nitro Z8 with Mercury 225 and T-H Marine Atlas
Jackplate, along with points toward PAA Angler of the Year title and
qualification for the 2011 Toyota Texas Bass Classic
Online: www.FishPAA.com